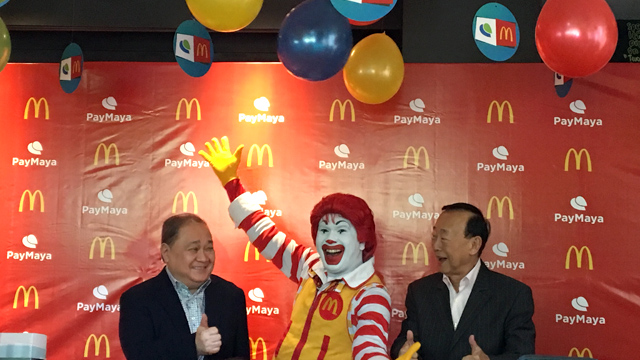 PLDT Chairman Manny Pangilinan and Golden Arches Development Corp founder Goerge Yang celebrate the partnership with Ronald McDonald
It's a well-known business maxim that you need a truly compelling use case to push customers to adopt new technologies on a massive scale. Without texting, it would have been impossible for mobile phones to grow rapidly the way they did in the Philippines in the early 2000s. Now, it's Facebook that is perhaps the main reason why Filipinos are shifting to smartphones.
ADVERTISEMENT - CONTINUE READING BELOW
The search for such a "killer app" for PLDT Inc.'s mobile wallet PayMaya is perhaps the reason why Manuel V. Pangilinan, the telecommunications giant's chairman, found himself inside a McDonald's store at the BGC Forum ordering an apple pie last Friday, January 12.
That's where PLDT and Golden Arches Development Corp., the franchise holder for McDonald's in the Philippines, launched a tie-up allowing the fast-food's customers to pay for their in-store purchases of burgers and fries and other McDonald's favorites using their PayMaya mobile wallets and cards. By the middle of the year, McDonald's customers can also pay for their online orders via their PayMaya mobile wallets. This makes it possible for, say, busy parents still at the office to have dinner delivered to their children at home.
Pangilinan, of course, paid for his order using his PayMaya account. On hand to receive his cashless payment was Golden Arches' President and CEO Kenneth Yang, who was manning the cash register.
ADVERTISEMENT - CONTINUE READING BELOW
PayMaya runs the country's first and largest mobile money and payments service. It's one of the first mobile wallet services in the country, enabling Filipinos without access to credit cards or banks to send money, pay bills and shop online. PayMaya and another PLDT payments platform, Smart Money, have  signed up over eight million accounts as of end-September last year. PLDT executives say they hope the figure will rise to 30 million by 2020.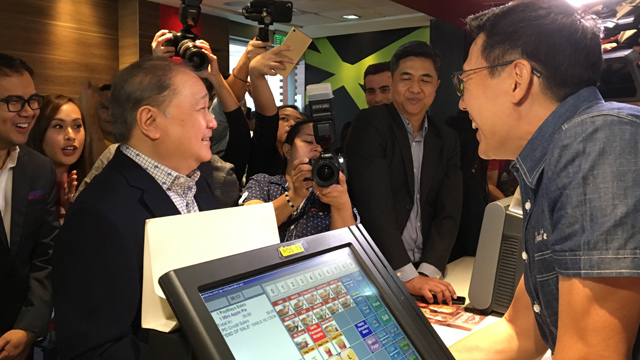 ADVERTISEMENT - CONTINUE READING BELOW
Manny Pangilinan orders McDonald's from Golden Arches CEO Kenneth Yang, who is behind the counter 
Last October, PayMaya launched the "scan to pay" feature that allows users to scan quick response (QR) codes with their smartphones to pay for products and services without using cash in select brick-and-mortar stores.
PayMaya's collaboration with McDonald's is the fintech firm's first major partnership with a quick-service restaurant chain, and may yet prove an important move that could help drive its mobile wallet business to finally take off.
The US-based fast-food chain is one of the biggest restaurant chains in the Philippines with 570 branches and 300 delivery hubs nationwide. But more importantly, it has perhaps one of the most technologically savvy customer bases.
About half of customers who avail of the fast-food chain's delivery service have shifted from calling to online ordering, largely using McDonald's pioneering mobile app, said Margot Torres, Golden Arches' managing director and vice president. "We're already seeing the growth of digital transactions in our delivery service. At least 50 percent of our food delivery customers order through our online platforms," she said.
ADVERTISEMENT - CONTINUE READING BELOW
Since a big number of McDonald's customers are already used to ordering online, it'll be relatively easy to encourage them to shift to digital payments as well.  "The important thing [with providing a] cashless [payment option] is it makes our stores efficient and it adds another option for our customers," she said. "Just imagine, when you have the online payment, you can make a delivery, pay for it and have it delivered somewhere else."
Perhaps, the partnership with PayMaya is inevitable. McDonald's has been one of the first businesses in the Philippines to explore non-cash payments options. In 2011, it launched a cashless delivery service with Bank of the Philippine Islands (BPI), enabling the bank's clients to order food using BPI's mobile app. In 2014, it also collaborated with VISA, Mastercard and Banco De Oro's e-PLUS Tap to Pay card so it may start accepting "contactless card payments" through radio frequency identification (RFID) technology.
ADVERTISEMENT - CONTINUE READING BELOW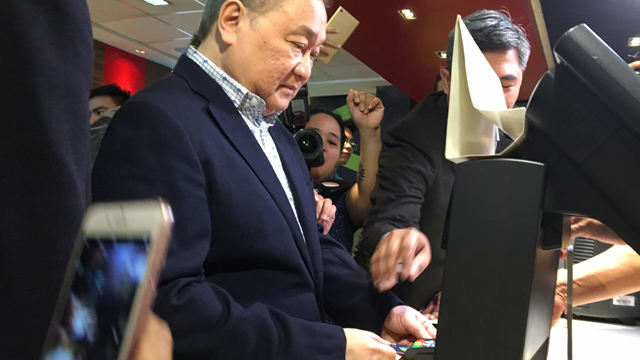 Though innovative, the potential of these early initiatives at introducing digital payments may have been constrained by the low penetration rate of banking and credit card services in the country. About 86 percent of Philippine households have no bank accounts while 92 percent don't have credit cards.
Thus, McDonald's latest partnership with PayMaya, which is part of the PLDT's digital arm Voyager Innovations, whose prime purpose is to provide financial services to the country's huge unbanked population, holds some promise.
ADVERTISEMENT - CONTINUE READING BELOW
Pangilinan said: "We're starting with McDonald's today, but we envision a future where most of our transactions will be carried out with the help of a PayMaya account."
*****
Elyssa Christine Lopez is a staff writer of Entrepreneur PH. Follow her on Twitter @elyssalopz