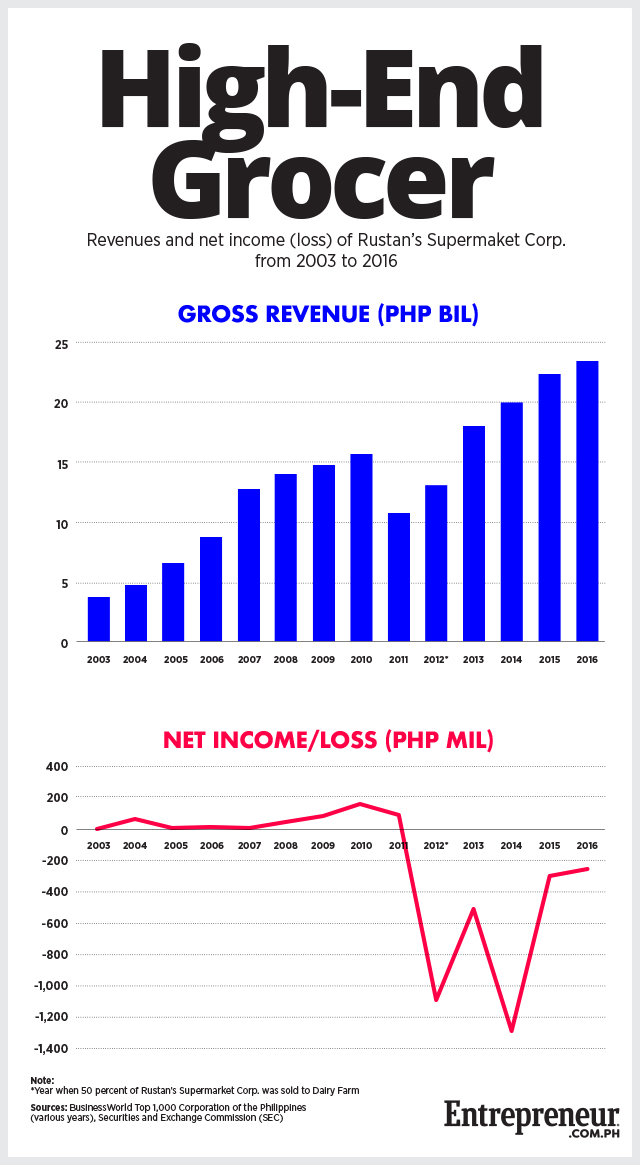 On March 23, Robinsons Retail Holdings Inc. (RRHI), the country's second-largest multi-format retailer, announced an agreement to acquire Rustan's Supercenters Inc. (RSCI) through a share-swap deal with Dairy Farm International Holdings Limited, a Hong Kong retail company.
Before the transaction, which was valued at Php18 billion, Dairy Farm owned 100-percent of RSCI through its wholly-owned subsidiary Mulgrave Corporation B.V. In turn, RRHI owners Gokongwei family said they are planning to sell some of their shares to Dairy Farm through MCBV. This will result in Gokongwei family's 51-percent ownership of RRHI and Dairy Farm's 18.25-percent ownership.
ADVERTISEMENT - CONTINUE READING BELOW
Related story: Robinsons Retail Acquires Rustan's Supermarkets, Shopwise in Php18B Share-Swap Deal 
The Tantoco family, which runs the publicly listed specialty retailer SSI Group and the high-end department store chain Rustan's Department Stores, established RSCI in 1970. In 2012, the family sold half of RSCI to Dairy Farm, which consequently bought the remaining half.
RSCI operates supermarket chain "Rustan's Supermarket," upscale supermarket concept "Marketplace by Rustan's," discount retailing hypermarket chain "Shopwise," and neighborhood grocer chain "Wellcome."
Though these brands are quite popular in the country, RSCI's financial statements show it has been struggling in the past few years.
Although RSCI's gross revenues have been growing steadily in the past 14 years, profits have not kept pace and even turned to growing losses from 2012 to 2014, based on data from the Businessworld Top 1,000 Companies and filings to the Securities and Exchange Commission. The losses narrowed sharply in 2015 but persisted in 2016.
ADVERTISEMENT - CONTINUE READING BELOW
A year before the Tantocos sold to Dairy Farm, RSCI's gross revenues dropped by 31.8 percent to Php10.74 billion from Php15.7 billion the year before. Its net income also declined by 44 percent, sliding from Php156 million to Php87 million.
However, in 2012, the year of Dairy Farm's acquisition, RSCI's financials further dipped, resulting in a loss of Php1.1 billion. The company's profits stayed in the red since then. In 2016, the year with the latest available data, RSCI recorded a net loss of Php260 million.
It remains to be seen whether RRHI can turn the profits of RSCI around. Meanwhile, RRHI recorded profits of Php5.6 billion in 2017 from gross profits of Php25.7 billion. This is a 7.9-percent increase in net income and 11.7-percent increase in gross profits from the year before.
RRHI is part of JG Summit Holdings Inc., the conglomerate founded by John Gokongwei Jr. Gokongwei is the country's second richest billionaire with a net worth of $5.1 billion as of April 2, according to US magazine Forbes. Members of the Gokongwei family own and manage the media company that publishes Entrepreneur Philippines.
ADVERTISEMENT - CONTINUE READING BELOW
*****
Pauline Macaraeg is Entrepreneur PH's data journalist. Follow her on Twitter @paulinemacaraeg