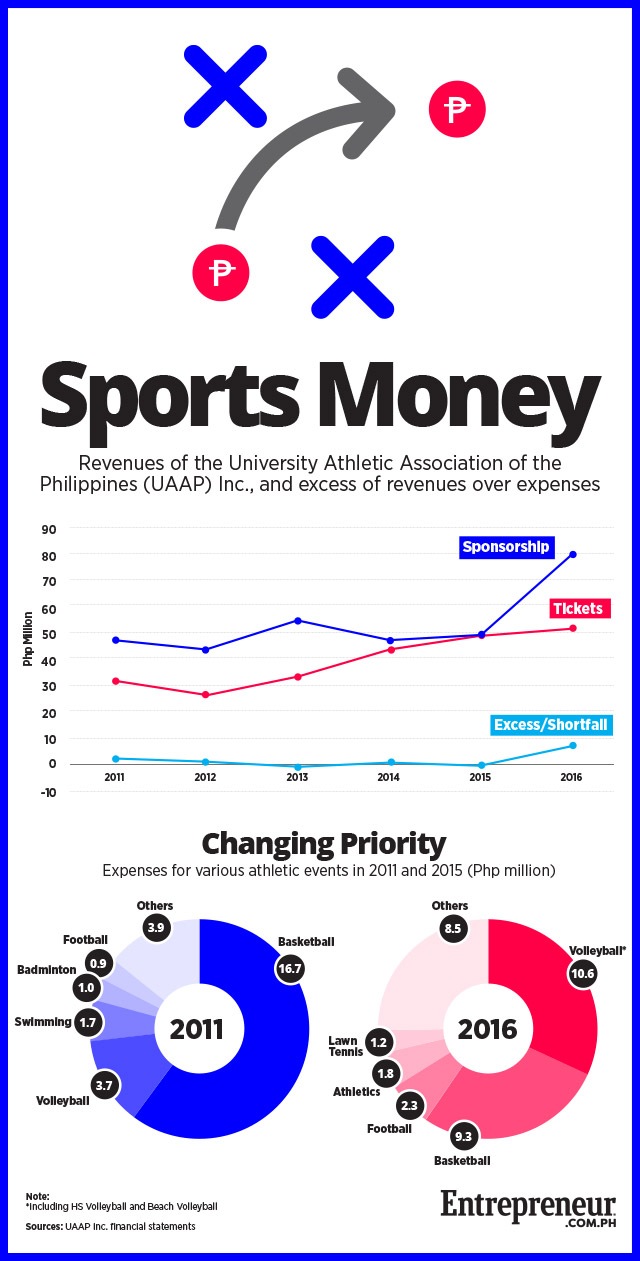 Surprisingly for a non-stock and non-profit organization, the University Athletic Association of the Philippines (UAAP) Inc. is quite good at making lots of money.
The academic athletic association, composed of the eight biggest universities in Metro Manila, is kicking off its 80th season on Saturday, September 9, with the Far Eastern University (FEU) as host.
ADVERTISEMENT - CONTINUE READING BELOW
Last year, UAAP reported a 77-fold surge in excess of receipts over expenses of Php7.2 million from only Php93,939 in 2015. (As a non-profit organization, UAAP does not report a net income or loss but excess or shortfall of receipts compared to expenses. The excess is reinvested in the organization and not given out as dividends unlike in stock and for profit companies). By all accounts, it was a record performance compared to the average excess of less than a million pesos from 2011 to 2015.
Established in 1938, UAAP only had three member schools on its first year: University of the Philippines (UP), University of Sto. Tomas (UST) and FEU. The three universities initially held the annual "Big 3 League" in the 1920s, to hold friendly competitions in various sports such as basketball, football, baseball, volleyball, swimming, track and field, and tennis. On some years, the National University (NU) took part in the friendly sports meet.
ADVERTISEMENT - CONTINUE READING BELOW
By 1986, the current roster of universities in the league have all joined the association, including the University of the East (UE), Adamson University (ADU), Ateneo de Manila University (ADMU) and De La Salle University (DLSU).
But when did UAAP games turn into huge sporting events that we know now? According to an article in ADMU's official student publication, The Guidon, the turning point was in the late 1980s when the league's basketball games were first aired on television by Channel 13. In the 1990s, several television networks such as Viva-Vintage, RPN-9 and PTV-4 followed suit and acquired the rights to televise the games in different times of the decade.
In fact, the UAAP formally registered with the Securities and Exchange Commission as a non-stock, non-profit organization when it started to sell the broadcast rights for its games in 1991.
Since the turn of the millennium in 2000, ABS-CBN Corp., the country's biggest television broadcaster, has consistently televised UAAP's basketball games, elevating the league's student players into celebrities and turning the association into a money-making machine.
ADVERTISEMENT - CONTINUE READING BELOW
Indeed, a big jump in receipts from sponsorship, which is how UAAP reports its income from the sale of rights to broadcast its games, explains the surge in its excess of receipts over expenditures last year. Receipts from sponsorship rose 63.8 percent to Php79.4 million in 2016 from only Php48.5 million in 2015. In contrast, UAAP's other main source of receipts—ticket sales—grew by only 6.1 percent to Php51.4 million from Php48.4 million the previous year.
FEU Board Representative and current UAAP head Anton Montinola credits the positive trend to the expanding power of social media in sports broadcast.
"Basketball to begin with is very popular with millennials. [And] social media is very popular these days, so there's so much opportunity for [advertising] exposure," Montinola said at the sidelines of the UAAP Season 80's press conference on September 4.
Aside from television broadcast, ABS-CBN also streams some UAAP games online, other than basketball. Montinola also said that volleyball and football have been gaining audience traction in the UAAP community with some of its games televised on TV and online.
ADVERTISEMENT - CONTINUE READING BELOW
This is reflected in the two sports' rankings in UAAP's athletic spending priorities in the last six years. In 2011, volleyball got only Php3.7 million while football got Php0.9 million, ranking second and sixth place, respectively, well below basketball which got the lion's share of Php16.7 million.
But in 2016, volleyball (including high school volleyball and beach volleyball) was No. 1 with a total budget of Php10.6 million while football rose to No. 3 with a budget of Php2.3 million. Basketball fell to No. 2 with a reduced budget of only Php9.3 million.
"We don't think of any specific platform, whether TV or digital as one over the other especially, at this day and age [when it comes to the broadcast of UAAP games]," ABS-CBN Integrated Sports Head Dino Laurena told Entrepreneur Philippines. "It's really anytime, anywhere accessibility. It's a very different market already. You really need to scope the entirety of the consumption of your audience especially with the young ones, they have different screens."
ADVERTISEMENT - CONTINUE READING BELOW
However, Jocelyn de Leon, another board member from the FEU, said that for Season 79 (2016 to 2017), the league's ticket sales likely took a hit from the onset of the K-to-12 program as there were less students attending the games. The program adds two years of secondary education, thus cutting off temporarily the supply of first year students to the universities. It was implemented in 2016.
In 2016, the annual growth in UAAP's receipts from ticket sales slumped to only 6.1 percent from 12.1 percent in 2015 and even 30.7 percent in 2014.
"Freshmen students or those still taking Physical Education classes are some of the key audience of these games, so we were hit last year by the K-to-12 [program] since there weren't any," de Leon explained. "But hopefully we'll have better turnout this season since some universities already have Junior and Senior High students."
***** 
Elyssa Christine Lopez is a staff writer of Entrepreneur PH. Follow her on Twitter @elyssalopz
ADVERTISEMENT - CONTINUE READING BELOW