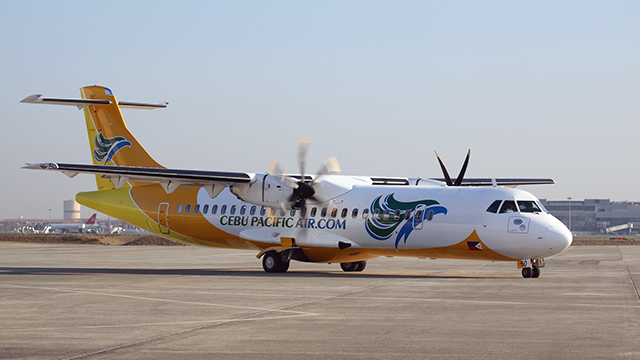 Cebu Pacific Air announced it is converting its two ATR 72-500 passenger aircraft into freighter planes
After gaining market dominance in affordable domestic transport of people on air, the country's biggest budget airline, Cebu Pacific Air, is now positioning itself to benefit from the burgeoning logistics business as e-commerce continues to take root in the Philippines. 
ADVERTISEMENT - CONTINUE READING BELOW
On Monday, July 2, listed airline Cebu Pacific announced it is converting its two ATR 72-500 passenger aircraft into freighter planes, making it the only passenger airline to have planes solely dedicated for shipments. The planes are set to be ready for cargo transport by the fourth quarter of the year.
"We will be able to offer cargo capacity that no other carrier in the Philippines can provide," Cebu Pacific President and CEO Lance Gokongwei said in a press release. "With the freighter aircraft, we will further support the growing needs of the logistics industry, especially as the Philippines' e-commerce businesses expand rapidly and look for faster delivery schedules."
The company is tapping the expertise of Swiss company IPR Conversions, one of the leading ATR freighter conversion service providers in the world, for the alteration of its two passenger aircrafts. According to SeatGuru.com, an online site that provides extensive information on airlines' portfolio of planes and seating capacities, Cebu Pacific's ATR 72-500 can hold 72 passengers and are usually used for short haul flights. Once converted, the plane can now carry seven tons of cargo.
ADVERTISEMENT - CONTINUE READING BELOW
The company's bet on e-commerce comes at an opportune time. A consumer survey by digital payments solution PayPal said Filipinos are expecting to spend more than Php120 billion on online shopping this year alone. By 2020, local sales from e-commerce is set to hit $4 billion, according to a study commissioned by Google.
The rise of online shopping among Filipinos will only create more opportunities for logistics companies. Cebu Pacific said the company currently accounts for half of the market share for domestic air cargo by only using belly space of its passenger aircraft fleet. With cargo planes, Cebu Pacific said it can now transport high-value and time-sensitive commodities such as marine products, computing equipment and even heavy machinery to various points across the country.
"It [The plane] is suited to landing and taking-off in airports with runways less than 1.2 kilometers long—which is too short for jet aircraft. Only about one-third of the 90 airports in the Philippines can land jets," the press release read.
ADVERTISEMENT - CONTINUE READING BELOW
Cebu Pacific's cargo service transported over 131.4 million kilograms of shipments to domestic destinations in 2017 while servicing over 2,000 clients. The segment represents less than 10 percent of the business' total revenues, but it's the company's fastest growing sector. It hit Php4.6 billion worth of revenues in 2017, up 29 percent from the year before.
Cebu Pacific Air is owned and controlled by the Gokongwei family, some of whose members also run Summit Media that publishes Entrepreneur Philippines online.
*****
Elyssa Christine Lopez is a staff writer of Entrepreneur.com.ph.