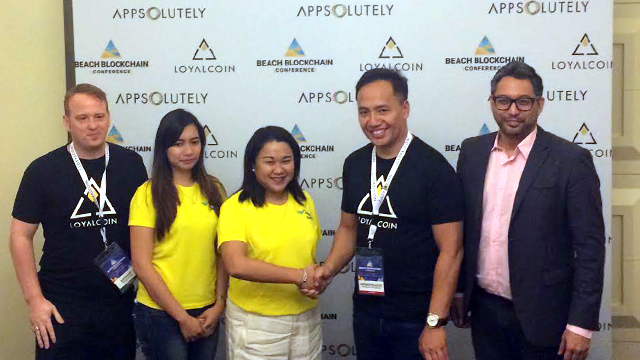 Local technology firm Appsolutely has announced that it has partnered up with Cebu Air Inc., the listed company that runs the leading low-cost airline, Cebu Pacific Air, integrating the airline's rewards program with the startup's virtual token.
ADVERTISEMENT - CONTINUE READING BELOW
In a press conference held last May 10, Appsolutely founder and CEO Patrick Palacios announced that owners of the virtual token LoyalCoin will soon be able to convert it to GetGo rewards points, which can then be used to purchase airline tickets from Cebu Pacific.
"Airline is a perfect use case for blockchain, especially since not a lot of people know about blockchain and cryptocurrency," said Palacios. "What better way to make it mainstream than by being able to exchange your LoyalCoin to GetGo miles?"
He added that this was the first of several retail partners that LoyalCoin will be rolling out over the coming months. The blockchain-powered startup aims to create a global ecosystem of large and small retailers where all of their rewards programs are linked to a single virtual token. As more and more brands get on board LoyalCoin's platform, token holders will be able to easily redeem rewards and transact with a variety of stores.
ADVERTISEMENT - CONTINUE READING BELOW
"It's a great way to introduce the world of digital assets, cryptocurrency and blockchain to the Filipino," added Paolo Bediones, Appsolutely's COO.
Appsolutely is one of the first Philippine startups to successfully hold an initial coin offering, having raised $15 million from the sale of its virtual utility tokens. Apart from the Philippines, it has established a presence in Japan and the US, and it is set to expand its services in the United Kingdom and South Korea.
For its part, Cebu Pacific sees the partnership as an opportunity to broaden the user base of its rewards program, raising awareness of GetGo to LoyalCoin's global audience of over 50,000 users. The airline also sees value in Appsolutely's technology, as using a virtual token significantly reduces the time that rewards points are credited to the user.
"This partnership with LoyalCoin really makes it more convenient," said Katryn Supapo, a representative from Cebu Pacific's loyalty division. "It's going to be more efficient for members to reap that free Cebu Pacific flight."
ADVERTISEMENT - CONTINUE READING BELOW
Appsolutely announced the major partnership in the Beach Blockchain Conference in Cebu, a two-day event that focused on the current pace of developments as well as future prospects of blockchain technology both in the Philippines and around the world. It featured several world-renowned experts in the blockchain and cryptocurrency space as well as local startups pioneering the blockchain movement in the country.
Entrepreneur Philippines was a media partner at the event. It's also published by Summit Media, a company owned and managed by members of the Gokongwei family, who is also a major shareholder in Cebu Air Inc.
*****
Lorenzo Kyle Subido is a staff writer of Entrepreneur PH