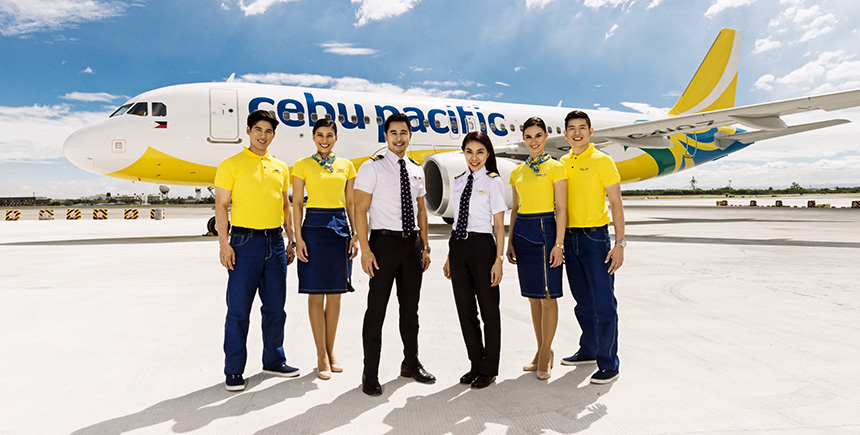 Cebu Pacific Air has launched its new cabin crew uniforms, in time for its 20th anniversary celebrations.
"The challenge during the redesign was for us to maintain the relaxed, fun element of the brand, but at the same time to have a uniform that elevates the image of our cabin crew—especially since our network now includes flights to some of the busiest long-haul airports of the world," Candice Alabanza Iyog, Cebu Pacific's vice president for marketing and distribution said in a statement.
ADVERTISEMENT - CONTINUE READING BELOW
Designed by  designer Jun Escario, the new uniforms exude the fun, casual, and fresh vibe while maintaining a professional look. 
Starting March 27, 2016, flight attendants will also wear denim trench coats with darker shades of blue.
Female flight attendants will wear hip denim skirts and bright yellow cardigans. They will also sport newly-designed scarves, with the colorful prints of sun, sky, sand, and the sea.
Meanwhile, male flight attendants will be clad in yellow polo shirt and blue jeans with yellow stitching.
"We needed to make sure the uniforms could stand up to long-haul flights, or up to five trips in one day. Denim was perfect for this," Iyog added.
Cebu Pacific will start flying to Guam on Tuesday, March 15, its maiden flight to a US territory. The airline has also added more popular destinations in recent years, including Japan, Dubai, and Australia with a total of over 90 routes in 64 locations.
ADVERTISEMENT - CONTINUE READING BELOW
The airline also reported on January 3 that it recorded flying 62,947 passengers—the highest numberof it ever flown in one day. Cebu Pacific also flew 18.4 million passengers in 2015, an increase of 9% from 16.9 million passengers flown in 2014. On average, Cebu Pacific flights were 83% full during the year.
Photo from Cebu Pacific Air website