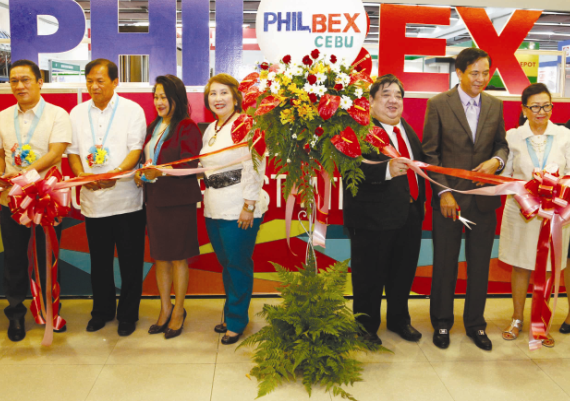 Intent on making sure that Cebu's potential is explored exponentially, Worldbex Services International (WSI) is more than excited to launch the Cebu Trio 2014 today, October 9 to 12, from 10am to 7pm at SM City Cebu's Trade Hall.

An event of many firsts, it will be the first time for SM City's open grounds to be converted into fully air-conditioned tents to ensure comfort for the visitors. Plus, first-time events are set to provoke excitement among guests. All these, along with fresh new innovations and presentations are lined-up to ensure dynamic and comprehensive trade show experience.

WSI believes that Cebu is more than ready for a world-class exposition with its equally world-class products and services and Cebu Trio 2014 will provide the most effective means to allow all parties to connect with one another. Setting this year's exposition apart from its previous installments, Cebu Trio will lay the groundwork to make cross industry connections happen. As the region opens up for a more promising economic future, the need for industries to utilize the expertise of each sector is most crucial.

PHILBEX Cebu

The counterpart of WSI's highly successful Worldbex expositions, PHILBEX Cebu or the Philippine Building and Construction Exposition set the stage to make B2B opportunities flourish as well as provide the platform to showcase the latest product innovations and technology, industry players are able to thoroughly assess their next strategies in their own respective companies.


With the support of the Cebu Chamber of Commerce and Industry and the Philippine Institute of Interior Designers (Cebu chapter), PHILBEX Cebu will be showcasing an abundant product profile including building materials, interior design and renovation, security and fire equipment, mechanical and electrical engineering, information technology and telecommunications, architectural services, government/private institutions/associations, interior designer's services, construction promotion, and more.

Among a diverse range of exhibitors, highlighting the expo is the Contemporary Pavillion by Murillo Furniture, Accessories and Artworks, as well as the Architect's Gallery. These and more amid booths as presented by ABC Innovative Building Materials, Apo Floors, Puyat Steel, Apo Roofs, Archi-Line Inc., Atlanta Industries Inc., Boysen, Colorsteel, Concept Specialist Inc., Cypress Bomanite, Davies, DSL Gam Enterprises, Emerald, GIDCI, Granite Industrial Corporation, Haffle, Rising Sun, Moldex Products Inc., JEA, Premiere Interiors, Wilcon Depot, and so much more.

Cebu Auto Show

The biggest motoring event to drive by the region, the CAS gathers the most imaginative concepts of local makers along with the most coveted line up of foreign automotive brands for the season.

Proven to rack up automotive sales and igniting the passion of auto enthusiasts, CAS presents an extensive array of car accessories, auto car care, and car brands – solidifying its reputation as the region's grandest and all-inclusive auto show of the year.

In cooperation with the Cebu Chamber of Commerce and Industry, CAS will be hosting pocket events and activities including the EMA Sound Competition and the Custom and Classic Car Competition with interesting categories such as the Best in 2 Door, Best in 4x4, Best in Engine, Best in European, Best in Ice, Best in Exterior, Best in JDM, Best in Lighting, Best in Vintage, and more.

Cefbex

Ready to serve up another round of gastronomic wonder and culinary ingenuity is this year's CEFBEX. Regarded as one of the country's top culinary destinations, it is imperative for the region to up the ante at all costs and CEFBEX positions itself right smack in the middle of the all the happenings.


With 120 booths and 85 companies, products to be showcased include food service, snacks, franchising companies, food picks, cookware, beverages, food packaging materials, food machines, food service equipment, breads and pastries, and so much more – establishing CEFBEX's reputation as the most comprehensive, all-inclusive food show of Visayas and Mindanao.

Each year, visitors also look forward to the pocket events and competitions that are held during CEFBEX such as the Flair Bartending Competition, Fruit and vegetable Carving, Food styling competition, Bar chef competition, Pasta Live Cookery, and the Awarding Ceremony.

At a time when prospects for economic growth are most crucial, Cebu city is definitely in the lead pack with its booming industries ranging from the fields of construction and building, automotive industry to tourism and the food and beverage community. Join in on the fun, head out today and discover the possibilities at Cebu Trio 2014: Unfolding Cebu's Colorful Trade which will be ongoing until October 12, from 10am to 7pm at SM City Cebu's Trade Hall.
ADVERTISEMENT - CONTINUE READING BELOW
In photo (from left to right): WSI Managing Director and Mandaue City Mayor Jonas Cortez; Talisay City Mayor Johnny delos Reyes; Cebu Chamber of Commerce & Industry Inc. President Ma.Teresa Chan; WSI Co-Founder Levi Ang; WSI Chairman Joseph Ang; Cebu City Mayor Mike Rama; and Cebu Vice Governor Agnes Magpali.