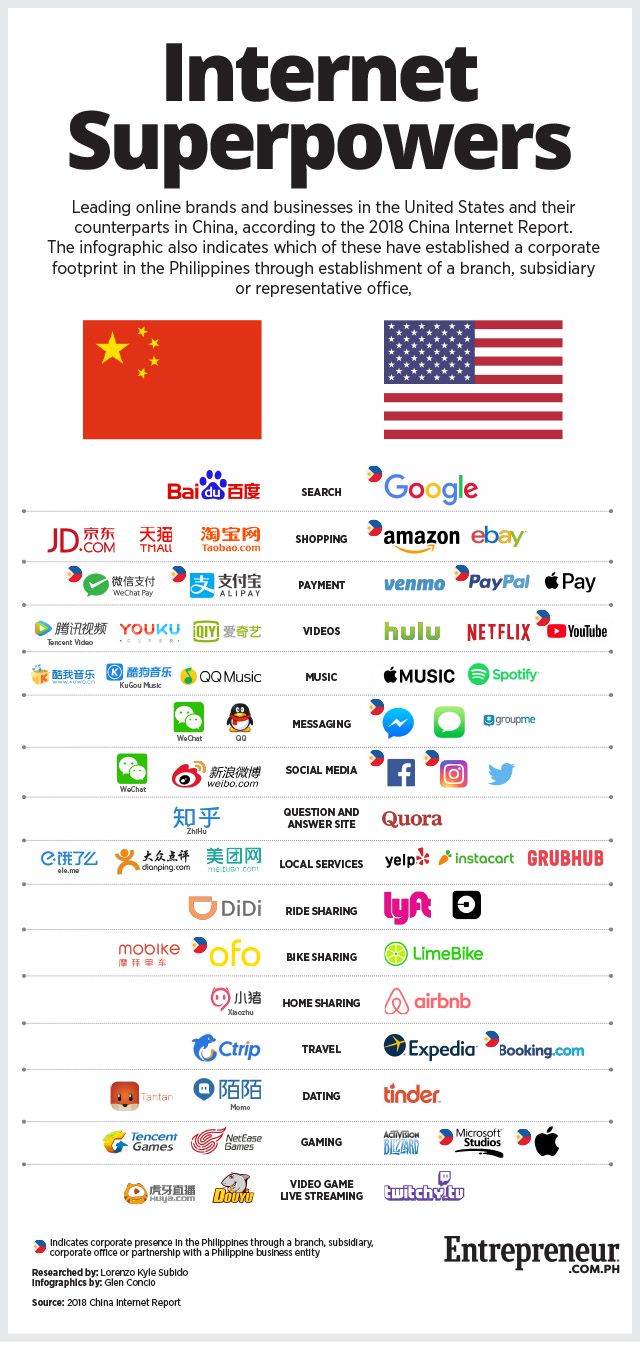 China has 772 million Internet users, making it the world's biggest online community with almost thrice the 292 million Internet users in the United States, according to the 2018 China Internet Report. The report was published by Hong Kong's South China Morning Post and the San Francisco-based venture capital firm 500 Startups on Abacus.com, the newspaper's tech news platform.
ADVERTISEMENT - CONTINUE READING BELOW
Though almost half of China's 1.4 billion population is not online (compared to only a tenth of the US' 327 million people), the world's most populous country still has three times the number of smartphone users and more than 10 times the number of mobile payments customers than in America, according to the report.
Because of network effects, which refer to way the value of the product or service on offer increases with the addition of more users, China's dominant Internet companies, particularly Baidu, Alibaba and Tencent Holdings, have grown not only large but also dominant in many segments of the country's online world. About half of China's 124 unicorns, or private firms valued at $1 billion or more, are owned, controlled or supported by the Big Three Chinese Internet companies, collectively called BAT, according to the China Internet Report.
In addition, the three Chinese Internet giants are also funding or investing in about 150 companies abroad as they seek to gain access to new technology or markets, said the report.
ADVERTISEMENT - CONTINUE READING BELOW
The infographic on this page, which is lifted from the report, lists the major Chinese Internet companies depending on the segment of the industry they're operating in. It also shows who are their counterparts in the US. The infographic also shows which of the US and Chinese Internet companies have established a footprint in the Philippines through investments in a branch, subsidiary, affiliate or partnership with a domestic business entity.
Given they have been around far longer, the US Internet giants are naturally more familiar or popular with Filipino Internet users. But as China's online giants expand to Southeast Asia and the Philippines, that could change sooner than later.
For those interested to explore the topic further, there's an upcoming forum in Manila on the rise of China's Internet companies and what that means for developing countries such as the Philippines.
Entitled "China's Financial Technology and E-Commerce Experience: Exploring Implications for the Philippines," the event is co-sponsored by the Asia Pacific Pathways to Progress Foundation (APPPF), an NGO composed of academics, and the UP Institute for Small-Scale Industries (UP-ISSI), a research and training unit of the University of the Philippines for small business owners. It will be held on August 9, 2018 from 1 pm to 4 pm at the Auditorium of the University of the Philippines campus in Bonifacio Global City, Taguig City. Entrepreneur Philippines is a media partner for the event. Registration is required to attend the event.
ADVERTISEMENT - CONTINUE READING BELOW
For more information, please click here 
*****