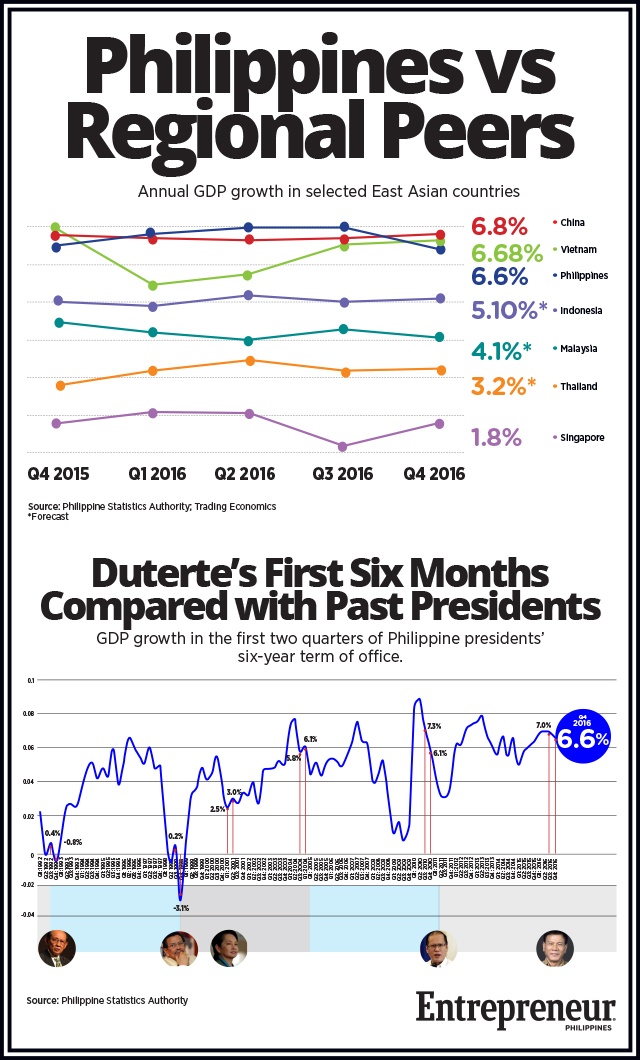 With fourth quarter GDP growth falling to 6.6 percent from a revised seven percent in the third quarter, the Philippines was overtaken by China and Vietnam as the fastest growing economy among selected East Asian countries. The Philippines was the region's fastest growing economy in the first three quarters of 2016.
"We are likely either the third or fourth fastest growing major Asian emerging economy in the fourth quarter after China's 6.8 percent and Vietnam's 6.7 percent," said Economic Planning Secretary Ernesto Pernia in a press conference Thursday morning to announce the latest economic numbers. "For the full year of 2016, we could be the second fastest, with China growing at 6.7 percent and Vietnam at 6.2 percent for the whole year."
ADVERTISEMENT - CONTINUE READING BELOW
The Philippine Statistics Authority said that full-year GDP growth in 2016 reached 6.8 percent from 5.8 percent in 2015. "This is along the high-end of the government's target of 6.0 to 7.0 percent growth rate for 2016," said Pernia. "This also brings the seven-year moving average of real GDP growth rate to 6.3 percent, the highest since 1978."
Related Link: Amid Rising GDP, Is It Time to Launch Your Startup?
Despite the drop in GDP growth in the fourth quarter, the Philippine economy's long-term growth trajectory remains in place. In fact, GDP growth in the first two quarters of President Rodrigo Duterte's six-year term of office is one of the highest since the early 1990s.
The government's economic managers are also optimistic about economic prospects this year and the medium term. "Overall, given this growth in 2016, we believe that the target of 6.5 percent to 7.5 percent for 2017 is highly likely. In the medium-term, we expect growth to strengthen further towards 7 percent to 8 percent," said Pernia. "This should bring us to the upper middle income category standing by 2022. More importantly, we hope to reduce the poverty incidence to 14 percent by 2022, thereby lifting about six million Filipinos out of poverty."
ADVERTISEMENT - CONTINUE READING BELOW
*****