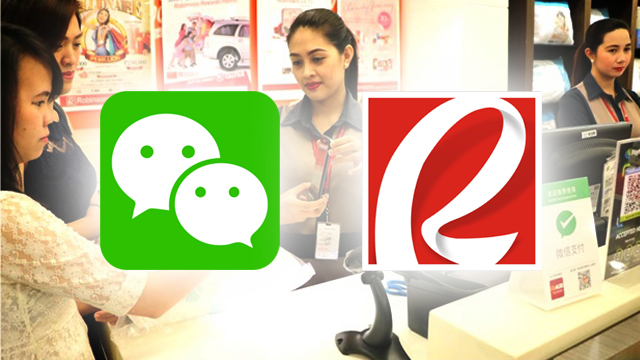 Robinsons Retail Holdings Inc. (RRHI), the operator of the country's second largest multi-format retailer, has signed a partnership with commercial bank Asia United Bank (AUB) to roll out WeChat Pay as a mode of payment in the various retailers under the Robinsons group.
"The country's second-largest multi-format retailer is rolling out WeChat Pay, the biggest social and payment app in China, as another payment option," wrote RRHI in a statement. The company added that it is offering the service after previously onboarding GCash and PayMaya, the two local telco-backed mobile wallets, as modes of cashless payments.
ADVERTISEMENT - CONTINUE READING BELOW
RRHI has currently rolled out the service in Robinsons Place Manila, where WeChat Pay can be used in a number of retailers under the Robinsons group. These include Robinsons Department Store, Robinsons Supermarket, Robinsons Handyman, Robinsons Appliances, Toys "R" Us and Daiso Japan.
Robinsons Retail Holdings is part of the JG Summit Holdings Inc., headed by business tycoon John Gokongwei Jr., the country's second richest billionaire with a net worth of $5.8 billion. Members of the Gokongwei family own and manage Summit Publishing Inc., which publishes Entrepreneur Philippines.
Last November, AUB signed a licensing agreement with Chinese technology giant Tencent to bring WeChat Pay to the Philippines. This is aimed to appeal to the growing number of Chinese tourists in the country, which rose 43 percent to 968,447 in 2017, overtaking the US as the second largest visitor market.
"With Chinese tourists being one of the Philippines' most frequent visitors, this partnership offers them the convenience and ease when buying goods and paying for services from local stores," wrote RRHI in the statement. "WeChat Pay will now allow Chinese tourists visiting the country to conveniently and seamlessly make cross-border payments guaranteeing a fast, secure and convenient way for them to pay for shopping, dining, hotel and airline bookings, and other tourism-related activities."
ADVERTISEMENT - CONTINUE READING BELOW
Related story: PH Retailers Can Now Accept Cashless Payments from Chinese Tourists Through WeChat Pay
*****
Lorenzo Kyle Subido is a staff writer of Entrepreneur PH