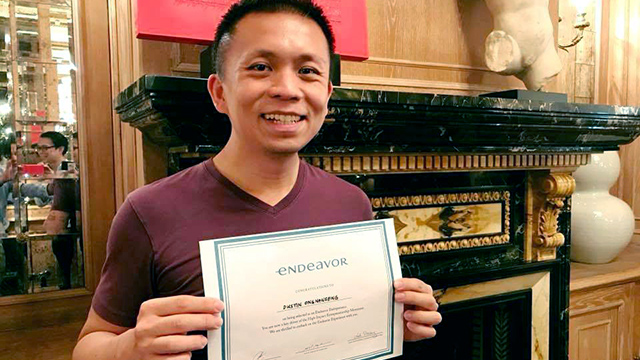 uHoo co-founder and CEO Dustin Onghangseng holds up the official certificate inducting him into the Endeavor global network of high-impact entrepreneurs
Dustin Onghanseng, the co-founder and CEO of air monitoring startup uHoo, has been inducted into the Endeavor global network of high-impact entrepreneurs.
In a Facebook post by Endeavor's Philippine chapter dated July 2, Onghanseng was announced to have passed the 80th International Selection Panel in Milan, Italy—the last step in the six-to-12 month process to become a member of Endeavor's community.
"As one panelist put it, 'he is a diamond and we should help him make big money fast!'" wrote Endeavor Philippines in its Facebook post. "We are beyond excited to be part of his journey."
Related story: Pinoy-Founded Air Quality Monitoring Startup Eyes $1.5M in Seed Funding
Onghanseng co-founded uHoo in 2014, with fellow Hong Kong University of Science and Technology alum Brian Lin after chronic bouts with air-related diseases while staying abroad.
Through its device, uHoo is able to monitor the air quality of offices, building lobbies and other closed spaces. With 24/7 data that can be accessed through a web-based dashboard or a mobile app, the device is able to give recommendations on how to adjust a space's air conditioning, ventilation or even overall design.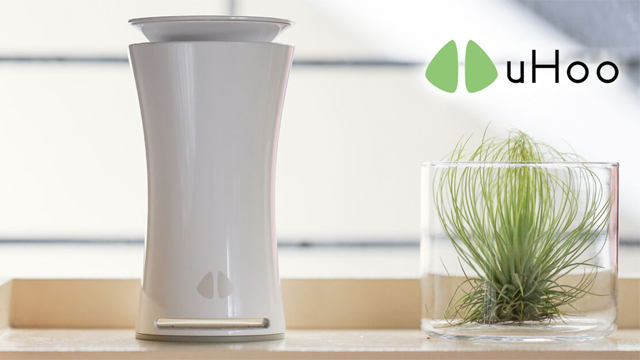 uHoo is a startup that monitors the air quality of offices, building lobbies and other closed spaces
"The only way to be able to ensure [air quality] is to be able to continuously monitor it," explained Onghanseng in Takeoff 2, a startup pitching event by the Information Technology and Business Process Association of the Philippines (IBPAP) held last June 6. "What you need is continuous monitoring so that you have all the data [and] you can take action."
In his pitch at Takeoff, Onghanseng also mentioned that ensuring an office's air quality has "a very clear ROI (return on investment)," pegging it at $6,500 per person per year. This has led to uHoo's device being used in offices and buildings in 50 countries, according to Endeavor.
ADVERTISEMENT - CONTINUE READING BELOW
uHoo retails its monitoring device for $299 while charging companies Php70 per square meter per month for a one-year air quality monitoring contract. This encompasses device and software installation, monthly reports and bi-annual maintenance. 
Onghanseng enters the Endeavor network as the 17th high-impact entrepreneur from the Philippines. Previous Philippine inductees include Xurpas chairman Nix Nolledo, Bo's Coffee founder Steve Benitez and Coins.ph CEO Ron Hose.
Established in 1997, Endeavor is a global nonprofit organization that aims to improve communities by mobilizing entrepreneurs. Its network consists of over 1,600 entrepreneurs in 30 countries who have collectively provided 1.5 million jobs and generated over $15 billion in revenues in 2017.
Related story: Mentor Capitalism: How Endeavor is Turning Entrepreneurship in PH into a Force for Development
*****
Lorenzo Kyle Subido is a staff writer of Entrepreneur PH