A week-long business conference and exhibition called Negosyo Fair 2017 underscores the growing importance of Negosyo Centers in helping owners of micro, small and medium-scale enterprises set up and grow their enterprises.
The event, which carries the theme "Build. Link. Transform. Connecting MSMEs, Creating Opportunities," is being held from June 19 to 24, 2017 at the SM Megatrade Halls in Mandaluyong City. It is sponsored by the Department of Trade and Industry (DTI) in partnership with other government agencies and industry groups.
According to the DTI, there are now 537 Negosyo Centers that assist micro and small business owners set up and grow their economic ventures in 114 cities and 387 towns throughout the Philippines. The creation of the business support hubs in each municipality was mandated by a law, Republic Act 10644, passed in August 2014 and authored by Senator Bam Aquino. The Negosyo Centers have assisted over 311,000 aspiring and established entrepreneurs as of June 2017, said the DTI.
ADVERTISEMENT - CONTINUE READING BELOW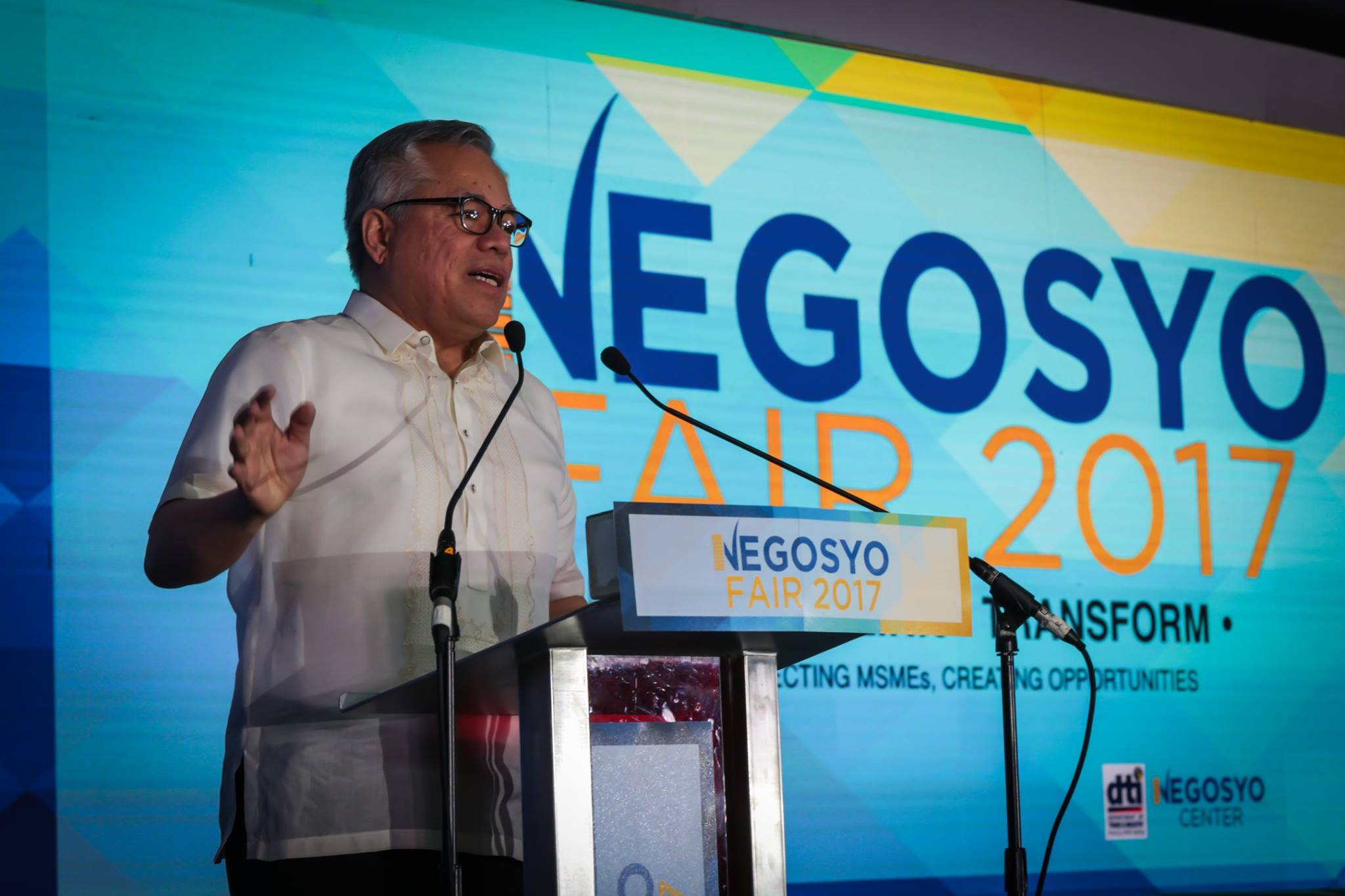 DTI Secretary Ramon Lopez speaks during Negosyo Fair 2017 at SM Megatrade Hall
Negosyo Centers were originally envisioned to help ease the burden of doing business by working with local governments to streamline business registration and regulations. Today, many of the business hubs also provide courses, training and advisory services on business conceptualization and feasibility, financial, managerial, capability building, human resources, marketing and other aspects of entrepreneurship.
These services are usually provided by business counselors employed by the Negosyo Centers or mentors who are experienced entrepreneurs who volunteer their time and effort to help other business owners.
One of the main events of Negosyo Fair 2017 is a business counselors' conference which aims to improve the advisers' knowledge and capacity while strengthening their ties and camaraderie to foster learning from each other. The conference covered five topics: Building Competency as a Business Consultant Thru Guided Protocol; Personality Development; ASEAN Economic Integration: Opportunities and Challenges; Inclusive Business: Creating Opportunities for our MSMEs; and Digital Transformation.
ADVERTISEMENT - CONTINUE READING BELOW
A highlight of the conference is the Design Challenge, which requires business counselors to create promotional materials through printed and digital means that can be used by all Negosyo Centers throughout the country. These include brochures, audio-visual presentations, websites, social media, collateral content plans, and creative presentations.
*****
Elyssa Christine Lopez is a staff writer of Entrepreneur PH. Follow her on Twitter @elyssalopz