Are you considering getting a franchise of Crystal Clear water refilling station? This weekend would be the best time to sign up for a franchise contract with the company.

The leading brand of drinking station in the country has announced a rare and special discount offered to all entrepreneurs who are aiming to get into the water refilling business. It has announced that from October 3 (Friday) until October 5 (Sunday), it would slash P200,000 off its regular franchise fee.

According to Crystal Clear marketing officer Ann Celeste, the offer was designed particularly for the 2014 Filipino Franchise Show, a franchising expo facilitated by the Association of Filipino Franchisers, Inc (AFFI). The company is a member of the organization.

"This means that entrepreneurs who would sign up in our booth in the expo until Sunday would only pay P400,000 in franchise fee," Celeste said. "Logically, this is a huge discount that prospective franchisees should not let pass," she added.

Crystal Clear usually sells franchise for its water store for P600,000. That fee covers the costs of equipment, merchandising materials, technical support services, and initial salaries and training of staff.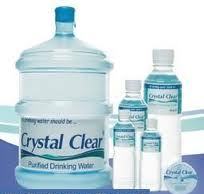 Celeste disclosed that there would be other announcements in the coming days from the company, but for now, cost-conscious entrepreneurs should drop by Crystal Clear's booth in the 2014 Filipino Franchise Show, which happens from October 3 to October 5 at the World Trade Center in Pasay City.
ADVERTISEMENT - CONTINUE READING BELOW
To learn more about Crystal Clear, visit its online directory listing here.