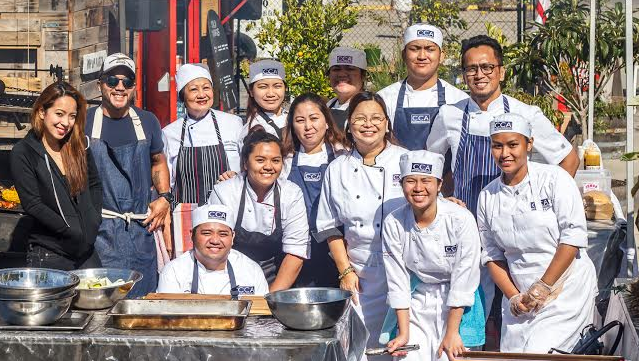 As the country's pioneer institution that takes pride in uplifting Filipino culinary heritage to the world, the Center for Culinary Arts (CCA, Manila) has been proudly leading Philippine cuisine's remarkable journey towards international recognition for the past 17 years. Taking every decisive step in bringing home-grown flavors to their rightful place among the world's best, the institution synergizes leadership, passion, and innovation in keeping this gastronomic legacy alive and strategically positioned in the future. 

In pursuant of this noble mission, the center has embarked on many initiatives in both national and international levels. One such culinary event that made significant impact is the school's successful hosting of a special seven-course dinner for the visiting Spanish chef delegation to the recent Madrid Fusion-Manila. Prepared by award-winning CCA Culinary Director Chef Sau del Rosario and the CCA chef faculty, the farewell dinner impressed and earned a standing ovation from the elite guests, namely Spanish Michelin-starred chefs Mario Sandoval Huertas, Francisco Javier Paniego Sanchez, Francisco Roncero, Ramon Freixa, and Europe's best pastry master, Francisco Paco Torreblanca.  

It has also brought Filipino cuisine and culinary artistry in another high-profile culinary event, the recent Melbourne Food and Wine Festival wherein the Filipino Barbie team—composed of guest chefs, CCA instructors and students—put out an impressive repertoire of Filipino dishes with a twist to the foreign community in Australia.  

To facilitate multi-disciplinary higher learning, master certificate seminar courses were also successfully conducted by CCA, Manila in partnership with some of the world's renowned experts. Among these visiting industry innovators were social entrepreneur and BLYSS founder Alyssa Jade "Lyss" McDonald-Bartl, Australian top commercial food photography expert Trudy Schuringa, and Japanese sushi master Chef Andy Matsuda. 
ADVERTISEMENT - CONTINUE READING BELOW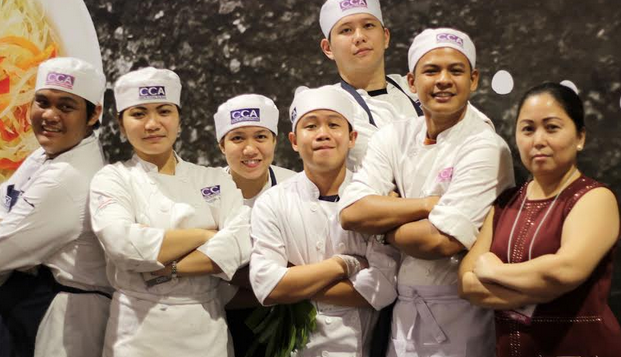 Honing culinary talent
As the top culinary arts training institution that thrives in its mission to elevate Philippine cuisine and ingredients to the world, CCA, Manila also places equal importance in harnessing its chef-talents. This was done by providing a platform for up and coming kitchen apprentices to compete effectively and showcase their skills in various international exhibits and competitions. 

Just recently, CCA, Manila placed home-grown pride and flavors in the Asian gastronomy map by partnering with the Center for International Trade Expositions and Missions (CITEM) in the International Food Exhibition (IFEX) Philippines.  As an Official Food Presenter of the Taste by Design Food Trail, CCA's chef faculty and students welcomed guests and foreign exhibitors with diverse regional renditions of iconic dishes such as adobo, pancit, lumpia, and native kakanin desserts. 

Apart from putting Filipino heritage food into the global limelight, CCA, Manila also celebrates the triumphs of Filipino talents in various international culinary tilts, the most recent of which is its successful bid at the HOFEX-Hong Kong International Culinary Classic (HKICC) 2015, where three of its chefs—Chefs Kerwin Funtanilla, Michael Cheng, and Miguel Antonio Soriano Lorino won in various categories, including the Gold Bauhinia Cup.

"We are proud to carry on the flag and flame for Philippine cuisine. These contributions and achievements well-position CCA, Manila's leadership in the professional culinary field," said CEO Badjie G. Trinidad.  

"CCA, Manila's deeply rooted pride and passion for Philippine cuisine and ingredients spring from its mission to elevate our unique and rich culinary heritage to the world. By continuously harnessing future chefs through global-quality academic learning and competitive training, and we are bringing our wealth of culinary treasures and home-grown talents to greater, world-wide acclaim," added culinary director Chef Sau del Rosario. 
ADVERTISEMENT - CONTINUE READING BELOW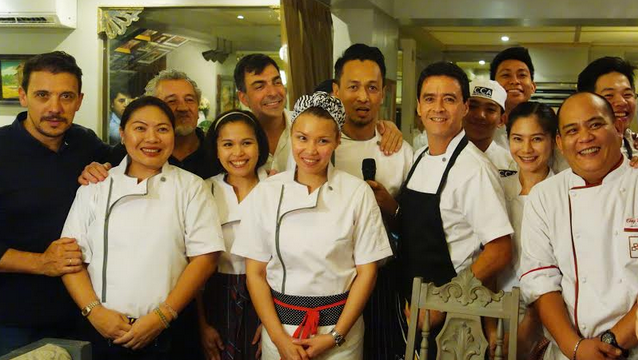 Looking forward  
The list of milestones reflects CCA's intention to establish Filipino cuisine in the global culinary landscape, as well as highlights its formidable reputation as the top institution for professional learning and world-class culinary talents. 

With the country at the center of global interest in this year's biggest diplomatic assembly of leaders, the Asia-Pacific Economic Cooperation (APEC) Summit happening in November, CCA, Manila is more than ready to uplift the Filipino brand of culinary excellence to its most prestigious, international recognition.    

"The upcoming APEC congress serves as a great opportunity where we can showcase the country's cuisine to the entire international community. As a staunch supporter and passionate advocate of Philippine cuisine, we are motivated more than ever to showcase nothing but the best Filipino cuisine in this important occasion," said Chef Sau.   
ADVERTISEMENT - CONTINUE READING BELOW
For inquiries, call CCA, Manila at 218-8566, e-mail: marketing@cca-manila.com, or visit their Website. The main campus is located at 287 Katipunan Ave., Loyola Heights, QC.