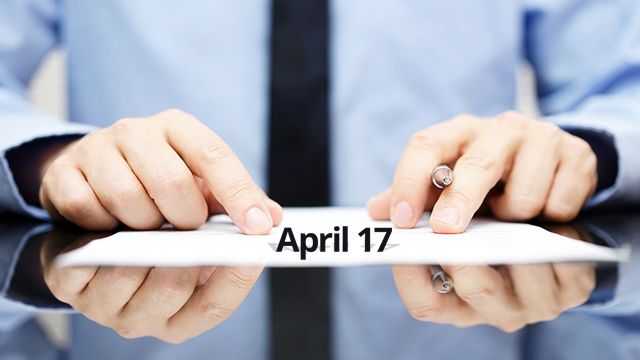 Heads up, taxpayers!
The deadline for income tax filing returns this year was moved to April 17, Monday as the usual deadline, April 15, falls on Black Saturday, a non-working day, the Bureau of Internal Revenue (BIR) said.
Related story: What you need to know about income tax filing
In Revenue Memorandum Circular No. 28-17 issued on March 30, the BIR reminded taxpayers about the new deadline, warning there will be no further extension. Failing to submit tax returns by April 17 would mean an immediate penalty of 25-percent surcharge on the tax due. In addition, another 20-percent interest on the amount of tax due will be imposed per year the tax is not paid.
ADVERTISEMENT - CONTINUE READING BELOW
Related: Paying taxes: A guide for the self-employed and professionals
The agency expects to collect Php1.83 trillion in total taxes in 2017, or almost 13 percent more than the goal in 2016. Net income and profit taxes are expected to contribute the most of this year's collection at Php1.06 trillion. A sizeable part of net income and profit taxes are collected on or before the deadline for the filing of the income tax return towards the middle of April.
Related story: Financial Adviser: 5 Types of Income You Don't Have to Pay Tax on This April 15
*****
Elyssa Christine Lopez is a staff writer of Entrepreneur PH.. Follow her on Twitter @elyssalopz