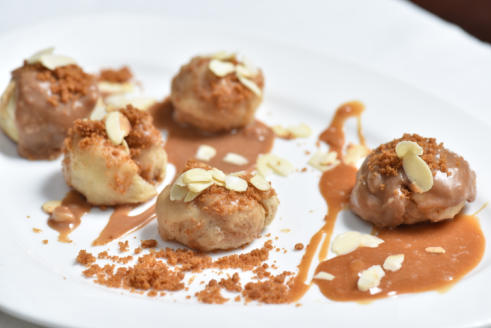 Filipinos simply love biscuits and spreads. That could be because we usually like eating or dipping those into hot coffee. Some creative food entrepreneurs know that there are more ways to enjoy biscuits, aside from having those as side-snack along with any hot drink.

During the recent launch of Lotus Biscoff in Manila, Chef Vicky Veloso-Barrera from Tiny Kitchen shared some simple recipes with Lotus Biscoff biscuits and spread as main ingredients.

Here is one of those. You may find this as a simple but ideal food business idea that you may try doing today. Learn how to make mini Biscoff cinnamon rolls.

Ingredients:
•    ¾ cup lukewarm milk
•    ¼ cup sugar
•    1 ½ tsp. yeast
•    1 egg
•    2 ¼ cup flour
•    1 tsp. salt
•    2 Tbsp. soft butter
•    2 Tbsp. Lotus BiscoffSpread Smooth
•    3 Tbsp. soft butter
•    3 Tbsp. sugar combined with ½ tsp. cinnamon
•    ½ cup powdered sugar combined with 1 Tbsp. Lotus Biscoff Spread Smooth and 2 Tbsp. milk
•    toasted almonds
•    Lotus Biscoff biscuit crumbs

Procedures:

1.    Combine in a bowl lukewarm milk, sugar, and yeast. Leave for a few minutes. The mixture should become bubbly. Blend in the egg, flour, and salt. Divide the dough into 2 halves; to one half add 2 tbsp. butter and to the other half add 2 tbsp. Lotus Biscoff Spread Smooth to form a sticky dough. Knead both doughs for 5 minutes and let rise for 1 hour, covered.

2.    Shape the two doughs into long strips. Twist the two strips together and cut off 3-inch lengths. Roll each length to make a small cinnamon roll. Distribute the 3 tbsp. soft butter and cinnamon sugar between 24 small muffin cups. Place the cinnamon rolls in the cups and cover. Let it rise for 20 minutes. Then, bake for 15 minutes at 350°F or until lightly browned underneath.

3.    Drizzle with Lotus Biscoff glaze and sprinkle with toasted almonds and/or Lotus Biscoff biscuit crumbs.



ADVERTISEMENT - CONTINUE READING BELOW