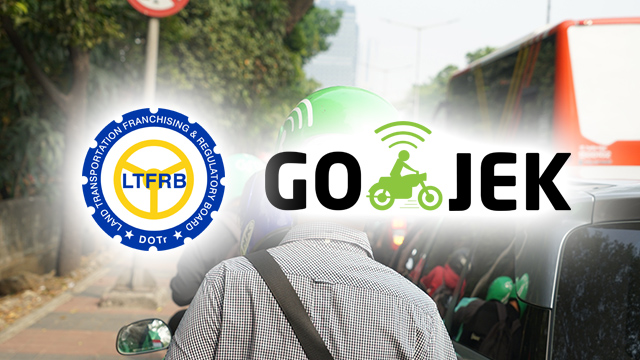 The Land Transportation Franchising and Regulatory Board (LTFRB) has stopped issuing licenses for transport network companies (TNCs) anew as the agency studies its self-imposed supply cap for the service providers in the industry.
In Memorandum Circular No. 2018-016 published on August 15 in major newspapers, the LTFRB announced it is suspending the acceptance of new applications for TNC accreditation as there are already eight firms providing ride-hailing services in the market. The circular is deemed effective 15 days after publication.
ADVERTISEMENT - CONTINUE READING BELOW
"There is a necessity to further study the effect of the cap or limit on the pool of the 65,000 approved transport network vehicle service (TNVS) to the number of accredited TNCs, which was suspended before the unmonitored increase of TNVS operators having difference concept[s] of ride sharing," the circular read.
The LTFRB's move may jeopardize Indonesian ride-hailing and technology startup Go-Jek's efforts to establish a foothold in the Philippines and pose the only credible potential competition to Grab Philippines, the dominant TNC in the country after Uber ceased operations. Though there are at least seven other players in the Philippines, none has the financial and technical resources to threaten Grab's market dominance.
In August, LTFRB Board Member Aileen disclosed that Go-Jek had filed an application for a provisional authority (PA) or temporary permit to operate in the Philippines. She revealed that the Indonesian startup, which is valued at more than $1 billion, has incorporated a local company called Velox Technology Philippines, Inc. as the corporate vehicle for Go-Jek's operations in the country.
ADVERTISEMENT - CONTINUE READING BELOW
Related story: Indonesia's Go-Jek Seeks Provisional Permit and Forms Firm in PH, Says LTFRB Official
An LTFRB official said on Thursday, September 27, that Go-Jek's application for accreditation has been effectively put "on hold," saying it was covered by the moratorium.
The official did not explain why that is so when Go-Jek filed its application on August 13, or two days before the memorandum circular was published and two weeks before the issuance became effective.
Speaking before a legislative hearing on TNCs in August, Lizada said Go-Jek's entry could be potentially disruptive for existing ride-hailing businesses in the country. "Go-Jek is too huge for the Philippines. It will wipe out our homegrown TNCs," she said.
With equity support from Google of the US and Tencent of China, Go-Jek operates in 50 cities in Indonesia and is planning to enter Thailand, Vietnam, Singapore and the Philippines. It started as a motorcycle ride-hailing platform and has since expanded into car-hailing, logistics and financial technology.
ADVERTISEMENT - CONTINUE READING BELOW
Its car-hailing unit, Go-Car, formed only in 2016, helped push Uber out of Southeast Asia and outgrew Grab as the most popular ride-hailing service in Indonesia, according to the Financial Times.
The regulatory board last lifted its moratorium on TNC accreditation in January 2018 when there were only two accredited players in the industry—Uber Technologies Inc. and MyTaxi.Ph, which controls the local operations of regional giant Grab.  The two companies have since merged their operations as Grab bought out the regional operation of Uber in Southeast Asia in April.
Since then, LTFRB has accredited six new local TNCs in April—Hype Transport Systems Inc., GoLag Inc., iPara Technologies and Solutions Inc., Hirna Mobility Solutions Inc., Micab Systems Corp and E-Pick Me Up Inc.— but none have the financial and technical muscle to compete effectively with Grab.
In addition, it is also evaluating the TNC applications of five other companies, namely, Ryd Global Inc., Citimuber Corp., Aztech Solution International Corp., Unified Transport Operations League SMESoft Inc. and iHitchonline Inc. It has previously accredited u-Hop Transport Network Vehicle System, which is now seeking an extension of its accreditation.
ADVERTISEMENT - CONTINUE READING BELOW
*****
Elyssa Christine Lopez is a staff writer of Entrepreneur PH. Follow her on Twitter @elyssalopz