Though ranking only seventh among Filipinos in the recently-released Forbes' global billionaires list, property developer and former Senate President Manuel Villar still stands out for doubling his net worth from $1.5 billion in February 2017 to $3 billion in February 2018.  
Of all the Philippine billionaires, he posted the highest percentage increase in wealth. This is the richest Villar has ever been since Forbes started to track his net worth in 2006. 
ADVERTISEMENT - CONTINUE READING BELOW
Looking at the rise in the market capitalization of the Villar family's three listed companies, one would immediately notice the 962-percent increase in the value of Golden Haven, a builder of cemeteries and columbariums. It rose to Php87.1 billion as of February 9, 2018, the cut-off date for the Forbes list.
About 83-percent owned by the Villar family's private holding firm Fine Properties, Golden Haven listed less than two years ago but is already the main driver of the rapid growth in Villar's fortunes.
Golden Haven changed its name to Golden Bria Holdings on March 13. That followed an acquisition in December 2017 of low-cost housing developer Bria Homes Inc. for Php3 billion. It aims to further expand its reach nationwide and possibly go into building homes for low-income families.
In contrast, the mainstay of the Villar family's fortune, property developer Vista Land & Lifescapes, which consists of their various housing companies, rose by only 27 percent in the year to Php81.96 billion as of early February 2018. Vista Land is 65-percent owned by the Villar family through direct shareholdings as well as indirectly through Fine Properties and Althorp Corp., another Villar-owned holding firm.
ADVERTISEMENT - CONTINUE READING BELOW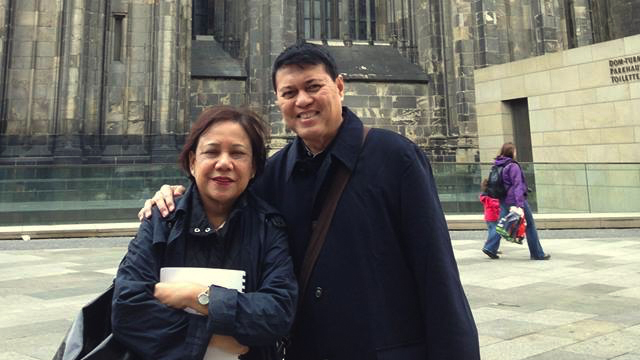 Manny Villar with his wife, Senator Cynthia Villar 
The third listed company, Starmalls, which builds and operates a chain of shopping malls on and off other Villar property developments, also surged in value by 177 percent to Php183.5 billion. Bulk of the Villar family's interest in Starmalls is held indirectly--through an 88-percent stake in the company owned by listed Vista Land. The family's direct stake is only 1.36 percent through Fine Properties.
ADVERTISEMENT - CONTINUE READING BELOW
While quite impressive, the rise in the market value of two of the three stocks is a fairly recent phenomenon. In fact, around 73 percent of the increase in Golden Haven's market capitalization occurred only since the start of 2018 while the corresponding figure for Starmalls is 68 percent. In contrast, only a fourth of Vista Land's market appreciation happened this year.
So, what could be driving the sharp rise in Starmalls and Golden Haven's share prices this year? 
In the case of Starmalls, it could be due to the Villar group's announcement of aggressive plans to triple the number of its shopping malls across its various brands from only 22 at present to 60 by 2020. Overall, the group has set a massive three-year capital expenditure of Php175 billion for the development of its real estate, retail, education and health related businesses from 2018 to 2022. 
Golden Haven represents a more interesting case. In a March 9 story, Bloomberg reported that the stock has surged more than 1,400 percent so far this year, outpacing more than 2,700 other listed property companies globally. 
ADVERTISEMENT - CONTINUE READING BELOW
The report also cited possible factors for the stock's outstanding performance. "While the cemetery builder's recent push into the affordable housing market is seen as part of the reason, an even bigger factor appears to be speculation that billionaire founder Manuel Villar may use it as a vehicle to become the country's newest telecommunications carrier," Bloomberg said.
Bloomberg said that the Villar family's Streamtech Systems Technologies Inc. is seeking a congressional franchise to provide fixed-line broadband services to residential communities built by the group's property companies. Speculation is rife that the group will enter the mobile telecoms business eventually.
Meanwhile, all that speculative activity is helping drive up the value of Villar and his family's net worth even more. As of March 14, Forbes' real-time estimates placed his wealth at $4.1 billion, up more than a third from $3 billion as of February 9.
*****
Elyssa Christine Lopez is a staff writer at Entrepreneur PH. Follow her on Twitter @elyssalopz
ADVERTISEMENT - CONTINUE READING BELOW