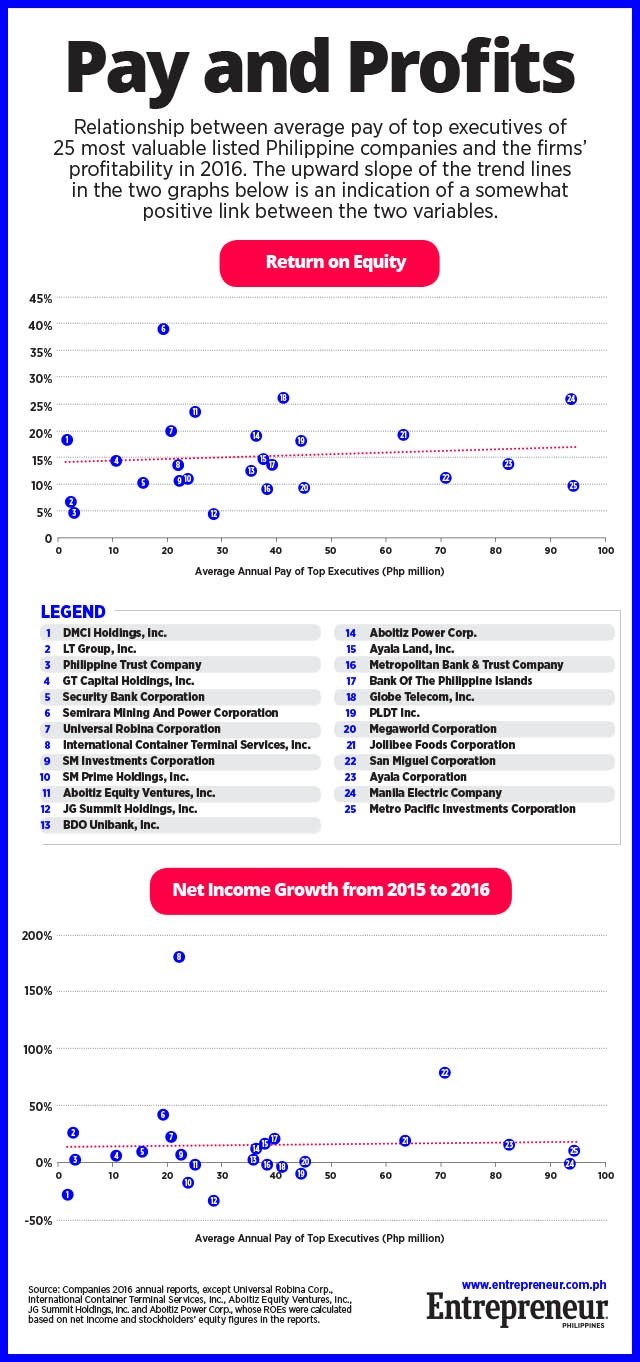 Management journals are full of studies showing a positive relationship between executive compensation and firm performance. In general, the more pay is given to CEOs and top executives, the better their companies perform in terms of profitability.
In this infographic, we take a quick look if the link holds true for the 25 most valuable listed Philippine companies, ranked in terms of market capitalization as of end-June 2017.
ADVERTISEMENT - CONTINUE READING BELOW
The graphs compare the companies' average pay for its top executives and standard measures of financial performance such as return on equity (ROE) and net income growth in 2016. The higher both figures are, the better the company's financial performance.
Annual reports submitted by the listed companies to the Philippine Stock Exchange (PSE) disclose the annual compensation granted to the four to six highest-paid executives, making it possible to compute the firm's average pay for its top officers. In a previous infographic, we compared and ranked the average pay for the 25 most valuable firms' top executives.
Related story: Which PH Firms Give the Highest Average Pay to its Top Executives?
The companies' annual reports also provide data on their return on equity (ROE) as well as net income figures for the past two or three years, making it easy to calculate profit growth.
By plotting the average pay of the top executives on the horizontal axis, and ROE as well as net income growth on the vertical axis, we create scatter graphs that show at a glance how strong or weak is the relationship, if any, between executive pay and firm profitability for the Philippines' 25 most valuable listed firms last year.
ADVERTISEMENT - CONTINUE READING BELOW
Though based only on a single year and a limited number of firms, the resulting scatter graphs tend to confirm the positive relationship between pay and profitability.  The trend lines in both graphs are sloping upwards though in varying degrees. If the trend lines are flat, that would have suggested no relationship while a negative relationship would be indicated by a downward sloping trend line.
While the infographic doesn't really answer the question if the top executives deserve their high pay or not, it does suggest that they are at least earning their keep when it comes to ensuring their companies' profitability.
*****
Pauline Macaraeg is Entrepreneur PH's data journalist. Follow her on Twitter @paulinemacaraeg