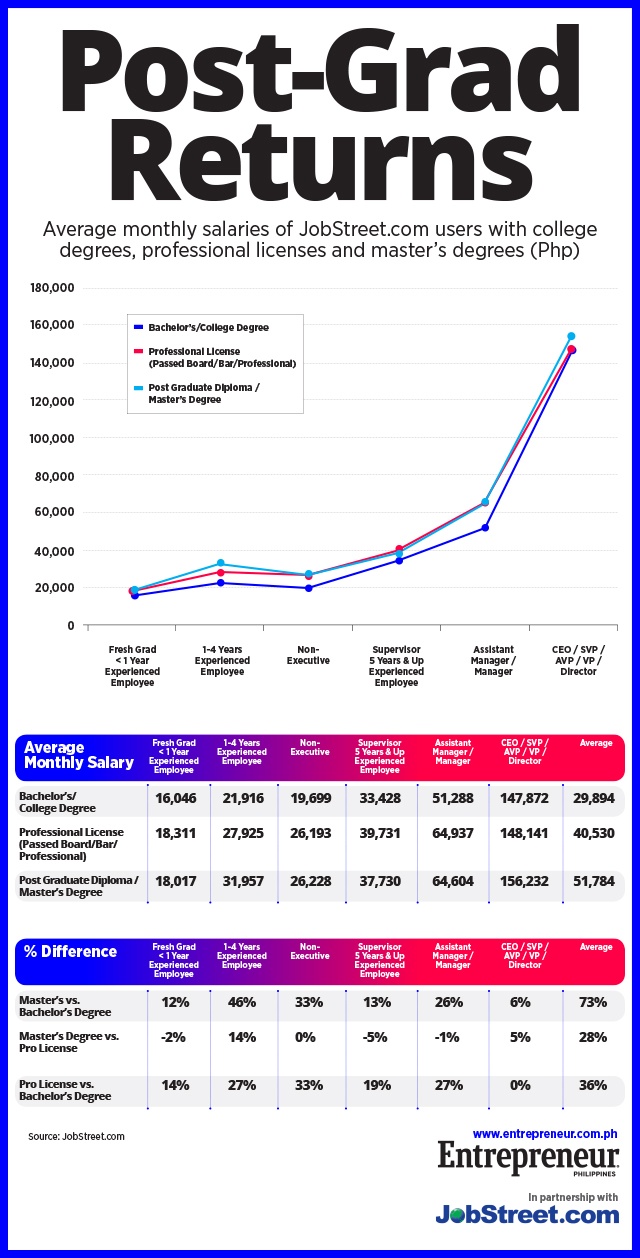 Intuitively, we know that getting a Master's in Business Administration (MBA) and other graduate degrees is good for professional careers. Anecdotally, advanced degrees help fast-track promotions up the corporate ladder, resulting in much higher pay.
But is that expectation supported by a more systematic analysis of data?
To find out, Entrepreneur Philippines partnered with JobStreet.com to take a close look at the online job portal's data on the self-reported salaries of tens of thousands of their users.
We grouped the entries and separated those who only finished college from those who reported completing a graduate degree as well as those who are professional license holders. Professionals include lawyers, medical doctors, certified public accountants, engineers and others who passed a government licensure examination.
As well, the entries were also classified according to the employment level of JobStreet.com users, ranging from fresh graduates to employees with one to four years' experience, non-executives, supervisors or experienced employees, assistant managers and top managers such as CEOs and vice presidents.
ADVERTISEMENT - CONTINUE READING BELOW
Overall, JobStreet.com users with post-graduate degrees were paid an average monthly salary of Php51,784, which is 73 percent higher than the average salary of those with college diplomas only, which amounted to Php29,894.
Master's degree holders enjoyed higher salaries than college graduates ranging across the various employment levels. The salary premium for those with post-graduate degrees starts at 12 percent for those working for less than one year and rises to 46 percent for those with one to four years experience and 33 percent for non-executives. It then falls to a low of only six percent for top managers.
However, the salary premium of post-graduate degree holders falls to only 28 percent when compared to professional license holders, who are paid an average salary of Php40,530 a month. That is 35.6 percent higher than the monthly pay of college graduates, reflecting the additional education and training that professional license holders receive.
Across the various employment levels, master's degree graduates don't automatically get a higher salary than licensed professionals. While post-graduate degree holders with one to four years experience and top managers are paid more, those who have less than one year experience, the non-executives, supervisors and assistant managers are paid less.
Though these numbers are based on self-reported salaries and other information volunteered by JobStreet.com users and who may not be representative of the pay levels and educational profile of the entire labor force, they nonetheless yield important insights on the relative value of a post-graduate degree.
At the very least, they seem to suggest that college graduates could expect to see a sizeable jump in pay if they pursue a master's degree. On the other hand, the increase in pay for licensed professionals who study for a post-graduate degree is not that big. Professional license holders are already paid higher than college graduates, so there's not much room for improvement in their salaries.
ADVERTISEMENT - CONTINUE READING BELOW
*****
Lorenzo Kyle Subido is a staff writer of Entrepreneur PH