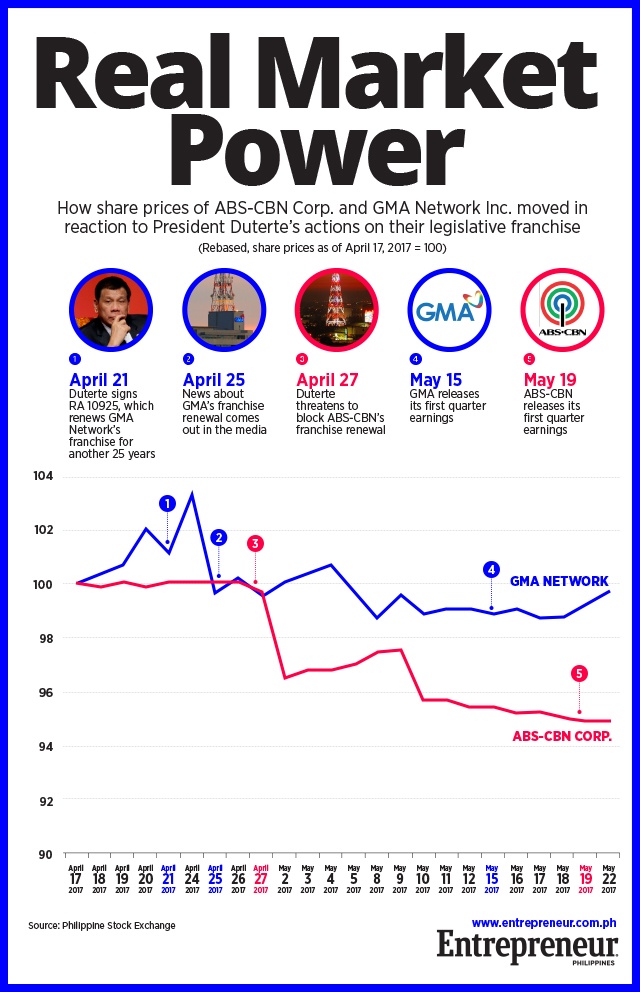 President Rodrigo R. Duterte likes to say he knows little of economic and financial matters though his aides and officials add he is more familiar with the subject than he lets on. What is not a matter for debate is his outsized impact on the stock market.
This became evident recently with Duterte's contrasting words and actions on the country's two biggest media companies: ABS-CBN Corp. and GMA Network Inc.
ADVERTISEMENT - CONTINUE READING BELOW
After Duterte signed a law that extended GMA Network's legislative franchise by another 25 years on April 21, the company's share price rose by 2.1 percent on April 24, the next trading day. (April 22 and 23 fell on a weekend.)
The company's share price fell by 3.5 percent the following day after news of the signing of the law came out on April 25, underscoring a famous stock market adage: buy on rumor and sell on news.
On the other hand, when Duterte threatened on April 27 he will block the renewal of ABS-CBN Corp.'s franchise (which ends in 2020), the share price of the country's biggest media company by revenue fell 3.2 percent the next trading day on May 2 (April 29 and 30 fell on a weekend while April 28 and May 1 were holidays). The company's share price recovered slightly afterwards but fell steadily again the week after. The President alleged that the network refused to air his ads during the 2016 elections.
ADVERTISEMENT - CONTINUE READING BELOW
In contrast to the big movements in the two broadcast companies' share prices in reaction to Duterte's attitude towards their respective legislative franchises, investor reaction to their financial performance seemed more muted.
Related story: ABS-CBN vs GMA: Who's really Winning Viewers and Making Money 
When GMA Network released a report on May 15 that its net income fell 17 percent in the first three months of the year from the same period last year (largely due to the base effects of last year's pre-election season), the broadcaster's share price fell only 0.2 percent that same day. It went up by 0.2 percent the following day.
Similarly, when ABS-CBN reported that first-quarter earnings dropped 59 percent (for almost the same reason as GMA Network's profit decline) on May 19, its share price fell only 0.1 percent that same day and remained unchanged the next trading day, May 22.
The two networks are the main rivals in the Philippine broadcast media industry, accounting for at least 75 percent of the country's television audience. In the past, they competed mainly for ratings and advertising revenues by coming out with the most compelling content. Now, it seems presidential favor or disfavor has emerged as a big factor, too.
ADVERTISEMENT - CONTINUE READING BELOW
*****
Pauline Macaraeg is Entrepreneur PH's data journalist. Follow her on Twitter @paulinemacaraeg