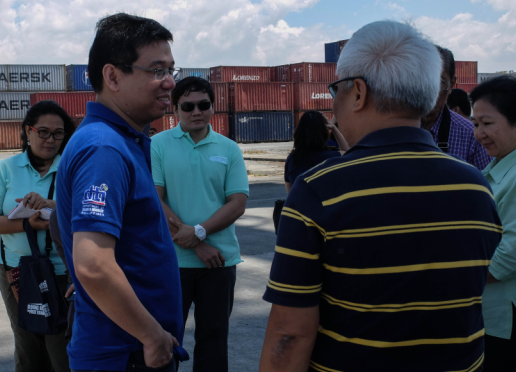 The Department of Trade and Industry (DTI) in a meeting today with Northern Mindanao business leaders discussed updates on the ASEAN Economic Community (AEC) and the country's European Strategy. Close to 170 stakeholders attended the 'Updates on the Philippine International Trade Strategy: Doing Business in Free Trade Areas (DBFTA) Dialogue with Business Leaders' held at the Limketkai Luxe Hotel in this city today (5 March 2015).

DTI Assistant Secretary Ceferino S. Rodolfo met with small and medium enterprises (SMEs) and local industries in Region 10 to discuss mechanisms for assistance and development. "Opportunities abound for growth and investment in fields such as agriculture, food processing, service-related industries, and trade infrastructure services. Moving forward, we need to entice more investors to come in and work closely with them so our local industries can provide the demand of our target markets abroad," Rodolfo added.

Rodolfo said that the Philippines has already created open market access for industries and SMEs through tariff free trading across the borders of ASEAN and for more than 6,000 products for export to Europe. He added that Northern Mindanao is at the cusp of a breakthrough in reaping the benefits of international trade.

"Access to technology and more sophisticated equipment will aid SMEs in increasing their competitiveness and marketability," said Linda O. Boniao, Officer in Charge/Regional Director of DTI Region 10. She further explained, "The ultimate goal of DTI is to increase the production capacity of SMEs because supplying the volume required by the domestic market alone has been a challenge."

Strategic partnerships
The DTI has been working in partnership with other international organizations to identify specific interventions to assist the local SMEs in building capacity for production, packaging and promotion, among others.

Northern Mindanao, composed of nine (9) cities and five (5) provinces, is the largest regional economy in the island of Mindanao. In Bukidnon, the DTI, through its Shared Service Facility (SSF) Project, partnered with the Hineleban Foundation, Inc. (HFI), to acquire post-harvest and processing equipment for their famous coffee produce. Even transnational corporations such as Del Monte Philippines Inc. (DMPI) have set their sights on increasing their production. Eugene Gerong, DMPI's Senior Manager for Pineapple Growing, said since Del Monte Philippines acquired Del Monte US last year, DMPI is now expanding operations to increase output and remain competitive.

ADVERTISEMENT - CONTINUE READING BELOW
Reliable logistics network

A major element in preparing Region 10 for increased international trade is ensuring the efficiency of the region's logistics network.  The DTI also conducted an ocular inspection of the Mindanao International Container Terminal Services Inc. (MICT) in Cagayan de Oro. Even with its current capacity of 270,000 20-foot container vans, the MICT has plans to expand both its berth length and container yard to help ease port congestion in Metro Manila.

"Other major ports outside of Metro Manila will be the gateway of our local SMEs and industries to their foreign markets, while at the national level, the continuing initiatives to ease port congestion will improve country productivity and allow us to deftly adapt to dynamic global market needs," Rodolfo said.

"Advancing logistics is one of the key factors to maximize the benefits of international trade. A predictable and secure logistics network will help us realize the gains from regional economic integration," Rodolfo added.