<>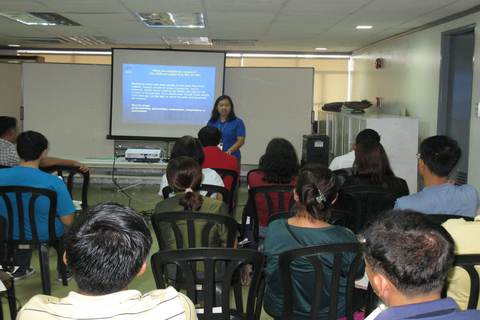 The national government encourages and supports small and medium-sized enterprises (
SMEs
). It has various programs coursed through a number of agencies that intend to convince many of our fellowmen to startup their own businesses and to give guidance on how to start a business.
Not known to many, the
Department of Trade and Industry (DTI)
is facilitating regular short seminars that aim to provide guidance on putting up small businesses and on assessing small business ideas. Dubbed as 'SME Briefing Sessions,' the series of small events are all offered and facilitated for free.
For several years now, the
Bureau of Micro and Small and Medium Enterprise Development (BMSMED)
has been conducting series of seminars on a regular basis. It usually holds briefings twice to thrice every week, all covering different aspects of entrepreneurship.
This year, the DTI unit has kicked off the briefing sessions through the back-to-back seminars that it just conducted last Tuesday (February 4). The short seminars 'How to Start a Business' and 'Barangay Micro, Business Enterprise (BMBE) Law' were both held at the training room of the Trade and Industry Building in Sen. Gil J. Puyat Ave., Makati City.
'How to Start a Business'
was facilitated by Ma. Victoria O. Magkalas, officer-in-charge of the BMSMED. The hour-long session covered the basics of entrepreneurship, from the business development cycle to the reasons for putting up a small business and the rewards that come with it. The short seminar even imparted logical ideas about generating capital for enterprises.
'BMBE Law'
was obviously about the basic provisions of the Barangay Micro Business Enterprises Act of 2002. The session was conducted by Cynthia dela Cruz, senior trade and industry development specialist of BMSMED. It identified all government agencies on the national and local levels that are tasked to implement the law. The session also covered important information like qualifications for registration of SMEs, the registration process, and the most interesting part, the mandated tax exemptions for small businesses (not many of us are aware that these exist).
The rest of the SME Briefing Sessions will be held on all Tuesdays of February. On February 11, the back-to-back short seminars will be 'Integrated Business Licensing' (to be conducted by DTI-NCR) and 'Orientation on Registering for Patent, Trademarks, and Trade Names' (to be handled by the Intellectual Property Office).
February 18 will be all about 'Business Taxation for SMEs,' to be facilitated of course by a representative from the Bureau of Internal Revenue (BIR). On February 25, the session will discuss the 'Importance and Value of Financial Statements' that will be conducted by a freelance consultant.
The sessions start from 1:30 in the afternoon and last until 4:00. Interested participants are advised to come to the venue earlier because the seminars are held on a
'first come, first served'
basis. Only 40 participants are accommodated per session due to the limited number of available seats. Handouts and other materials are distributed for free after each briefing.
For inquiries about SME Briefing Sessions and to learn about other upcoming free seminars from DTI, contact any of BMSMED specialists (Carissa Sapera, Imelda Gabriel, Edwin Pasahol, or Corabeth Magkalas) through phone numbers (02)751 5076 and (02)897 1693.  

ADVERTISEMENT - CONTINUE READING BELOW