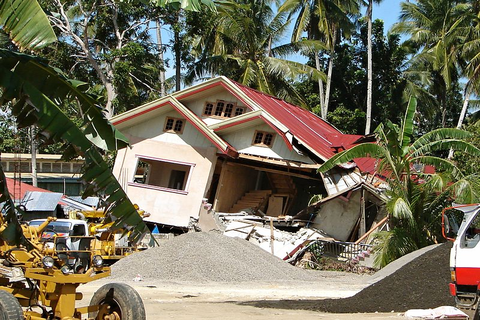 <>The Fabrication Laboratory (FabLab) Shared Service Facility, the first of its kind in the Philippines, was launched in Tagbilaran City, Bohol on May 2, 2014. This laboratory project aims to support some 135 micro-, small-, and medium-scale enterprises (MSMEs) in the province especially those hit by the earthquake in October last year.
The launching was led by President Benigno Aquino III. In his keynote speech, Pres. Aquino said: "
Ang
FabLab
na ito ay pihadong magbubukas ng maraming pagkakataon sa pag-asenso sa Bohol at sa inyong mga karatig-probinsya
(This project will surely open more opportunities in Bohol and in nearby provinces)."
Pres. Aquino recognized the Department of Trade and Industry's (DTI) effort and its joint partnership with other agencies like Department of Science and Technology (DOST), Japan International Cooperation Agency (JICA), and Bohol Island State University (BISU) for setting up Bohol FabLab. Still, DTI is open to partner with the Commission on Higher Education (CHED) and Department of Education (DepEd) in the laboratory project
Moreover, he said that DTI's initiative to strengthen MSMEs is at its height. Nonetheless, the President mentioned that in 2013, DTI had built 475 shared services facilities in different parts of the country to support up to 10,000 small and medium enterprises.
Boholanos towards a creative industry
FabLab is a global collaboration of innovators, technologists, and educators from 50 countries to provide innovation to Bohol's creative industry sector. It gives access to local producers and manufacturers with new prototyping technologies and open-source software in designing their own products to match the market competition.
Aside from helping Bohol manufacturers in designing their own prototypes and in executing ideas, FabLab also gives an edge to the marketability of Bohol products. Based on the United Nations Conference on Trade and Development (UNCTAD), the creative industry is expected to contribute 11% to the world output come 2015.
Rising from the ruins
Trade undersecretary Zenaida C. Maglaya told reporters in an interview on Friday that it is the drive and culture of the
Boholanos
that helped them recover. "I guess it's the resiliency,
at saka iyong sipag, iyong tiyaga ng mga Boholano
to really help themselves in rebuilding what was damaged by the earthquake," she said. Maglaya added that currently, 95% of the MSMEs in Bohol are in normal operations several months after the earthquake.
These MSMEs will benefit from modern technologies like laser cutter, computer-numerical-controlled milling machines, print-and-cut machines, 3D printer, and video conferencing facilities from FabLab.
ADVERTISEMENT - CONTINUE READING BELOW