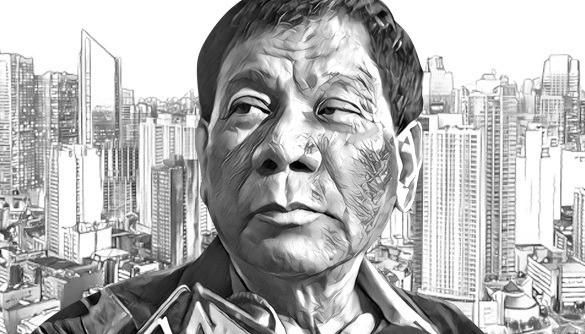 President Rodrigo R. Duterte's economic managers have spelled out plans to ramp up infrastructure spending to Php3.6 trillion between 2018 and 2020, bulk of which will be used for transportation projects in Metro Manila and other parts of the country.
In a presentation during a forum Tuesday on the new administration's economic programs called "DuterteNomics",  Socio-economic Planning Secretary Ernesto Pernia said the projects under the three-year rolling infrastructure program (TRIP) for 2018 to 2020 aim to lay down the basis for future economic growth. He said the projects aim to decongest Metro Manila and develop other regional and sub-regional centers in other parts of the country.
ADVERTISEMENT - CONTINUE READING BELOW
 "This is the most ambitious infrastructure program in history," said Benjamin Diokno, the budget chief, in the same forum, reaffirming the administration's target to increase infrastructure spending to Php8.4 trillion from 2017 to 2022. Administration officials would like President Duterte's term of office to be known as the "Golden Age of Infrastructure".
Budget data shows that the Duterte administration is poised to exceed outlays made by past governments for infrastructure. Its Php3.6-trillion allocation in the next three years alone is already more than the Php2.4-trillion cumulative infrastructure outlays of President Benigno "Noynoy" Aquino's administration from 2011 to 2016. The Duterte administration's projected average infrastructure spending of Php1.2 trillion per year in the next three years is three times the Aquino government's average infrastructure outlays of only Php396 billion a year.
According to Pernia, a total of Php1.1 trillion is earmarked for infrastructure spending for next year, which will rise to Php1.2 trillion the following year and to Php1.3 trillion in 2020. Under TRIP, the transportation sector gets 65 percent of the total budget, followed by social infrastructure.
ADVERTISEMENT - CONTINUE READING BELOW
"The main program of the Duterte Administration to grow the economy, reduce poverty and solve congestion in Metro Manila is to build, build, build," said Communication Secretary Martin Andanar in a statement. Administration officials refer to the government's program as "Build Build Build Infrastructure Plan".
Among the top transportation development projects on the drawing board are the Mega Manila Subway, Philippine National Railway projects, New Clark City Philippine Sports City, Davao Airport, Metro Manila Bus Rapid Transit Line 2, Subic-Clark Cargo Railway Project and the Mindanao Railway.
"We now have the right conditions to transform the Philippine economy to the Asian Tiger it once was," added Diokno, expressing confidence in the development plan.
To promote transparency, the government also launched on April 18 the Build Build Build website, a portal where the public can track all the projects under the government's infrastructure plan in real time.
***** 
Pauline Macaraeg is Entrepreneur PH's data journalist. Follow her on Twitter @paulinemacaraeg
ADVERTISEMENT - CONTINUE READING BELOW