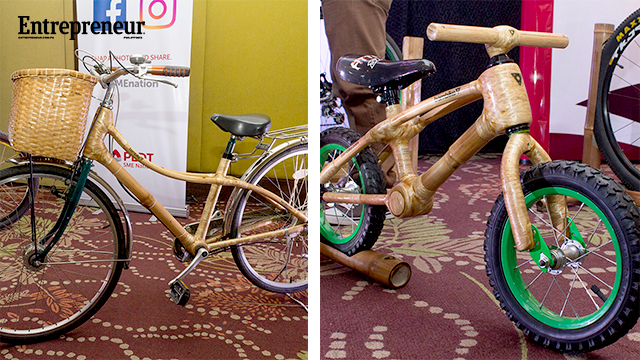 Much like the bike rides instrumental to its success, the on-going expansion of the bicycle-building ecotourism enterprise, Bambike Revolution Cycles, happened because of one pivotal push. And in this case, the push was a move considered crucial by a number of business owners successful in this day and age—the company got better internet access.
ADVERTISEMENT - CONTINUE READING BELOW
Its founder, Bryan Benitez McClelland told Entrepreneur PH that it happened "only recently." And before this, his business had its fair share of operational problems.
"Bambike is dedicated to social and environmental stewardship," McClelland explained. According to him, the company pursues these through the making of sturdy, environmentally friendly bikes using materials like bamboo and abaca, and a workforce from an underprivileged community in Victoria, Tarlac.
Its sales office in Intramuros, Manila, meanwhile, also serves as the headquarters for two environmentally friendly tours: one which uses the bamboo bikes to take guests around various points of interest in the Walled City, and another which explores the contemporary murals adorning the walls of Bonifacio Global City. In other words, Bambike's two primary operations are distanced by about 120 kilometers of land. And with McClelland having to travel to various locations in the Philippines and abroad to promote the product, it was becoming a challenge for him to oversee business.
ADVERTISEMENT - CONTINUE READING BELOW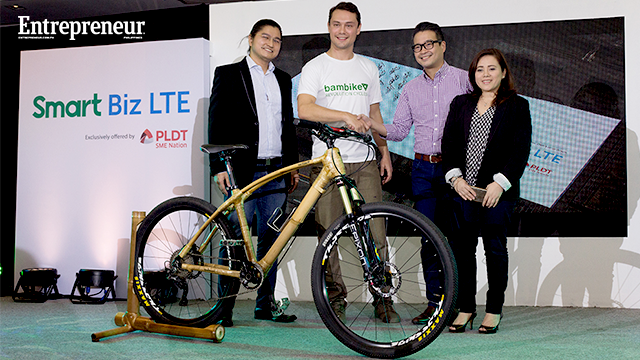 "Before we had internet in [the Tarlac facility,]" McClelland said, "it was really a challenge to manufacture the Bambikes because if we had any issues with design or quality control, our builders had to go into the town—which is quite some kilometres away—and then go into the internet cafe." But since remedying its internet problem however, McClelland said that his company has been "poised for growth."
ADVERTISEMENT - CONTINUE READING BELOW
"Now, we have 24/7 internet, and we can do real-time communication so if there are design issues or anything that we need to discuss, we can do video conferencing, we can send photo files," he said. "It's part of the mandate now that [for] every bike that we build, we [must] have photo updates everyday, from the different angles." McClelland added that real-time communication through internet access has also allowed his business to look into the potential growth of its production capacity. Now, he said, "we can invest on resources into doing volume batches when we're producing in scale. We're really looking to grow."
And they're not the only ones. Within recent years, numerous businesses within the micro, small and medium enterprise segment have begun growing their respective operations by making use of platforms and technologies widely available in this digital age. For example, there is Pedro Brewcrafters, a craft brewery that heavily relied on social media to generate local interest in craft beer. Another example is The Sexy Chef, a healthy food business that managed to successfully run its operation in the last 12 years, thanks partly to the e-commerce opportunities provided by its mobile responsive website.
ADVERTISEMENT - CONTINUE READING BELOW
According to Nephele Denosta of PLDT SME Nation, such businesses and strategies continue to be on the rise in the Philippines where more than 90 percent of businesses are MSMEs. And because of this, she believes that internet connectivity has become less of a competitive edge and more of an operational necessity.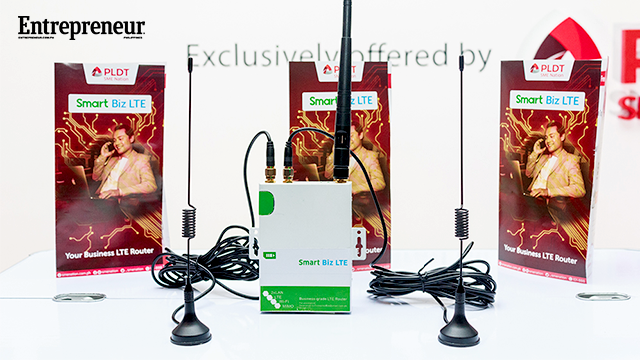 ADVERTISEMENT - CONTINUE READING BELOW
Made for the mobile
"We're seeing a new breed of entrepreneurs now," said Denosta who is currently the AVP and head of SME Nation Wireless Marketing. "[Their] mobile and internet connectivity is already key in the way they run their businesses, making it more efficient. Gone are the days when you think it's OK to not have internet connection."
This is something that the PLDT SME Nation is looking to leverage with Smart Biz LTE, its latest product, recently launched at The Bayleaf in Intramuros, where Bambike also operates. The product is the first industrial grade router made commercially available in the Philippine market on a wide scale. Its body, encased in jacket of business grade steel, was designed to make the device a sturdy source of internet connection. Meanwhile, internal modifications allow it to provide a WiFi reach reportedly two to three times wider than standard routers.
ADVERTISEMENT - CONTINUE READING BELOW
Another feature is a self-rebooting system that affords users the capacity to install it in hard-to-reach though advantageous locations, without worryies as to how one can get to it should there be a need to reboot the device. Conceptualized during the second quarter of this year, the device can also come with PLDT's Enterprise Data plan, which can connect up to 45 devices at a time with speeds reaching up to 42 mbps.
"It's very sturdy and stable," said Denosta. "Of course in PLDT, we have the normal fiber products but these are fixed products. For [Smart Biz LTE], it is really meant for mobility. For example, buses can have this and up to 45 users can connect to the internet. So, with this device, even if you put it in the office or bring it out to your mobile assets, it will work for you."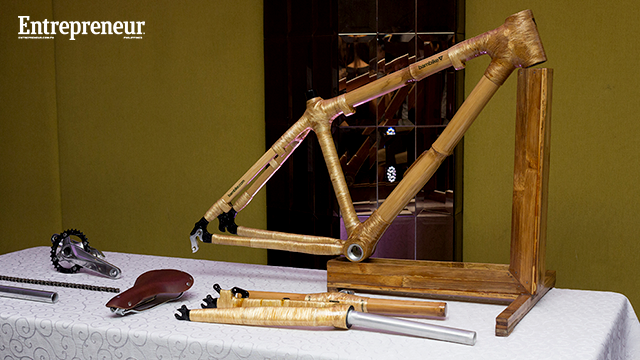 ADVERTISEMENT - CONTINUE READING BELOW
Coming soon: augmented reality for Bambike clients, and more
Now serving as PLDT SME Nation's newest brand ambassador, McClelland rolled into the launch of Smart Biz LTE riding one of his bamboo bikes to state that other opportunities have been made available for them through this new technology, which aids his company's production and administrative processes.
"There's a lot we can do with this," he told Entrepreneur PH. "With this, we can have 45 of our guests, all connected at once." By guests, of course, he meant the ones who visit Bambike's shops in Intramuros as well as those who join their bike tours. This in turn, according to him, would allow the company to pursue an application project his company has been eyeing to launch for quite some time.
"We're looking to even do augmented reality," he said. "Imagine, Pokemon Go but with a little bit more culture and content." McClelland said that plans for this application are already in effect as they are currently meeting with app developers to push for the project.
ADVERTISEMENT - CONTINUE READING BELOW
"Maybe we'll have a beta version out in a couple of months," he said. 
According to McClelland, this isn't the only project Bambike is working on at the moment. The company is planning to open a new showroom in Makati—a fitting move since it has just launched a new product line called the Bambino, a miniature version of the company's cycles made for kids who want to learn how to bike. With a thrust to further develop ecotourism in the Philippines, the company is also on the move to set up new tours in areas outside of Metro Manila. These include eco-tours in Silay, Negros Occidental and Palawan.
"We're also developing farm tourism as well, because we believe in sustainable food systems and empowering farmers, and helping diversify revenue streams," said McClelland.
*****
Angelo Cantera is a journalist who has been covering the lifestyle, travel and business-lifestyle beats for some of the country's major newspapers and magazines. He has worked for The Manila Times and has served as associate editor of asianTraveler Magazine. Also a lensman, he occasionally does photography for his own travel assignments.
ADVERTISEMENT - CONTINUE READING BELOW