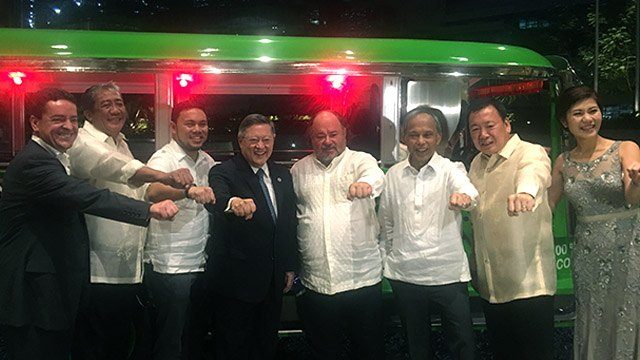 When Enrique "Endika" Aboitiz, a member of the wealthy Aboitiz family, unveiled last July 20 a prototype for electric-powered jeepneys that his e-vehicle startup developed, he also put forward a grand bargain with the government. The Aboitizes are the country's third richest family and 39th in Asia, according to Forbes magazine's 2016 listing.
ADVERTISEMENT - CONTINUE READING BELOW
In return for the government underwriting the entire project, which is estimated to cost $500 million over a five-year period, he promised to create an e-vehicle that will not only reduce pollution but also help cut poverty.
"This can be more powerful an economic multiplier than the conditional cash transfers," he told an audience that included Finance Secretary Carlos Dominguez and other Cabinet members. "E-drivers will earn more, pollute nothing at all, increase availability and lower their maintenance costs. We can move e-drivers to the middle class overnight."
Aboitiz, chairman of the electricity producer Aboitiz Power Corp. since May 2009, partnered with Spanish businessman Enrique Bañuelos and formed local startup QEV Philippines Electromobility Solutions and Consulting Group Inc. to promote the conversion of diesel-powered jeepneys to electric vehicles. The group will also build a network of charging stations for the electric-powered jeepneys.
Aboitiz was quite explicit about the need for outright government subsidy. "The Department of Finance has to pay for the conversions," he said in his remarks at the unveiling.
ADVERTISEMENT - CONTINUE READING BELOW
Related story: Prototype for Electric-Powered Green Jeepneys Unveiled
"The conversion takes under a week to transform a jeepney from guzzling, polluting diesel consuming contraption to an efficient, clean and modern electric public transport vehicle," said Aboitiz.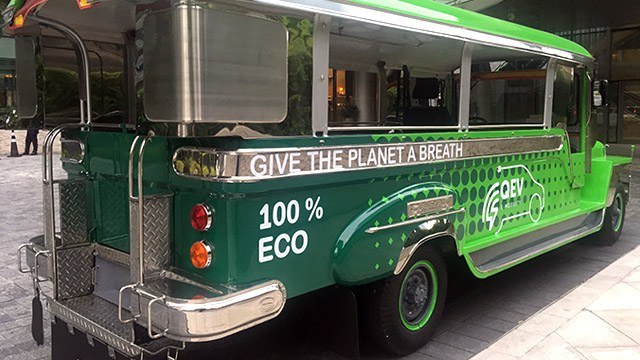 The cost of conversion runs to around $10,000 (Php500,000) per jeepney, according to Audrey Peñaranda, general manager of QEV Philippines. Since the company is aiming to convert an initial 10,000 jeepneys annually over five years, the cost translates to $100 million a year or $500 million in five years.
ADVERTISEMENT - CONTINUE READING BELOW
"The proposal asks for the government to pay for it from the sin tax taken out of tobacco and alcohol products. The sin tax then helps contribute to improving the health of Filipinos by reducing 11 tons of carbon dioxide emissions from the air for each jeepney converted to electric. There is also a possibility of PAGCOR providing funds toward the same effort," said Peñaranda "The jeepney drivers will not shoulder any of the costs of the kit needed for his jeepney to be converted to electric."
The conversion project actually has the potential to pay for itself over time since the drivers are likely to save as much as $800 (Php40,000) a year as a result of switching from diesel to electricity as fuel source, according to QEV. However, the projected savings could take the driver or operator at least 12.5 years to recover the conversion cost, which may be too long for many.
ADVERTISEMENT - CONTINUE READING BELOW
 "What we propose is not replacement, but rehabilitation," Bañuelos said in a statement. "Help drivers pay for the rehabilitation, through a special program that the Philippine government will make out for them—and in the end, put more money in their pockets because the costs of charging with electricity would be so much cheaper than filling it up with diesel."
If approved, Aboitiz's proposal will cover about a fourth of jeepneys in the country. There are around 200,000 jeepneys all over the Philippines, according to transport regulators.
*****
Pauline Macaraeg is Entrepreneur PH's data journalist. Follow her on Twitter @paulinemacaraeg. Glen Concio is Entrepreneur PH's art director