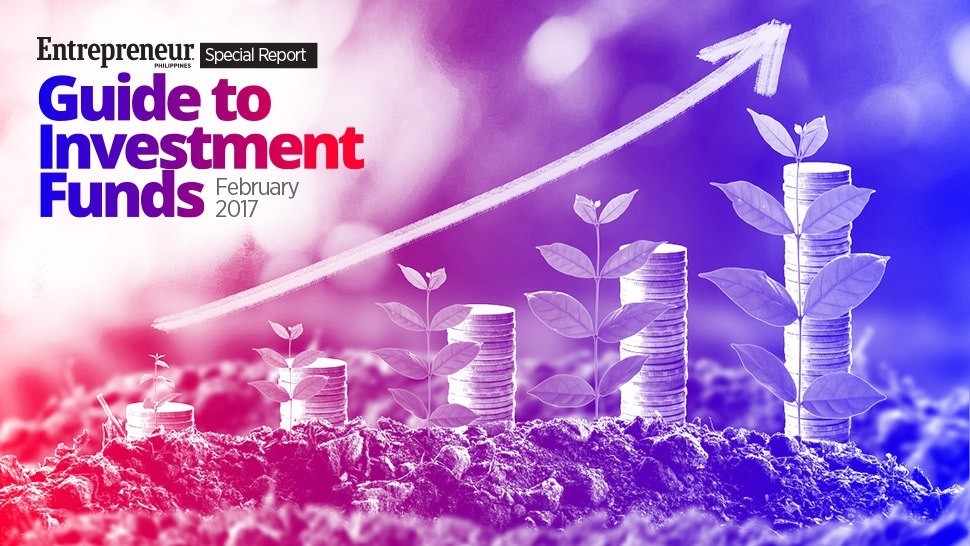 If you're a long-time depositor in your bank branch, you may have gotten a text message from the manager inviting you to come over for a chat about moving some of the money in your savings accounts to an investment fund. "We have investment outlets that can give you as much as 10 percent return," goes an example of the enticing message.
ADVERTISEMENT - CONTINUE READING BELOW
Other branch managers go out of their way to organize a talk or seminar on investment opportunities and invite their most valued depositors to hear experts from the head office discuss why you should transfer some of your savings to investment funds.
The banks' marketing and educational efforts seem to be paying off. Towards the end of the third quarter last year, assets under management (AUM) held by unit investment trust funds (UITFs), a type of pooled funds managed by banks, grew by almost 20 percent to Php720.3 billion from Php601.9 billion at the end of 2015. The number of accounts also grew six percent to more than 377,000 from almost 356,000 previously.
Even mutual funds, another type of pooled fund that is managed by investment companies rather than banks, are also on the rise. Mutual funds' total AUM went up by 5.5 percent to Php256.7 billion as of the end of the third quarter 2016 from the end of 2015. The number of accounts rose by about 25 percent to more than 316,000.
ADVERTISEMENT - CONTINUE READING BELOW
Another type of pooled fund, the so-called variable unit linked (VUL) funds, which are administered by insurance companies, are also doing well. Entrepreneur Philippines estimates that the VULs' total AUM as of the third quarter of last year reached about Php441.3 billion, exceeding that of mutual funds that have been around much longer.
Unlike deposits, which are insured by the government-owned Philippine Deposit Insurance Corp. (PDIC) up to Php500,000, investment funds enjoy no guarantees. The value of funds placed in UITFs, mutual funds and VULs changes every day depending on market trends, and could very well climb higher or drop lower than the amount invested. In extremely rare cases, it's even possible to lose the entire investment.
Despite this, there appears to be greater appetite for riskier but higher yielding investment funds, perhaps as a result of very low yield on bank deposits.
If you are one of the growing number of Filipinos planning to put money in investment funds, the Entrepreneur Philippines Guide to Investment Funds is for you. It doesn't aim to convince you to make the big decision to shift some of your funds from savings deposits. We'll leave that to financial advisers and institutions.
ADVERTISEMENT - CONTINUE READING BELOW
But it contains helpful information to help you choose which among the scores of investment funds being offered by banks, investment companies and insurance companies is the best for you.
The following tables contain some of the most important information on UITFs, mutual funds and VULs such as asset size, one-year return, average five-year returns, volatility (a measure of riskiness), management fees and holding period.
The data was culled from the latest Key Information and Investment Disclosure Statements and Fund Fact Sheets of each of the funds in the table. Due to space constraints, we included only funds with AUM of at least Php1 billion, which account for bulk of the invested assets.
While some websites maintained by industry associations such as Trust Officers Association of the Philippines (TOAP) and the Philippine Investment Funds Association (PIFA) also provide some excellent data, they only cover the products being offered by their members. Thus, the TOAP site contains data only on UITFs while the PIFA site contains data only on mutual funds. The life insurance industry association does not yet provide data on their members' VULs. This guide is the only one so far where one can compare UITFs, mutual funds and even VULs.
ADVERTISEMENT - CONTINUE READING BELOW
The tables below are divided into four sections. The first three sections list various types of peso funds while the last segment provides information on dollar funds. 
The first table is a list of the different mutual funds in the market. Unlike the other two types of funds, mutual funds are set up as a corporation and managed by a fund manager. Because it is a corporation, the valuation of the mutual fund is reported as net asset value per share (NAVPS). Mutual funds are regulated by the Securities and Exchange Commission (SEC), which oversees the investment companies, fund managers and the brokers and advisers who solicit investments into the funds.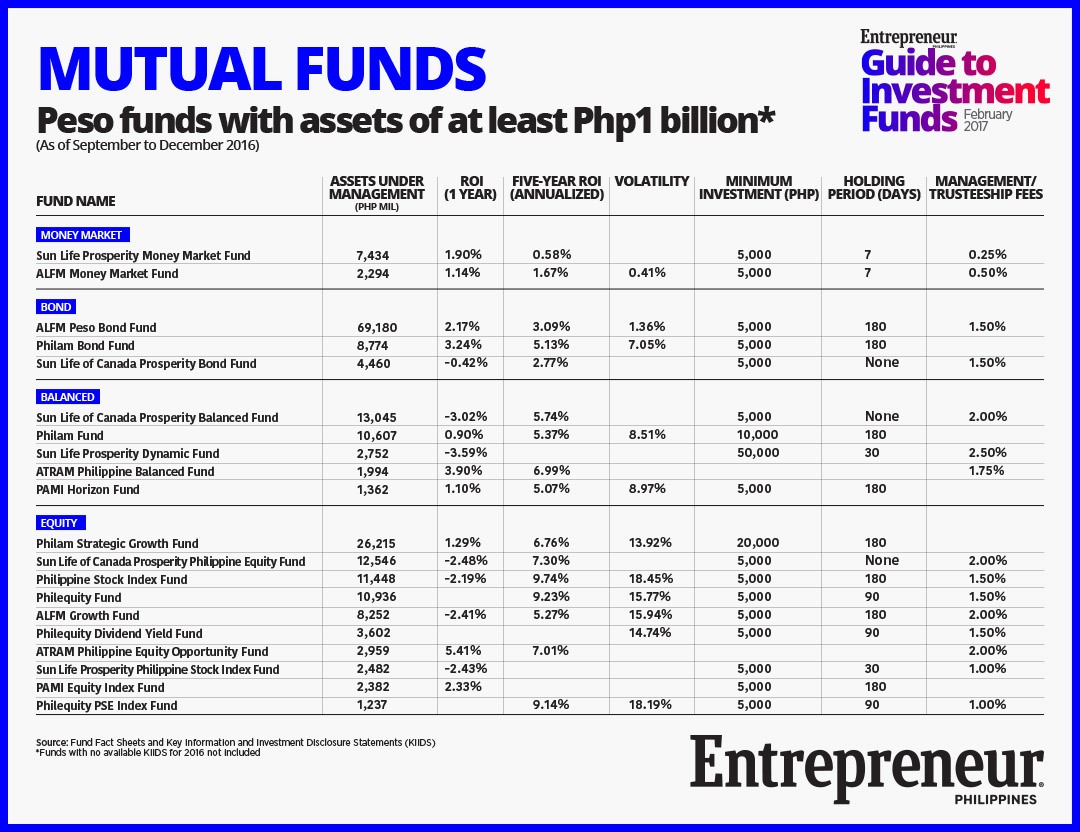 ADVERTISEMENT - CONTINUE READING BELOW
The table below lists UITFs, which are managed by trust and asset management divisions of banks, which are, in turn, regulated by the Bangko Sentral ng Pilipinas (BSP). Because UITFs are a creation of the banks' trust departments or subsidiaries and are not considered independent corporations, investors in UITFs are considered fund participants rather than shareholders. For this reason, the valuation of the fund is reported as net asset value per unit (NAVPU). UITFs are usually sold in bank branches.
ADVERTISEMENT - CONTINUE READING BELOW
The following table lists VUL funds, which were developed by insurance companies as a way to combine life insurance with investments in pooled funds. VULs have helped insurance companies sell more life insurance policies compared to when they were just offering stand-alone life insurance coverage. By combining insurance and investing, VUL funds address the chances of one dying soon with the possibility of living too long. VUL funds are regulated by the Insurance Commission, which oversees insurance companies. Like UITFs, the valuation of VULs is reported as net asset value per unit (NAVPU).
ADVERTISEMENT - CONTINUE READING BELOW
The last table lists mutual funds, UITFs and VUL funds that are denominated in US dollars, which are the preferred investment option of investors who want to benefit from the strengthening of the greenback. Bankers say that dollar UITFs are one of their fastest-growing investment products in the last two years. The growth in the number of dollar funds was also driven by the BSP's moves to liberalize further the foreign exchange markets. This created opportunities for small, retail investors to access offshore investment opportunities that used to be available only to high net worth individuals. Now, these investments are available to ordinary Filipinos for as little as $500.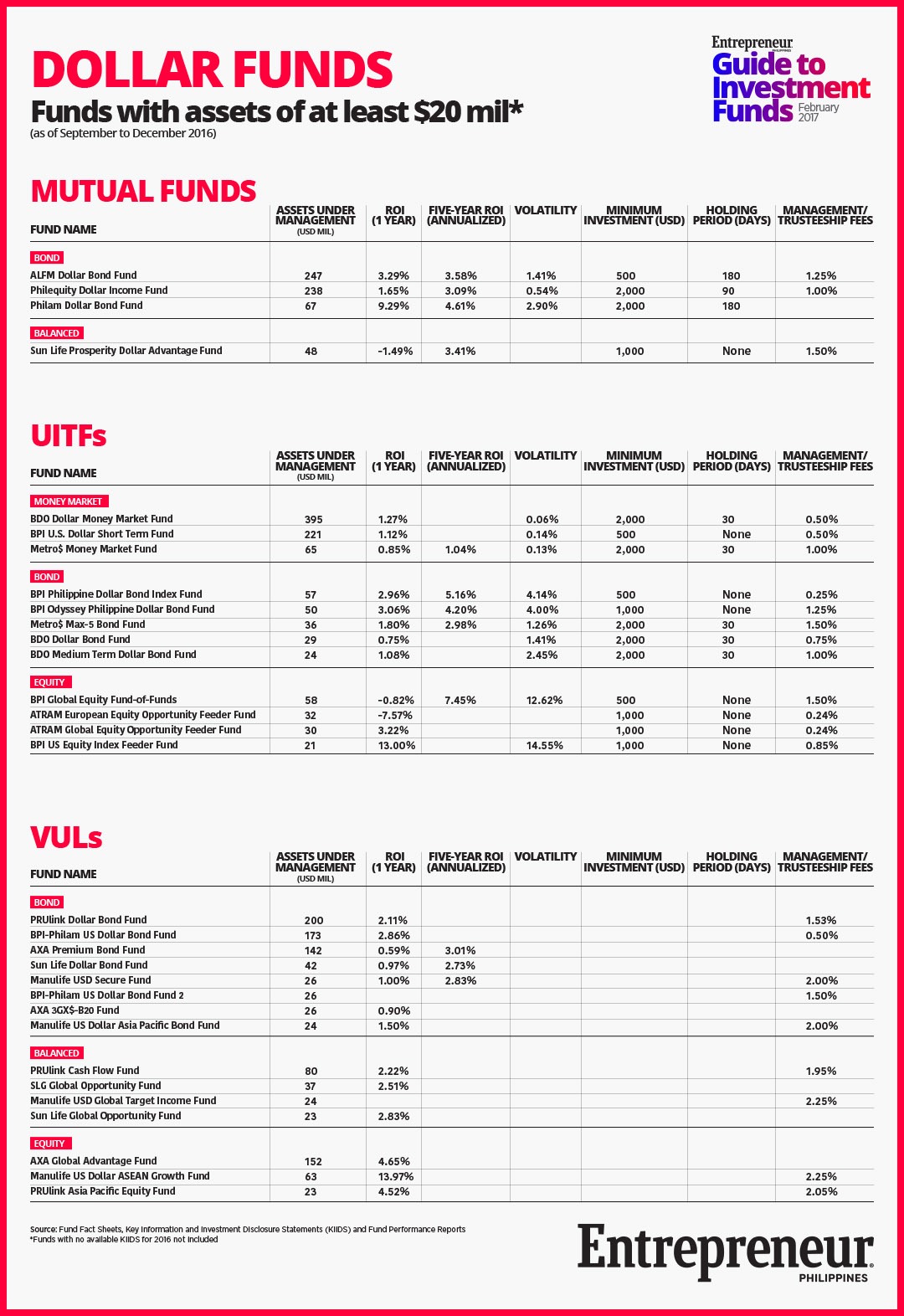 ADVERTISEMENT - CONTINUE READING BELOW
Please bookmark this page as a handy reference for the rest of the year. When your bank branch manager, stock broker or insurance agent makes a pitch for you to invest in an UITF, mutual fund or VUL you may be able to find information on those funds that can help you ask the right questions and make the right decision.
Related Story: Choosing Funds: Tips from the Founder of PH's First Funds Supermarket
Related Story: How To Legally Avoid Taxes On Your Investments With PERA Funds
Download a PDF version of Entrepreneur PH's Special Report on Investment Funds 
*****