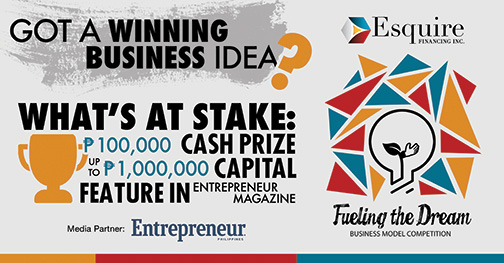 Esquire Financing Inc. goes a step forward in support of the SMEs by tapping into the creativity, passion and entrepreneurial aspirations of college students and launching Fueling the Dream, a business model competition.

As part of the company's mission of ensuring the success of entrepreneurs, Fueling the Dream is open to college students in teams of 3 to 5 members. The challenge is to produce a model for a responsible and sustainable business based on the Business Model Canvas, a management and entrepreneurial tool that allows for strategic description, design and reinvention of a business model.

The winning team gets PHP 100,000 cash and up to PHP 1 million in capital. They will also get to be featured in Entrepreneur magazine.

"Esquire Financing Inc. remains a strong advocate of entrepreneurship, not just by financing the growth of SMEs, but also by creating avenues for the youth to promote their new business ideas.  This Business Plan Competition is just one of the many programs we are dedicated to support in order to achieve our vision," says Esquire Financing President & COO Navin Uttamchandani.   

Before the business models are submitted, registered teams will be gathered in a plenary at the Asian Institute of Management (AIM), where participants will get to meet EFI officers and event partners who will also share valuable tips and advice. Following the submission of business models in November are two rounds of preliminary screening, leading to the finals on December 6, where finalists get to present their business model in front of a select panel of judges.

Fueling the Dream is also brought to the students by advocacy partners, GoNegosyo and SERDEF (Small Enterprises Research and Development Foundation), and media partners Inquirer.net, Rappler, WhenInManila.com, Entrepreneur, and Money Sense. Asian Institute of Management (AIM) hosts the plenary and final presentation.

To register and for more information, interested students may visit http://www.efifuelingthedream.com.  Registration is until September 26, 2014.
ADVERTISEMENT - CONTINUE READING BELOW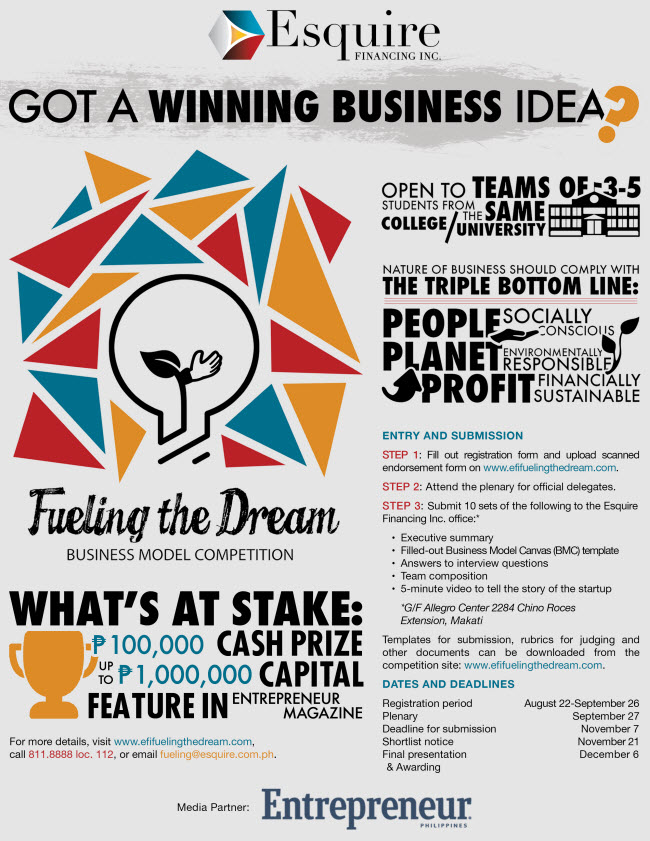 Esquire Financing Inc. is the Philippines' only financing company that caters solely to SME financing. It was incorporated in 2011 and has since served more than 3,000 businesses around the country. It aims to fuel the dreams of entrepreneurs by providing fast, flexible, hassle-free, and non-collateral business loans from PHP 100,000 to PHP 10 million to small and medium enterprises. Learn more about Esquire and its services at www.esquire.com.ph or by calling 811.8888.
ADVERTISEMENT - CONTINUE READING BELOW