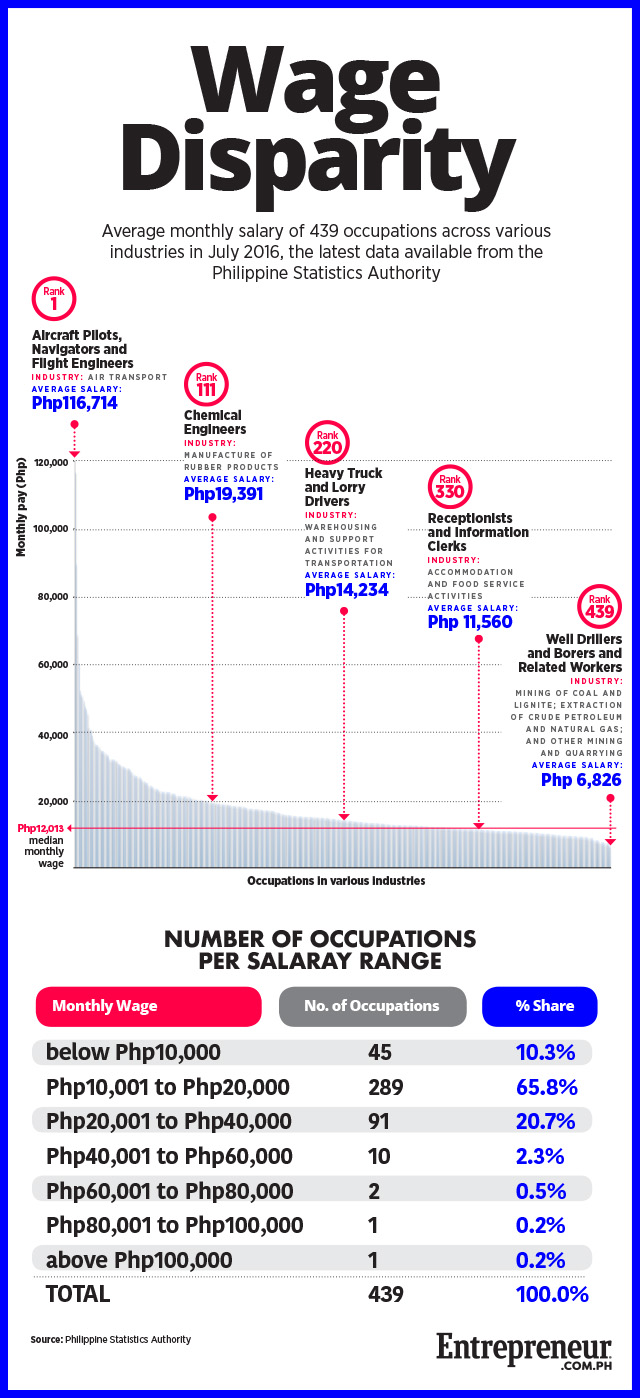 The median monthly pay of more than 400 occupations in the Philippines is barely enough to keep the average Filipino household above the official poverty line.
According to the Philippine Statistics Authority (PSA)'s latest Occupational Wages Survey, which covers establishments that employ 20 or more workers, the median wage across various industries was only Php12,013 a month in 2016.
ADVERTISEMENT - CONTINUE READING BELOW
That is a little above the official poverty threshold of Php9,064 a month needed to meet a five-member family's basic food and other needs in 2015, based on PSA's estimates.
However, it falls well short of the median self-rated poverty threshold of Php18,000 a month in December 2016 for families living in Metro Manila, according to Social Weather Stations (SWS). The amount refers to the minimum home budget that a family needs in order not to consider itself poor in general, explained SWS. For families living outside Metro Manila, the comparable figure is Php10,000 a month.
But whether one uses the official PSA poverty threshold or the SWS' self-rated poverty threshold, the situation is dire for workers employed in occupations that get a monthly pay of Php10,000 or less. There are 45 of these occupations, accounting for 10.3 percent of the total of 439 occupations.
The situation is slightly better, but not by a lot, of workers in occupations receiving between Php10,000 and Php20,000 a month. If they live in Metro Manila, many of them will be considered poor based on SWS' self-rated poverty threshold of Php18,000 a month. A vast majority of the occupations receive pay within this range: 289 occupations or 65.8 percent of total.
ADVERTISEMENT - CONTINUE READING BELOW
Overall, less than a fourth of the occupations surveyed by the PSA receive a monthly pay of Php40,000 and above. Of these, the highest-paid occupations are aircraft pilots and navigation and flight engineers, who get an average of Php116,714 a month. They are followed by securities and finance dealers and brokers who get Php89,831 per month on average.
Related story: What are the Country's Highest-Paying Jobs in 2016?
*****
Pauline Macaraeg is Entrepreneur PH's data journalist. Follow her on Twitter @paulinemacaraeg