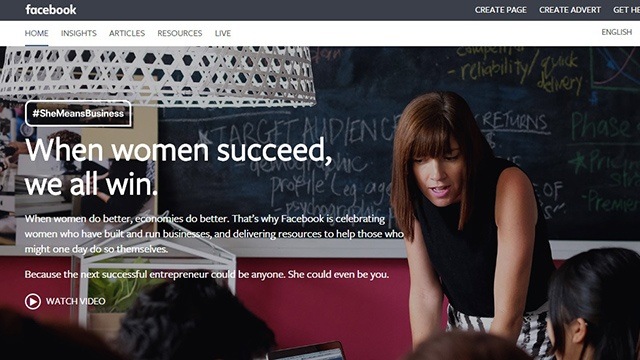 Recognizing the importance of women entrepreneurs, Facebook is partnering with organizations and experts to provide advice, knowledge and tools to give more women across the country the practical support they need.
#SheMeansBusiness is a resource and community portal targeted specifically for women who are running their own business and promoting it via Facebook.
The portal contains guides for entrepreneurs who want to grow their business using Facebook. For example, it contains explainers on understanding Page Insights, how to create effective posts, etc. It also offers several courses on making the most of your business page.
This directly addresses the need of 92 percent of women entrepreneurs for the right digital tools and support, according to a study by Facebook. They also shared how the following would help get their business off the ground:
- Financial support and advice (74 percent)
- Network/community of support and advice (57 percent)
- Practical support including business and digital skills workshops (45 percent)
ADVERTISEMENT - CONTINUE READING BELOW
The page also connects women entrepreneurs to other business owners with featured groups that can be seen on the portal.
Women SME owners in the PH
According to the Facebook study, the Philippines could benefit greatly from simply addressing the challenges faced by women who want to start a business. By encouraging women to become business owners, it could potentially create millions of jobs and contribute to the economy.
The study, conducted by Development Economics and YouGov on behalf of Facebook, reveals that one in 87 percent of Filipinas surveyed would like to set up their own business. If 60 percent of these women were empowered to start a business today, it would not only boost economic growth, but also help build 1.349 million new businesses and create 3.933 million additional jobs, all by the end of 2021.
According to the same study, Filipino women still admit to facing many barriers to starting and growing their own business. Filipino women identified poor access to finance (53 percent), such as not having viable access to loans, as the main barrier to starting their own business. Financial insecurity (40 percent) and not actually knowing where to begin (38 percent) are the other key barriers holding back women aged 18 and 24 from taking the leap, according to Facebook's research.
ADVERTISEMENT - CONTINUE READING BELOW
Facebook decided to target women entrepreneurs especially in the Philippines because, interestingly enough, 40 percent of Pages on Facebook are women-owned, and women-owned Pages have grown more than 60 percent year-on-year. In the Philippines, the number of women-owned SMB Pages on Facebook has increased more than eight times in the last five years, with a 121-percent increase in the last year alone.
According to Clair Deevy, head of Economic Growth Initiatives, APAC, Facebook, the Philippines is an ideal place for women-owned businesses to thrive and is an exceptional example to Asia of the great contribution women bring to the economic growth of a nation.
"Small businesses make up 99 percent of businesses in the Philippines and contribute close to 32 percent to the country's GDP. Research shows that by encouraging women entrepreneurship and harnessing the potential of Filipino women entrepreneurs by providing them with the right support contributes to significant economic growth and a more representative business community," she said.
Deevy added that Facebook is committed to creating an environment that fosters entrepreneurship among women by continuously work with industry leaders and experts to leverage on the untapped opportunity for millions of women.
"While we welcome a new era in women's entrepreneurship for Asia, we remain committed and invested in our #SheMeansBusiness initiative, and will continue to work with our partners to empower women entrepreneurs with the right knowledge, training, technology and network that will level the playing field so their businesses can thrive." 
*****
Nicai De Guzman is the marketing head of Rising Tide, a technology solutions company. She is also the Manila Bureau Manager of Probe Media Foundation's Mulat Pinoy-Kabataan News Network and a regular contributor for SPOT.ph. Follow her on Twitter @nicaideguzman, and LinkedIn
ADVERTISEMENT - CONTINUE READING BELOW