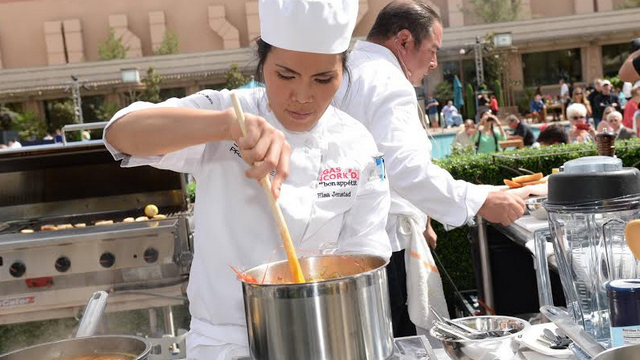 Young, smart and talented, fast-rising chef Elsa Sabellano-Jenstad has all the perfect makings of a successful professional. While she impresses many with her outstanding accomplishments in her craft, her journey to culinary success is one that is not achieved easily.  But Chef Elsa is proud to rise from all the hardships—moving towards a bright culinary career path nurtured by her natural leadership abilities, passion for cooking, and solid academic training from one of the country's pioneer culinary institutions.     

"My mother didn't have the resources to send me to culinary school. So she decided to send me to Ateneo de Davao University through a scholarship. I finished my BSBA-Marketing degree as a full-time working scholar," she recalled. 

"Even with a degree, I still didn't give up my dream of becoming a professional chef someday. My love for cooking started as a child, when I would assist my grandmother in the kitchen and spend time intently watching cooking shows on TV. I also collected clippings of recipes from magazines or newspapers back in high school," she added. 

For her culinary dream to take flight, Chef Elsa entered Center for Culinary Arts (CCA, Manila) Oceana campus where she successfully finished the 6-Month Fast Track for Professional Chef Program. After graduating with flying colors in June 2010, she left for the US and landed a job at the Atlantis Steakhouse of Atlantis Casino Resort Spa in Reno, Nevada, as head of the pantry station for three years. By November 2014, Chef Elsa decided to pursue higher studies at Le Cordon Bleu College of Culinary Arts in Las Vegas.  
ADVERTISEMENT - CONTINUE READING BELOW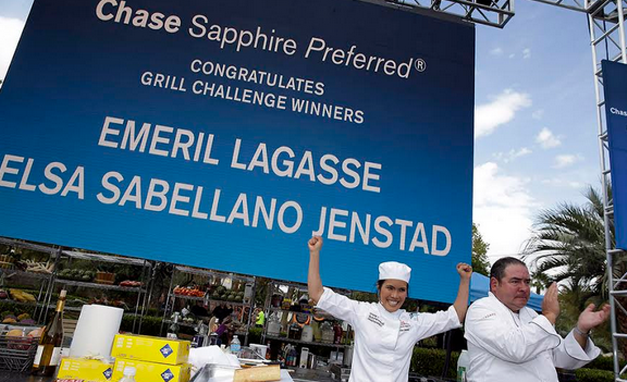 Right attitude, right education 
True to her words, Chef Elsa has become a consistent top contender in many school-organized competitions, which pitted her against other culinary students. Just recently, she was declared the grand prize winner in the Chase Sapphire Preferred Grill Challenge 2015 held at the MGM Grand in Las Vegas.  

"I submitted an entry to Bon Appetit New York for the Chase Sapphire Preferred Grill Challenge 2015 competition. I wanted to enter this contest not only for the prize but also to show that I can cook excellent food and that Filipinos are fabulous cooks," Chef Elsa said. 

After a tedious selection process, wherein merits were based on the student's background and performance in school, Chef Elsa was eventually chosen by Bon Appetit New York and Le Cordon Bleu College of Culinary Arts, Las Vegas. "Being selected was a great opportunity and an honor," she mused. 

Competing alongside one of America's famous celebrity chefs, Chef Emeril Lagasse, was a fulfilled wish for Chef Elsa. "It was a great opportunity to be paired with a famous celebrity chef here in the US. It was a once-in-a-lifetime experience. Chef Emeril was so nice, and a down-to-earth person, cool and friendly." 

"I incorporated lemongrass for a Filipino taste, and okra for the New Orleans flavor.  Thus, I sought to prepare a French Bouillabaisse with an Asian and New Orleans twist. I just focused myself on what to do. I had already prepared my game plan before the competition so I felt ready," she said. 

Combined hard work and ingenuity eventually paid off, as the pair was declared the ultimate winners, with Chef Elsa receiving a $20,000 scholarship. "This win was crucial for me. First, it helped enormously with my tuition fee. Secondly, I wanted to show everyone that I can cook. Third, I wanted to inspire my fellow countrymen that you can achieve your dreams if you have the discipline and determination, and if you will work hard. Fourth, this was important for my career. I met some famous chefs during the competition, and I want to have connections with them." 
ADVERTISEMENT - CONTINUE READING BELOW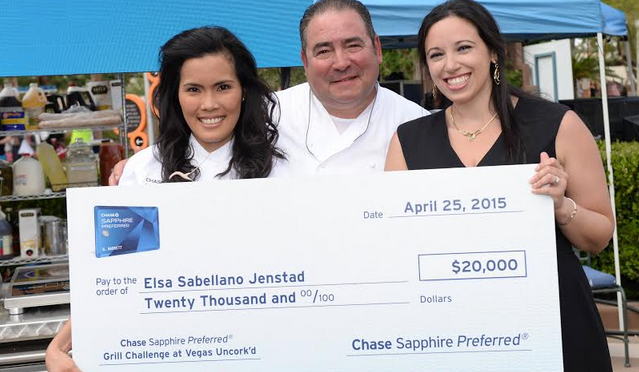 Prepared for the 'next level' 
Amid a promising professional career, Chef Elsa proudly underscored CCA's role in deepening her passion for cooking and proficient kitchen skills, as well as her high regard for Filipino cuisine. "My 6 months' program helped me a lot, it strongly prepared me for the next level of my career. Just like how my instructors in Le Cordon Bleu College of Culinary Arts are inspiring me, my CCA mentors instilled in me valuable lessons like professionalism, discipline, and hard work," she said. 

Apart from her latest achievement, Chef Elsa is doing superb work in her academics. "I am proud to maintain my 4.0 GPA at Le Cordon Bleu College of Culinary Arts, Las Vegas. I am a consistent 'A' student, on the President's Honor Roll and have perfect attendance," she revealed. 

As one of CCA, Manila's successful alumni, Chef Elsa says that while having confidence and a self-starter attitude greatly influence a culinary student's future in the industry, skills and practices learned while in school are what leverages aspiring chefs. 

"The discipline and the ethical work practices, not to mention the degree of practical kitchen on-the-job training that I received from my CCA mentors have truly prepared me for the real world," she said.  "A solid academic foundation is very important for students to fully harness their passion for cooking, and interest in life-long learning. These factors will best prepare tomorrow's Filipino culinary workforce for exciting and fulfilling careers in the industry." 

For inquiries, call CCA, Manila at 218-8566 or visit its Website.
ADVERTISEMENT - CONTINUE READING BELOW