Filipino consumers emerged as the most optimistic in the world for the first time in a decade, continuing the positive sentiment it has carried in recent years.
The latest Nielsen Global Survey of Consumer Confidence and Spending Intentions showed the country's index score surged to 132, significantly higher than the global average of 98. It had a 13-point percentage increase over the last quarter, with local respondents surveyed during the election season (May 9 to 27).
ADVERTISEMENT - CONTINUE READING BELOW
"The Philippine economy relies heavily upon consumption, and with sales of consumer goods growing rapidly at a 7.1 percent rate in the year ending May 2016, consumer spending remains robust. The promise of greater reforms during the recent presidential elections, which took place during the survey period, likely helped buoy positive consumer sentiment," Stuart Jamieson, managing director of Nielsen Philippines, said in a statement.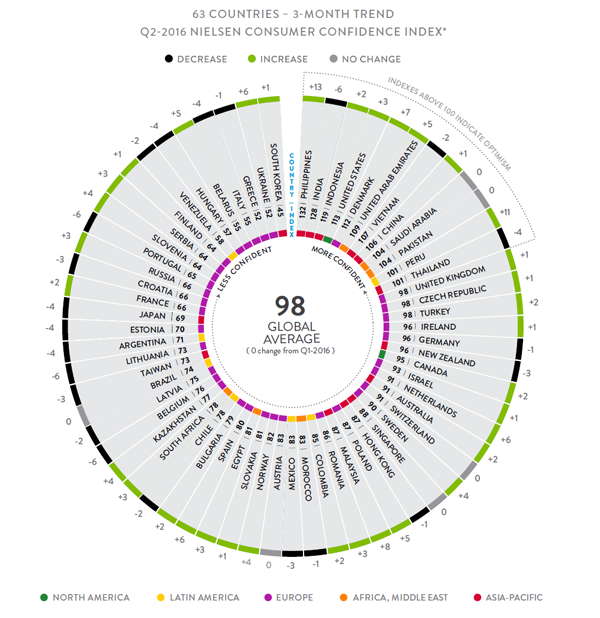 ADVERTISEMENT - CONTINUE READING BELOW
Job optimism and desire to spend
All three confidence indicators enjoyed percentage surges with job optimism having the biggest jump at 88 percent, 16 points higher than the previous quarter. This was followed by the positive sentiment on immediate-spending intentions (61 percent) and personal finances (86 percent), with a 10-point and five-point rise, respectively.
Unsurprisingly, Filipino consumers were also among the biggest savers, with the 65 percent polled admitting to save spare cash.
Three-in-10 Filipino respondents say they spend spare cash on holidays and vacations (33 percent), home improvements and decorations (32 percent), new clothes (30 percent) and new technology (29 percent). 
The country was followed by India in the poll with a 128 index rate. Indonesia came in third with 119. Index rates above and below a baseline of 100 indicate degrees of optimism and pessimism.
Nielsen surveyed 30,000 consumers across 63 markets through an online poll for the study.
*****
Elyssa Christine Lopez is Entrepreneur.com.ph's staff writer. Follow her on Twitter @elyssalopz.
ADVERTISEMENT - CONTINUE READING BELOW