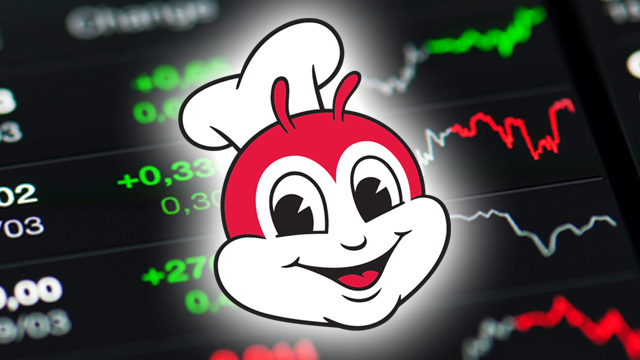 It has been a turbulent ride for the Philippine stock market for the first three months of the year with the PSE Index achieving an all-time high in January only to end the quarter at a 52-week low.
The PSE Index, which is composed of 30 blue chip stocks, fell by 6.7 percent compared to its level at the beginning of the year. More than two-thirds of all the stocks in the PSE index have lost by an average of 10 percent.
ADVERTISEMENT - CONTINUE READING BELOW
But despite all the negativity, only two stocks have managed to register double-digit growth and one of them is Jollibee, which gained 18 percent.
The stock of Jollibee has historically mirrored the rise and fall of the PSE Index but when the market succumbed to massive correction two months ago, the stock hardly followed the general trend.
Jollibee continued to go up and became like a safe haven sought by investors to limit their exposure to losses as the stock market falls. As a result, the stock gained 5.2 percent while the PSE Index lost 13.7 percent from its peak.
How did Jollibee remain strong when every blue chip in the stock market was losing? What made Jollibee an attractive refuge among investors? Why is the market so positive about the future of Jollibee?
Here are the five things every investor needs to know about Jollibee and why it may be the safest blue chip stock to own during this market downtrend: 
ADVERTISEMENT - CONTINUE READING BELOW
1. Strong share price appreciation
If you invested Php50,000 in Jollibee's Initial Public Offering (IPO) in 1993 and kept it for the next 25 years, your investment would have grown to over Php1.5 million.
This is because when Jollibee was listed in 1993, its stock price of Php9.60 has grown by more than 31 times to Php300 per share today. This increase in the share price translates to an average growth of 15 percent per year.
But if you have bought the stock only 10 years ago at Php47.50 in 2008, your investment would have also increased by more than six times at today's market value because the growth was faster at 20 percent per annum.
Given the track record in Jollibee's stock price performance, will the stock continue to appreciate in the future?
2. Reliable earnings growth 
Remember that the market value of a stock is driven by the growth of its earnings. The higher the earnings growth, the higher the stock price becomes. If the market expects the company to deliver higher earnings in the future, the stock price will also increase accordingly.
ADVERTISEMENT - CONTINUE READING BELOW
The total revenues of Jollibee have increased by more than three times from its revenues 10 years ago. Jollibee's revenues have grown by an average of 13 percent per annum, from Php33.9 billion in 2006 to Php114 billion in 2016. This rise in revenues tripled its net income base from Php2.1 billion in 2006 to Php6.1 billion in 2016.
Last year, Jollibee reported that its revenues increased by 15.6 percent, better than its historical average of 13 percent, from Php114 billion in 2016 to Php131 billion in 2017. Net income likewise increased by 11 percent from Php6.1 billion in 2016 to Php6.7 billion in 2017.
With a growing domestic economy that is highly driven by consumption, there is no doubt that revenues of Jollibee will continue to grow.
3. Higher earnings growth from expansion
Perhaps what keeps investors excited about Jollibee is the fact that the company has been aggressively expanding in the last three years both locally and internationally.
Jollibee opened a record 465 new stores last year alone, the highest number of new stores opened in the company's 39-year history. The expansion came from 328 new stores opened in the Philippines and 137 abroad. By the end of 2017, Jollibee has increased its total number of stores by 16.7 percent to 3,797 stores.
ADVERTISEMENT - CONTINUE READING BELOW
About 75 percent of Jollibee's total stores are operating in the Philippines led by its flagship brand, Jollibee, with 1,062 stores, followed by Chowking, 526; Mang Inasal, 497; Red Ribbon, 427; Greenwich, 272 and Burger King, 93.
This year, Jollibee plans to spend Php12 billion in capital expenditure for expansion that is 36.5 percent higher than last year. This means more new stores will be opened this year that will drive revenues and earnings next year. 
The company recently also reported that it has acquired 85-percent control of Smashburger, which has a total of 365 restaurants operating in 38 states in the US and in 10 foreign countries.
The entry of Smashburger will boost Jollibee's total number of stores by 9.6 percent to 4,162 this year. It will also increase Jollibee's total revenues by Php10.2 billion or 7.4 percent this year from Smashburger's business alone. 
4. Healthy operating cash flows
Operating cash flow indicates if a company is able to generate sufficient positive cash flows from its normal business operations. The cash flow generation is used by the company to finance its growth expansion. This figure can be obtained from the cash flow statement prepared by the company as part of its annual report.
ADVERTISEMENT - CONTINUE READING BELOW
The steady increase in net income of Jollibee has enabled its operating cash flow to grow by an average of 11 percent every year for the past 10 years. The positive cash flows were used by the company to finance its expansion as well as pay its borrowings.
Jollibee has a healthy financial condition with about 50 percent of its total assets funded by liabilities. Only a portion of its total liabilities is interest-bearing loans, which represent only about 17 percent of its total assets.
Historically, Jollibee's annual cash flows can cover its interest expense from debt by over 29 times. The high coverage indicates Jollibee is in good financial condition that it can easily meet its financial obligations without question.
5. Consistent high return on equity
Return on equity measures how effective the company is in growing shareholders' investment. This is computed by simply dividing the net income generated by the company by its total equity. The higher the return on equity, the more efficient the company is in making use of shareholders' money.
ADVERTISEMENT - CONTINUE READING BELOW
Jollibee for the last 10 years has consistently generated an average of 18.9 percent return on equity. The company has been able to deliver consistent high returns on investment as its capital expanded through accumulation of earnings.
Last year, Jollibee generated a return on equity of 19.3 percent, which is higher than the 19.2 percent in 2016. This year, higher net income from additional revenues from its expansion last year and acquisition of Smashburger this year should further boost its return on equity.
*****
Henry Ong, RFP, is president of Business Sense Financial Advisors. Email Henry for business advice hong@businesssense.com.ph or follow him on Twitter @henryong888