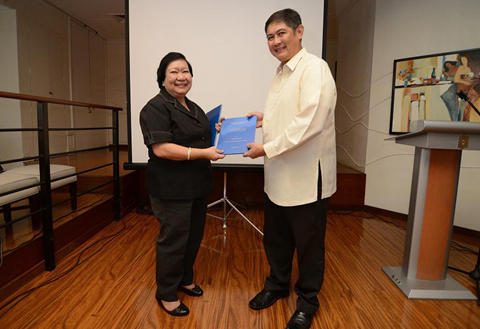 Health institutions are mandated by law to administer appropriate medical attention to patients in emergency situations. But what if they do not have the manpower or medical resources to attend to the patient's needs? Such conditions usually result to preventable human losses. For most nurses in government hospitals, working long hours due to understaffing, and having to make do with whatever medical supplies there are to attend to patients' needs is an everyday reality. What if there was a way to improve these circumstances?

Analyzing big data is normally associated with enterprises and money-making ventures. But SAS Philippines (SAS PH), through its recently held turn-over ceremony, shows that analytics can be applied to a host of diverse fields, and yield important insights that can spur developments and improvements in areas of national interest.

In the said event, SAS donated papers that participated in the 2014 Call for Papers Competition to select government agencies. Among the donated researches is the top placing paper of former University of the Philippines Los Baños (UPLB) professor Aizobelle Huelgas entitled 'Saving Lives, Changing Lives Using SAS Predictive Analytics.' Huelgas' paper dealt with forecasting the pattern of supply-and-demand for healthcare professionals and clinical supplies in medical institutions to allow providers to effectively allocate manpower and resources.

ADVERTISEMENT - CONTINUE READING BELOW
Saving lives through analytics

The author explained that the primary objective of the study is to 'save lives of patients' by generating an accurate prediction regarding the number of patients with a certain disease arriving at a certain time frame. According to her, this will help in reducing human losses by providing appropriate and adequate specialists and resources for a health institution at a given time. "Thus, the frequent mismatches between the patients' needs and the available health professionals in the emergency room will definitely be avoided."

"The study also aims to 'change lives of providers' since an accurate forecast will help in the efficient allocation of healthcare professional resources as well as in the optimization of physician and nurse schedules, thus improving the working conditions of physicians and nurses which are often stressful due to inadequate staffing schedules and long work hours which often result to higher rates of depression, anxiety, elevated rates of burnout, absenteeism, and errors," she added.


ADVERTISEMENT - CONTINUE READING BELOW
Donating paper to NKTI

Huelgas' paper was donated to National Kidney and Transplant Institute (NKTI), which was represented by Dr. Zenaida Antonio, Deputy Executive Director for Administrative Services.

According to SAS Regional Director Sonny Halili, the donated papers were a product of the first Call for Papers competition in the country and in the entire Southeast Asian region. Those were submitted by faculty members and students of SAS Academic Program Partners and are focused on a variety of topics, highlighting the flexibility that analytics offers in extrapolating insights from big data in a short span of time. From agriculture, foreign exchange, finance, tourism and healthcare, the papers examined trends and patterns and came up with analytical tools that can help decision makers in arriving at better-informed and timely choices.

"SAS Philippines hopes that the papers will encourage the government to take advantage of analytics-based research in furthering their development policies and agenda. We believe that by being open to the concept of data analytics, our public servants can be better equipped to improve the life of Juan dela Cruz," said Halili.

With the success of its maiden call for papers, SAS Philippines is set to open the 2015 Call for Papers. For more details, contact Marianne Decena-Guadaña, Education Manager of SAS Philippines through marianne.decena@sas.com or (02) 792-2200.
ADVERTISEMENT - CONTINUE READING BELOW
In photo: SAS Pacific Regional Director Sonny Halili (right) awards the winning paper in the faculty division entitled 'Saving Lives, Changing Lives Using SAS Predictive Analytics' to the National Kidney and Transplant Institute (NKTI), represented by Dr. Zenaida Antonio (left), Deputy Executive Director for Administrative Services.
About SAS
SAS is the leader in business analytics software and services, and the largest independent vendor in the business intelligence market. Through innovative solutions, SAS helps customers at more than 70,000 sites improve performance and deliver value by making better decisions faster.