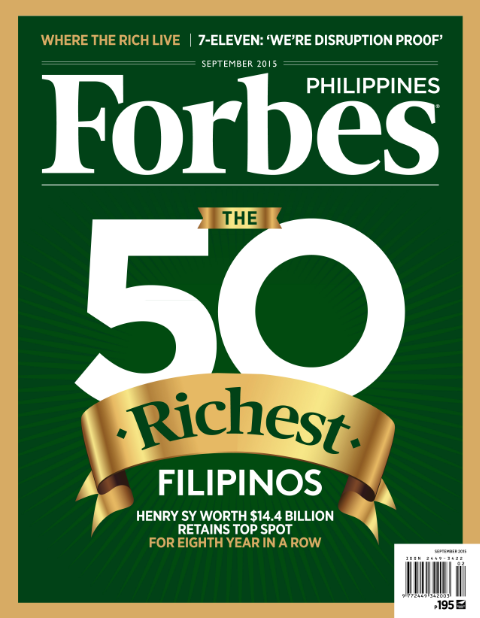 For the eighth consecutive year, Henry Sy topped the list of Forbes' 50 richest in the Philippines. The 90-year old retail, property, and banking magnate's estimated net worth rose to US$14.4 billion from $12.7 billion last year. This could be attributed to the strong growth of some of his businesses, including SM Investments and SM Prime Holdings. In the recent fiscla year, his retail and banking ventures posted record revenues.
ADVERTISEMENT - CONTINUE READING BELOW
Rising to No. 2 from No. 5 in last year's list is John Gokongwei Jr, whose estimated net worth rose to $5.5 billion from $4.9 billion. The 89-year-old tycoon's JG Summit Holdings saw a 30% jump in stock prices in the previous year, mostly attributed to the aggressive revenue growth in its petrochemical businesses and earnings from its investment in Meralco, the country's biggest power distributor.
Meanwhile, Andrew Tan's estimated net worth dropped to $4.5 billion this year from $5.1 billion, but the 63-year-old billionaire's ranking in the list moved up to No. 3 from No. 4 in 2014. Stock price of his Alliance Global dipped 11% in the period, dragged down by weak income from its resort and casino operations.
Overall, the impact of the sluggishness of the resource industries apparently affected the wealth and standings of the 50 richest businessmen in the list. However, it is still evident that in the past year, the national economy has continued enjoying a boost in domestic wealth. Check out the complete list in the September issue of Forbes Philippines.
ADVERTISEMENT - CONTINUE READING BELOW
For now, we're giving you the 10 richest businessmen in the country from the same list:
1. Henry Sy (SM Prime Holdings)
Net worth: US$14.4 billion
Last year's net worth: $12.7 billion 
Rank last year: No. 1
ADVERTISEMENT - CONTINUE READING BELOW
2. John Gokongwei Jr. (JG Summit Holdings)
Net worth: $5.5 billion
Last year's net worth: $4.9 billion
Rank last year: No. 5
3. Andrew Tan (Alliance Global)
Net worth: $4.5 billion
Last year's net worth: $5.1 billion
Rank last year: No. 4
ADVERTISEMENT - CONTINUE READING BELOW
4. Lucio Tan (LT Group)
Net worth: $4.3 billion
Last year's net worth: $6.1 billion 
Rank last year: No. 2


5. Enrique Razon Jr. (International Container Terminal Services Inc)
Net worth: $4.1 billion
Last year's net worth: $5.2 billion
Rank last year: No. 3
ADVERTISEMENT - CONTINUE READING BELOW
6. George Ty (Metropolitan Bank & Trust Co)
Net worth: $4 billion
Last year's net worth: $3.7 billion
Rank last year: No. 7


7. Aboitiz Family (Aboitiz Equity Ventures)
Net worth: 3.6 billion  
Last year's net worth: $3.6 billion
Rank last year: No. 8



ADVERTISEMENT - CONTINUE READING BELOW
8. Jaime Zobel de Ayala and Family (Ayala Corp)
Net worth: $3.5 billion
Last year's net worth: $3.4 billion
Rank last year: No. 9



9. David Consunji (DMCI Holdings)
Net worth: $3.2 billion
Last year's net worth: $3.9 billion
Rank last year: No. 6



ADVERTISEMENT - CONTINUE READING BELOW
10. Tony Tan Caktiong (Jollibee Foods Corp)
Net worth: $2.2 billion 
Last year's net worth: $2 billion
Rank last year: No. 10
Related article: Humble beginnings of 5 of the richest businessmen in the country