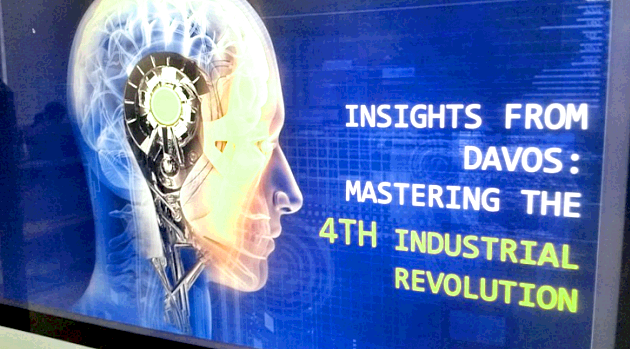 MANILA, Philippines – There is no stopping modern technology from changing our lives in the next 10 years, said Filipino technopreneur Winston Damarillo, as he shared the highlights from the World Economic Forum (WEF) Davos Summit held January 20 to 23.

"Businesses are evolving. Platforms are replacing traditional businesses," said Damarillo in a media briefing on Tuesday, February 2. The CEO of strategic consultancy firm Amihan Global Strategies (AGSX), attended the summit for PLDT, which is a strategic member of WEF. 

He cited two popular global companies as examples of "platform economy vendors." First is Uber, a platform for transportation that does not own any car but disrupts the transportation sector significantly. Second is Airbnb that is disrupting the hospitality industry despite not owning even a single hotel room. 

This year, the theme of the summit was The Fourth Industrial Revolution. "It is an acknowledgement by the WEF that technology is about to change our lives profoundly," said Damarillo.

The Fourth Industrial Revolution aims to create a world that centers on customer empowerment. "It presumes that the dominant concept building companies is: 'think and know your customers first,'" he added. 


ADVERTISEMENT - CONTINUE READING BELOW
Related article: Why education is needed in the age of Fourth Industrial Revolution 
Shaping the future
Thus, Davos 2016 identified 10 megatrends that are shaping the future: autonomous vehicles, three-dimensional (3D) printing, advanced robotics, smart materials, smart factories, the Internet of Things, tech platforms for on-demand economy, block chain, genomic sequencing, and bioprinting. 

With that, Damarillo segued into the 5 fearless forecasts—the highlight of Davos 2016. These are:


1. Dedicated enterprises turn into platforms. Damarillo pointed out the observation that the average lifespan of a company has been diminishing from 60 years to just 18 years (as was the case for Friendster, MySpace, and now the troubled Yahoo!). 


2. Modern jobs are starting to become extremely flexible and transient. Damarillo cited the emerging three-tier job layout: core-tier executives will be permanent fixtures in the company; the mid-tier managed services people will constantly be hired and fired; and the third-tiers consisting of freelancers will dominate industries. 


3. New entrants can dominate markets much faster. It can be recalled that Facebook reached annual revenue of $1 billion in only 6 years, while Google did it in just 5 years.


4. Customer needs are changing. Transparency will be of utmost importance. The human dimension of all modern interactions must be kept at the heart of every new business or transaction process.


5. Anyone can introduce a new product to the market and tweak it even remotely. An example of this is Tesla, which sells cars that constantly undergo over-the-air software updates for enhancements after being purchased. Thus, such products tend to overcome depreciation over time. 


What the Fourth Industrial Revolution means
Citing such forecasts, WEF founder Klaus Schwab explained the progression of the three preceding revolutions: The First Industrial Revolution focused on mechanizing production through the use of water and steam. The Second started mass production using electricity and the Third paved the way for the use of electronics and information technology for automation of production. 

"The Fourth Industrial Revolution builds from the Third and basically takes it a step further," Damarillo explained as he relayed the ideas from Schwab. Thus, it can be described as a fusion of technologies that has been blurring the lines separating the physical, digital, and biological aspects. 

At the onset, these forecasts are expected to start within five major industries. The telecommunications industry is expected to lose the most but it can also stand to gain the most. "As data access becomes cheaper, the industry's dominant relationship with its customers can be used to create new products or services," Damarillo said. 

The healthcare industry is expected to undergo a shakeup as hospitals lose revenue and health device makers make more profits. "Many body functions and conditions can be monitored using new medical technology," said Damarillo.

Also on the losing end is the banking industry. That is because it is expected that within 10 years, the usual transactions (processing, computing, and regulations) will be eliminated. Damarillo warned, "Banks must start to be a different kind of business," that is because cash transactions could soon be processed peer-to-peer (digitally) without coursing through lenders.
ADVERTISEMENT - CONTINUE READING BELOW
One of the most promising industries is retail. Davos 2016 summit gave a glimpse of the industry's future: malls would cease to keep inventory of goods, and instead operate 3D printers that can "print" actual products based on customers' preferences. Consumers can also design their own clothes and use 3D laser body scanners to get the perfect fit for clothes and shoes.
ADVERTISEMENT - CONTINUE READING BELOW

Lastly, the energy industry will focus on storage. "We are now in the era when we can store energy efficiently. Any energy from different sources can be stored," said Damarillo. This way, people can store and sell energy and in the process become an 'Uber' for it. The more exciting part is that this could possibly eliminate the use of fossil energy, which in turn would help lower carbon emissions worldwide. 

Overall, the idea behind the annual Davos summit revolves around discussion of issues and developments that affect the industries, the environment, and the world. The entire event comprises of about 300 to 400 sessions, which Damarillo described as "a good immersion experience."

Up to 2,500 leaders from around the world gather in Davos, a town in Switzerland and host to the annual WEF. The participants come from governments and industries, along with personalities who "care about helping" (like Leonardo DiCaprio, Bono, and will.i.am).
ADVERTISEMENT - CONTINUE READING BELOW
Related article: Is it possible to create 75 million entrepreneurs worldwide?