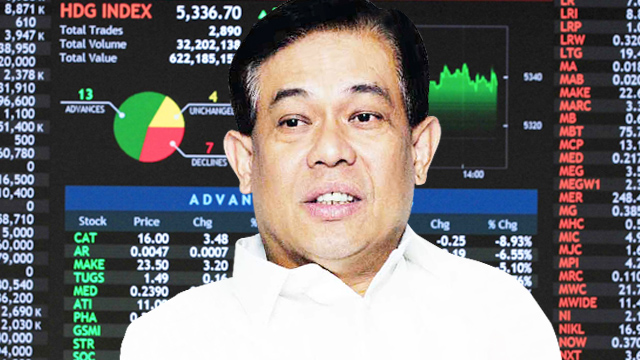 A former president of the Philippine Stock Exchange (PSE) has branded as "anti-business" and "anti-investor" the Securities and Exchange Commission (SEC)'s recent decision revoking the incorporation of online media startup Rappler Inc. for allegedly violating legal and constitutional prohibitions against foreign ownership and management of mass media.
Francis Lim, one of the country's top corporate lawyers who was engaged by Rappler and the PSE president from 2004 to early 2010, described SEC's decision to revoke the certificate of incorporation of Rappler Inc. and its parent firm Rappler Holdings Corp. as "too severe."
"I think that is anti-investor, anti-business," said the senior partner at Angara Abello Concepcion Regala & Cruz Law Firm (ACCRA), one of the country's leading law offices, in an interview aired by ABS-CBN News Channel today, January 17. "I was just looking at vision-mission of the (SEC) and I think it is very clear there that they are supposed to be champions of investor protection. I don't think this is what happened in this particular case."
ADVERTISEMENT - CONTINUE READING BELOW
Related story: SEC Revokes Incorporation of PH's Pioneering Online Media Startup Rappler
Meanwhile, the Department of Justice has ordered the National Bureau of Investigation (NBI) to probe Rappler for possible criminal violation of the law. In a department order issued January 17, Justice Secretary Vitaliano Aguirre II directed the NBI to "conduct investigation and case build-up over possible violation of the Constitution and laws by online news site Rappler, and if evidence so warrants, to file appropriate cases against those found liable," according to ABS-CBN News.
Lim is widely respected in Philippine business and government circles. As head of the PSE, he implemented reforms aimed at improving the governance of the stock market that almost collapsed following a major insider-trading and price-rigging scandal in the late 1990s. He also led the lobby for a law that gave tax breaks to personal retirement accounts similar to 401(k) schemes in the US. After his stint at the PSE, he helped set up the Shareholders Association of the Philippines, a group that aims to promote the interest of minority investors and shareholders in listed companies.
Other observers have also criticized the extreme harshness of the SEC decision to revoke Rappler's incorporation as penalty. In an editorial, the Philippine Daily Inquirer newspaper pointed to the case of PLDT Inc., the country's largest telecommunications company, whose capital structure turned out, following a stricter interpretation of the laws, to be in violation of the 40-percent limit on foreign ownership of public utilities. "But neither the SEC or the SC (Supreme Court) sought to revoke PLDT's certificate of incorporation," it said. In fact, the SEC gave PLDT some time to cure the infractions.
ADVERTISEMENT - CONTINUE READING BELOW
In its 29-page decision dated January 11, the SEC said that Rappler's parent firm, Rappler Holdings, issued Philippine Depositary Receipts (PDRs) to a foreign investor, Omidyar Network, that allegedly gave the foreign group control not only of Rappler Holdings but also of Rappler Inc., which runs an online media business.
PDRs are a special type of securities issued by Philippine companies to investors that entitle them to financial benefits such as cash distributions from the company in return for an investment that is neither considered as equity (ownership) or debt.
While it has allowed other media companies such as GMA Network Inc. and ABS-CBN Broadcasting Corp. to issue PDRs to foreign investors, the SEC said it considers Rappler Holdings' PDRs issued to Omidyar Network (ON) in violation of national laws and provisions of the Constitution.
That's because the PDRs contain a provision that binds Rappler Holdings "not to, without prior good faith discussion with ON PDR Holders and without the approval of PDR Holders holding at least two thirds (2/3s) of all issued and outstanding PDRs, alter, modify or other change the Company Articles of Incorporation or By-Laws or take any other action where such alteration, modification, change or action will prejudice the rights in relation to ON PDRs."
According to the SEC, the provision violates the Constitution and nationality laws because it obliges Filipino stockholders to consult with and seek the approval of PDR Holders who are foreigners. "Here, the stockholders must have prior discussion with and approval of at least 2/3 of the PDR Holders, meaning Rappler is at the very least under obligation to consult with Omidyar Network. The stockholder has become, in effect, subservient to the holder. It is neither 100% control by the Filipino stockholders, nor is it 0% control by the foreigner PDR holders."
ADVERTISEMENT - CONTINUE READING BELOW
In the SEC's view, granting such a "negative control" to Omidyar Network even though no foreigner owns a stock of Rappler Inc. or sits in its board of directors violates the law. "Respondents' (Rappler) true error lies in equating 'control' with ownership of stock or management in the board," said the SEC.
But Lim disagrees with the SEC's view. He said: "There is a Supreme Court decision which says that giving the right of veto to a person does not amount to giving him control. According to the Supreme Court decision in Gamboa vs. Teves, control of a company, meaning to say, and according to the Supreme Court, citing the Corporation Code, control is done through the board of directors who, under the Corporation Code, manages the company."
Entrepreneur Philippines sought a comment from the SEC's spokesman and hasn't gotten a reply as of posting time.
But a Rappler story on Lim's views quoted Teresita Herbosa, the SEC chairman, saying the two cases are different. "PLDT's case stemmed from a decision of the SC, changing the way it should compute foreign equity ownership in nationalized activities. Here, the constitutional provision has been there since before Rappler came into existence and it is clear: 100 percent Filipino ownership. [This] means 100 percent control, management, veto power should have been complied with from the time Rappler came about," Rappler quoted Herbosa, who also used to be a co-managing partner at ACCRA Law firm before joining government.
She also addressed criticisms the penalty revoking Rappler's incorporation was too harsh.
ADVERTISEMENT - CONTINUE READING BELOW
"SEC orders revocation of companies even for just failing to submit annual reportorial requirements. Is it not fair to revoke also on ground of violation of the Constitution and the law?" she said, according to Rappler.
*****
This story was updated to add that Lim was engaged as a lawyer by Rappler and that the DOJ has directed NBI to investigate the news website.