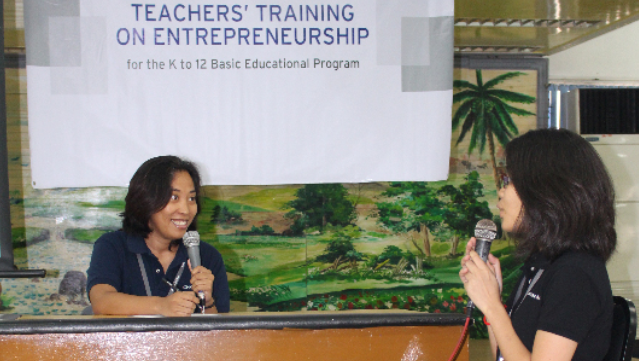 JPMorgan Chase & Co. through its JPMorgan Chase Foundation continues to help empower educators across the country with its Teachers' Training on Entrepreneurship intended for implementation in the 2016 K to 12 Basic Educational Program.

In a message, Roberto L. Panlilio, senior country officer for JPMorgan Chase Philippines, stressed the global financial services firm's ongoing commitment to the Philippines and to nationwide job creation efforts. 

"We believe in the impact of the comprehensive technopreneurship program developed by Bayan Academy for Social Entrepreneurship and Human Resource Development, Inc. and have seen its effectiveness in equipping Technology and Livelihood Education (TLE) teachers with the necessary entrepreneurial knowledge to teach Senior High School (Grades 11 and 12) students under the K to 12 program. We continue to work closely with our nonprofit partners and encourage our own employees to support these programs that aim to create pathways to opportunity for those who need them most," he said. 

"The program was initiated to provide a better chance for students to start their own enterprises through technical skilling and entrepreneurship. Bayan Academy is one in this endeavor of making the unemployed but technically skilled individuals become more productive members of society," said Dr. Eduardo A. Morato, Jr., Bayan Academy's chairman and president.

With 160 teachers from 59 schools participating in its initial run in the NCR in 2014, the success and positive reception of the program prompted JPMorgan Chase and Bayan Academy to expand its reach to different provinces, in partnership with the Department of Education (DepEd).  A series of runs were conducted in Region III and IV, and most recently in the Visayas region—specifically in Cebu, Leyte, and Samar. A total of 313 teachers from more than 200 DepEd schools participated.
ADVERTISEMENT - CONTINUE READING BELOW
During the training run in Cebu City, a module on proper decorum during job interviews was led by employee volunteers from JPMorgan Chase's Cebu Global Service Center. Volunteers also engaged with the teachers in role-playing exercises that would equip the latter with the right set of soft skills on how to effectively deliver the right messages during interviews as well as in interactions with their own students.

"This is the first time that TLE teachers have gone through an intensive 6-day training program," said Febelyn Bendulo, DepEd Cebu City Division's TLE Supervisor. "We are happy that we were given this type of training to equip us in teaching our students," she added. 

"This particular workshop exceeded my expectations," shared by one of the participants Criselda Mariñas from Abellana National High School.

Another program is slated this month in partnership with the Technical Education and Skills Development Authority (TESDA) and Technical Vocational Schools and Associations in the Philippines (TEVSAPHIL).
ADVERTISEMENT - CONTINUE READING BELOW