The share price of Wilcon Depot Inc., the Philippines' biggest home improvement retailer, rose 6.3 percent to a high of Php5.37 apiece from the offer price of Php5.05, hours after listing at the Philippine Stock Exchange on March 31.
Trading under the ticker symbol WLCON, the company opened at a price of Php5.30 per share and closed at Php5.33, still 5.5 percent higher above the offer price.
Earlier today, Wilcon Depot founder and chairman William Belo rang the opening bell at the Philippine Stock Exchange (PSE) office in Makati, signifying the company's market debut. Wilcon's listing is the first for 2017 as well as the first in its segment of home improvement retailing.
At the closing price of Php5.33 per share, the market value of around 4.1 billion Wilcon Depot shares climbed to Php21.9 billion. The Belo family's stake in the company is valued at Php14.4 billion at the end of the stock's first trading day, according to Entrepreneur Philippines' estimates. That's Php757.6 million more than the value of the family's stake prior to the initial public offering (IPO).
ADVERTISEMENT - CONTINUE READING BELOW
The Belo family's stake is held through private holding firm Wilcon Corp. and individual family members, which make up 66 percent of outstanding shares.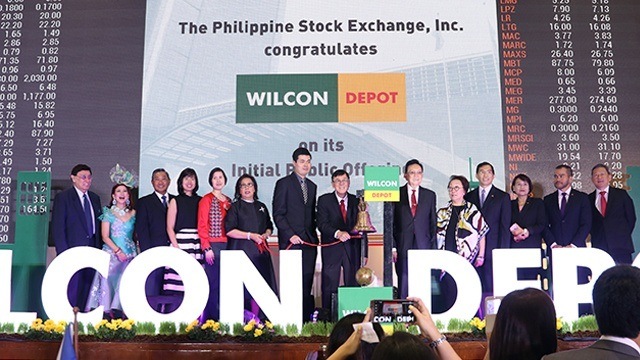 Justino Ocampo, executive vice president of First Metro Investment Corp., which served as the issue manager of the IPO, revealed that Wilcon's offer was oversubscribed by 3.7 times, confirming the large demand for the company's shares.
ADVERTISEMENT - CONTINUE READING BELOW
Related story: Want to Own a Piece of PH's Biggest Chain of Home Improvement Stores? 
Gabriel Lim, senior vice president of BDO Capital and Investment Corp., which served as the IPO's joint lead underwriter, also highlighted how Wilcon's Php7-billion offering is the "largest all-domestic IPO ever in the (Philippine) capital market." This meant that Wilcon's offering did not include any foreign investors.
"This has opened the doors for other issuers to brave an all-domestic offering," added Lim.
Wilcon intends to use a bulk of the proceeds from the IPO to further expand its current nationwide footprint of 37 branches. In the next five years, it plans to open at least 28 more stores. Belo confirmed in a press briefing that the company has already secured 22 sites for its ambitious expansion.
"The story of Wilcon parallels the story of many Filipino entrepreneurs," said Jose Pardo, chairman of the PSE, in his opening remarks during the listing ceremony. "His modest business operations had been transformed by their big and audacious goals and aspirations to eventually become a publicly listed company."
ADVERTISEMENT - CONTINUE READING BELOW
Related story: Wilcon: From a 60-sqm Store to PH's Biggest Home Improvement Chain 
****
Lorenzo Kyle Subido is a staff writer for Entrepreneur.com.ph.