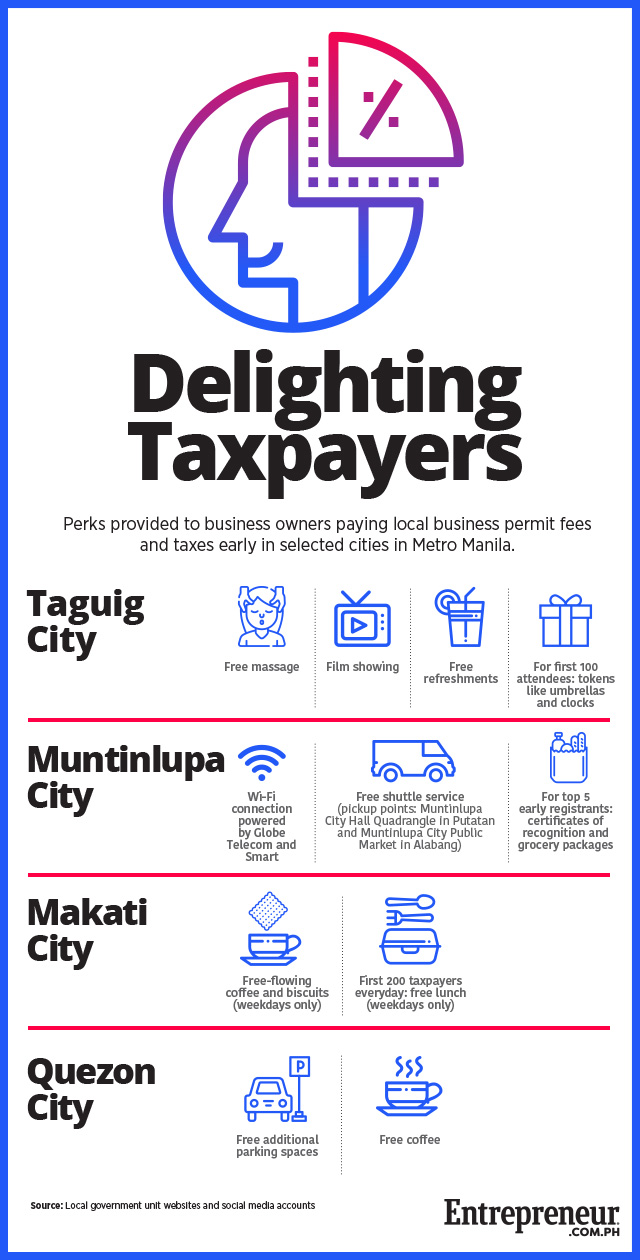 Along with real property taxes, more commonly known as amilyar in the Philippines, local business taxes and fees for the issuance of business permits are the most important sources of revenue for many cities and towns in the country. Both are usually paid in the early part of the year.
ADVERTISEMENT - CONTINUE READING BELOW
No wonder then that several local government units (LGUs) in Metro Manila have taken to offering extra amenities to entice business owners who will register or renew their business permits and pay local business taxes way ahead of the deadline.
For example, Muntinlupa City bestowed honors on the five earliest registrants, while Taguig City gave out freebies such as umbrellas and clocks to the first 100. Makati City, on the other hand, serves free lunch to the first 200 business taxpayers every day.
Several LGUs also set up a one-stop business shop where entrepreneurs can do all the necessary steps in renewing their licenses and paying their taxes.
The registration period is until the third week of January, and several LGUs announced that they have also extended their service hours to accommodate more registrants. The local governments of Makati, Taguig and Manila are also accommodating taxpayers during weekends.
While extra amenities are always welcome, perhaps entrepreneurs would most appreciate a dramatic improvement in the process of business registration and renewal as well as tax payment to cut short the time it takes to do it.
ADVERTISEMENT - CONTINUE READING BELOW
Despite recent efforts to streamline the process, it still takes an average of 16 steps to register a new business in the country—one reason why the country's global ranking in terms of the ease of doing business has fallen to 113th out of 190 countries last year. That's from a global rank of 99th in 2016. The Philippines placed 173rd in "starting a business" and 105th in "paying taxes."
Renewing business permits and paying taxes already cost a lot of money. They need not be time consuming as well.
Related story: PH Cities Lead the Way in Online Business Registration and Payments
*****
Pauline Macaraeg is Entrpereneur PH's data journalist. Follow her on Twitter @paulinemacaraeg