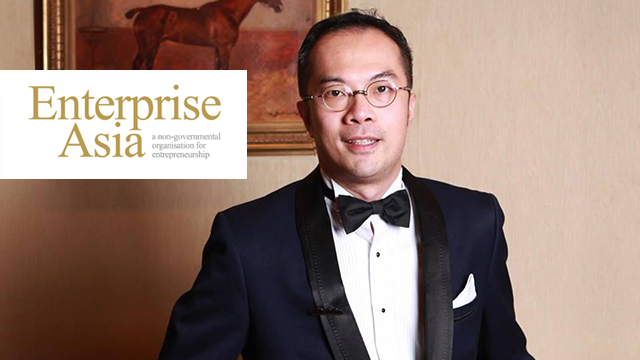 William Ng is the president of Enterprise Asia, an NGP that is rganizing the International CSR Summit for the first time in Manila on June 1 at the Marriott Hotel Manila
"Every organization on Earth will eventually migrate into the 'shared value' model. Everyone, without exception," said William Ng, president of Enterprise Asia, in an interview. "It could be this year, it could be 20 years from now, but it will happen."
ADVERTISEMENT - CONTINUE READING BELOW
Enterprise Asia is an Asia-wide non-governmental organization that champions entrepreneurship as a way to build a prosperous, sustainable and progressive society. It's holding the fourth International CSR Summit in the Philippines on Friday, June 1, 2018 at the Marriott Hotel Manila. The summit's theme is "Building a Shared Future," and this is the first time it is being held in the Philippines.
"We're inviting not just the head of CSR (corporate social responsibility), but the CEOs. We want to get into the minds of the CEO. CSR is not about giving money. CSR is about helping your company become more sustainable and in the long run more profitable," Ng said.
"Shared value" is shorthand for the many ways companies try to attain economic success while finding opportunities to solve society's deeply rooted ills. Ng explained that it is a developed version of CSR, though it is not only about philanthropy anymore since the companies also get something in return.
ADVERTISEMENT - CONTINUE READING BELOW
"Most companies started off charity programs, CSR programs, as philanthropy. And then it shifted into CSR [as shared value], because people say 'Look, it cannot be just about giving things away because then it's not sustainable'," he added.
Ng said the concept of shared value started about 20 years ago in the US, and has caught up in Asia in the last five to 10 years or so. He explains that while it is still in its infancy stage in Asia, the region has been quick to catch up with the growing trend. "Asia has caught up and if you ask me, Asian organizations are among the leaders in CSR," he said.
Through shared value, large companies are given the opportunity to help the marginalized sectors of the society and at the same time earn something for themselves and make the projects sustainable. Ng cited Universal Harvester Inc., a Filipino company, as one of the best examples of companies adopting the shared value model.
ADVERTISEMENT - CONTINUE READING BELOW
Universal Harvester is engaged in manufacturing and distributing farming products such as fertilizers, seedlings and even equipment. As part of their CSR, the company regularly trains local farmers to use more modern technology as a way to grow their crops. With better training and knowledge, the farmers not only improve their livelihood but may also purchase more inputs and equipment from the company, making the whole enterprise sustainable. That's what makes it "shared value" rather than just plain philanthropy.
"For the farmer, they make more money. [For] Universal [Harvester], they also make more money," Ng simply explained.
*****
Pauline Macaraeg is Entrepreneur PH's data journalist. Follow her on Twitter @paulinemacaraeg