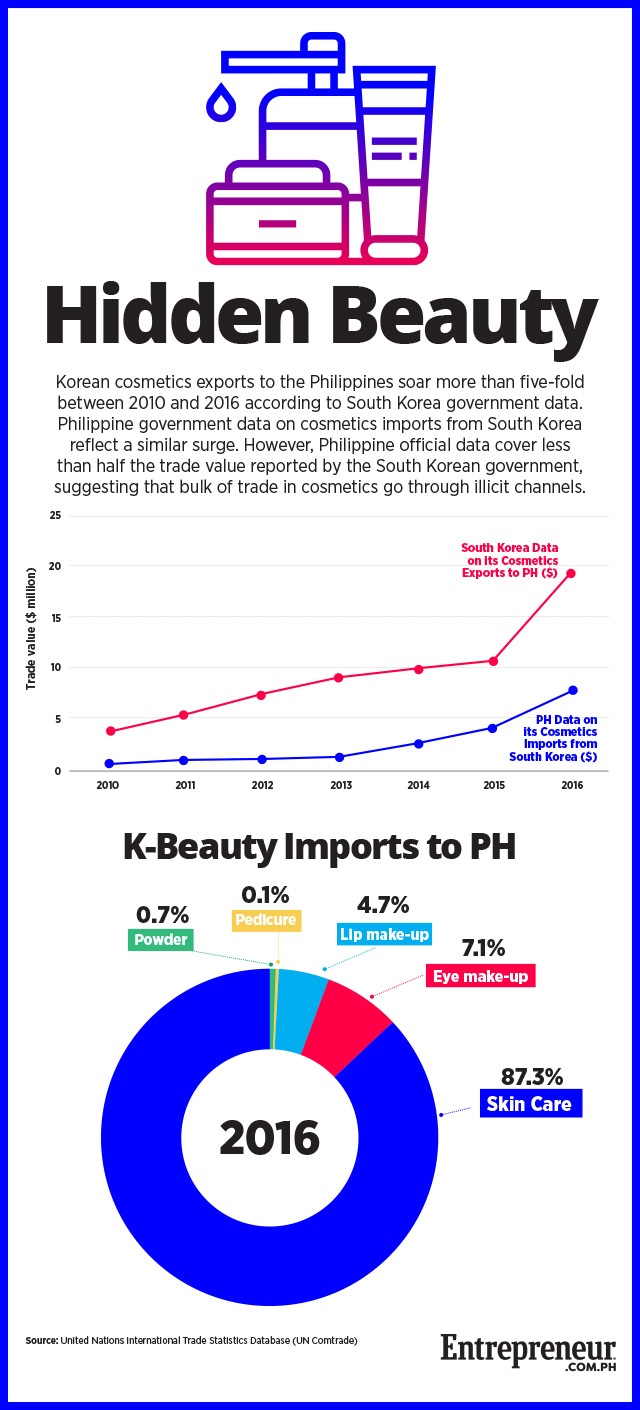 Quickly surf through local television channels on a weekday afternoon and chances are a Korean drama (K-Drama) is airing. Since 2003, the two largest television networks in the country, GMA Network, Inc. and ABS-CBN Corp., have regularly produced Filipino-dubbed K-Dramas, capturing Filipinos' attachment to the genre until today. Likewise, K-Pop or Korean pop groups have been regular concert performers in local stages in recent years.
The phenomenon is referred to as the Korean Wave or Hallyu as how Koreans call it. The term was first coined in the late 1990s as K-Dramas and K-Pop rose to popularity in China, according to the Korean Culture and Information Service (KOCIS) website. Since then, the term has been adopted more widely as Korean entertainment reached international markets.
With the rest of the world watching, Hallyu has benefitted other industries in South Korea as well. And K-Beauty or Korean cosmetics was one of the first sectors to enjoy its global sweep. 
ADVERTISEMENT - CONTINUE READING BELOW
"Korean cosmetics exports have surged, exceeding imports for the first time since 2012, amid Hallyu," South Korea's Ministry of Food and Drug Safety (MFDS), the regulatory agency of the country's cosmetics industry said in a report in March 2016. The same report said that Korean cosmetic exports reached US$1.8 billion in value in 2014.
Unsurprisingly, K-Beauty's global popularity had long reached local shores. Last year, South Korean cosmetics exports to the Philippines reached $19.3 million, or 5.3 times the level in 2010 of only $3.6 million, according to data reported by South Korean authorities and compiled by the United Nations International Trade Statistics Database (UN Comtrade). The Philippines is now South Korea's 11th biggest cosmetics market in the world and the fifth biggest in Southeast Asia.
However, Philippine government data submitted to the UN agency show that cosmetics imports from South Korea stood only at $7.5 million, which is less than half the value of trade flow being reported by the South Korean government. The huge discrepancy, which amounts to $11.8 million or 61 percent of the value reported by South Korea, suggests that bulk of K-Beauty products enter the Philippines through illicit channels. Anti-smuggling advocates believe that the large discrepancy between Philippine imports data and other countries' export data is one of the indications of smuggling.
The prevalence of informal online shops selling K-Beauty products that are 30 percent cheaper than those available in shopping malls and department stores lends credence to suspicions that bulk of South Korean cosmetics go through illicit channels to avoid paying import tariffs and taxes. Many of these online shops buy their supplies of K-Beauty products from informal traders or shippers who bring them in through balikbayan boxes. These packages are not thoroughly examined as they are mostly used by overseas Filipino workers to ship personal goods to relatives back home.
ADVERTISEMENT - CONTINUE READING BELOW
To be sure, a rising number of K-Beauty brands are now in local shopping malls, suggesting that not all of the growth in South Korean cosmetics exports to the Philippines could be attributed to illicit trade. In addition, there are also select Filipino cosmetic and skin care companies that order their formulations and intermediate products from South Korea. Around 90 percent of Philippine cosmetic imports from South Korea consist of skin care products such as facial moisturizers and serums.
*****
Elyssa Christine Lopez is a staff writer of Entrepreneur PH. Follow her on Twitter @elyssalopz