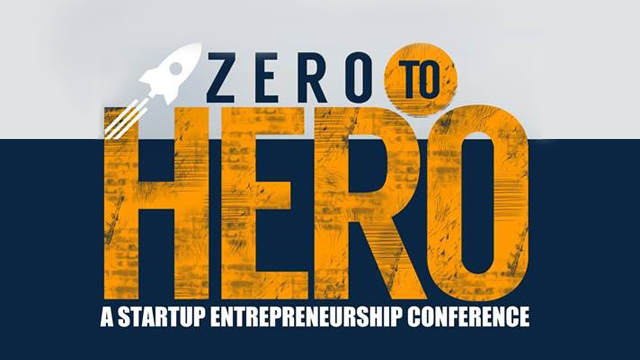 The Philippines' most successful startup founders, business owners and leaders will be sharing valuable strategies and insights at the JCI Manila Entrep Summit Masterclass: Zero To Hero tomorrow, Saturday, September 17, from 8AM to 5PM at SMX Convention Center in SM Aura Premier, Taguig.
The annual entrepreneurial summit culminates the series of workshops and seminars under Junior Chamber International Manila's (formerly known as the Manila Jaycees) Masterclass program of the past five months, starting last April. The program serves those who wish to learn how to become entrepreneurs by imparting to them knowledge on what to do to when starting a business, and what the next steps are when one has started a business.
ADVERTISEMENT - CONTINUE READING BELOW
Budding entrepreneurs have much to benefit from The Zero to Hero summit, with it being put up by The Jaycees through the JCI Manila. Industry leaders recognize the group for being a premiere leadership development organization, where young men join to become better leaders.
Learning from a league of leaders
Dubbed as the University of Leaders, the global organization's Manila chapter is its most awarded local organization in the world, and is known for its entrepreneurial education programs and advocacies such as The Entrepreneurship Summit, Oplan Damayan, Dare to Care, Ten Outstanding Young Men (TOYM) and The Blessed Teresa of Calcutta Awards. Alumni includes House Speaker Sonny Belmonte, business titans Alfonso Yuchengco and Henry Sy, to name a few.
"JCI Manila believes that it is through reaching out to others that you learn more about yourself. That is, JCI Manila delves into an array of projects such as community development, business, government, environment and more," said Johann Tiu, JCI Manila's director for business and government. "The unifying force behind these seemingly diverse projects is a group of young men who want to become better leaders."
                               

ADVERTISEMENT - CONTINUE READING BELOW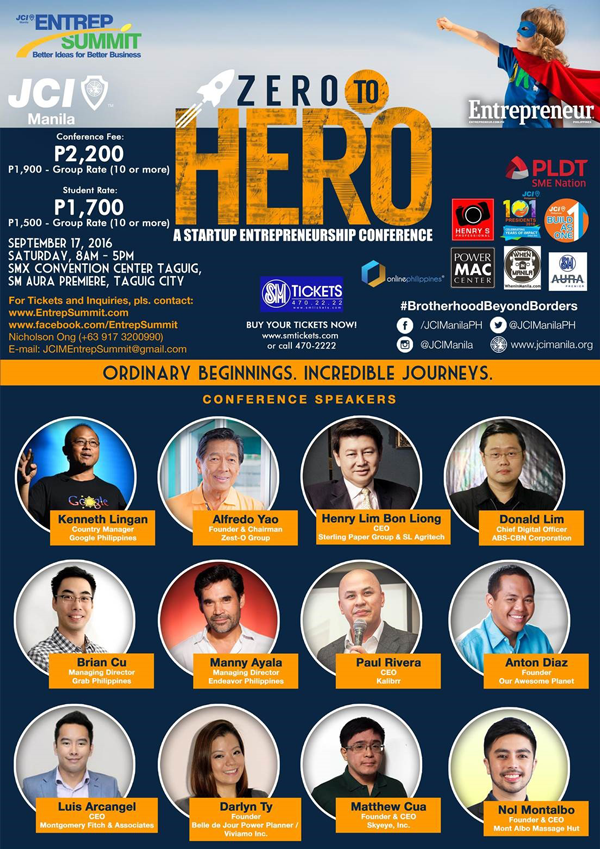 Becoming better leaders with the best
The conference enjoins startup business owners and aspiring entrepreneurs to participate, as well as college students who wish to get started early in learning the ropes for starting their own businesses.
They will be learning from the best, through a powerful lineup of local and international business leaders from major companies and startup successes, namely: Alfredo Yao (Zest-O Corporation Philippines and Zest-O Group), Donald Lim (ABS-CBN), Henry Lim Bon Liong (DONA MARIA & SL Agritech Corporation - Sterling Paper Group of Companies), Matthew Cua (Skyeye), Manny Ayala (Endeavor Philippines), Kenneth Lingan (Google Philippines), Paul Rivera (Kalibrr), Brian Cu (Grab PH), Nol Montalbo (Mont Albo Massage Hut), Darlyn Ty (Belle de Jour Power Planner), Anton Diaz (Our Awesome Planet) and Luis Arcangel (Montgomery Fitch + Associates).
ADVERTISEMENT - CONTINUE READING BELOW
A conference fee of only Php 2,200 per ticket and Php 1,900 per ticket (for a group purchase of 10 or more) may be availed of. Student prices are at reduced rates of Php 1,700 per ticket and Php 1,500 per ticket (also for a group purchase of 10 or more). Tickets may be bought via SM Tickets or from JCI Manila.

SM Tickets: https://smtickets.com/events/view/4751
For bulk tickets and inquiries, please contact: Nicholson Ong (+63 917 3200990)
E-mail: JCIMEntrepSummit@gmail.com
More information: www.EntrepSummit.com
Official fan page: www.facebook.com/EntrepSummit