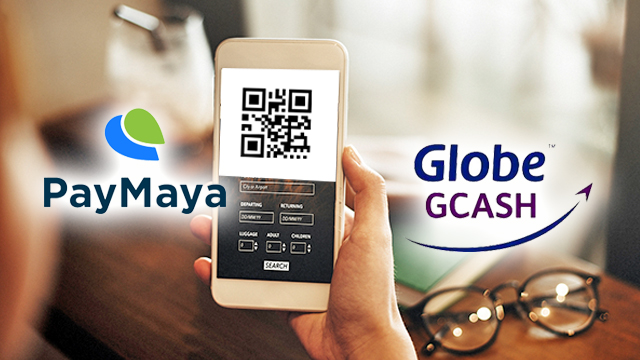 The country's two leading telco-powered mobile wallets, Smart Communications' PayMaya and Globe Telecom's GCash, rolled out a new "scan to pay" feature that allows users to scan quick response (QR) codes with their smartphones in order to pay for products and services without using cash.
Using either the PayMaya or GCash app in their respective partner merchants, customers can opt for a cashless mode of payment by scanning a QR code displayed near the retailer's cashier. They can then use their mobile wallets for their transactions, with the merchants being credited the payment via their own PayMaya or GCash wallet.
"We've made [QR codes] a tool for people to pay quickly, securely and conveniently," said Albert Tinio, president and CEO of GCash, in a media briefing last October 25. "It's as quick as cash but more convenient and secure."
The scan-to-pay features of the two mobile wallets emulates the technology used by digital payments giants worldwide such as Tencent's WeChat and Alibaba's Alipay. Both telcos recognize the rollout of this feature as a big step forward for financial technology in the country, as the feature brings the country one step together to becoming a cashless society.
ADVERTISEMENT - CONTINUE READING BELOW
"Convenient and secure cashless transactions complete the digital life experience of people and communities," said Eric Alberto, chief revenue officer of Smart, in a statement.
In a press release dated October 23, PayMaya revealed that they have been partnering with establishments in Muntinlupa and Malabon as well as with canteens of its partner schools such as STI Colleges. The fintech firm also mentioned that they are currently rolling out the scan to pay feature to merchants of all sizes, from big businesses such as McDonald's and Gaisano Supermarkets to small enterprises such as sari-sari stores.
"As PayMaya continues to grow nationwide, we take a giant step for our customers by making QR code payments available to all kinds of merchants," said Orlando Vea, president and CEO of PayMaya Philippines, in the press release. "On the merchant side, this will reinforce our position as the top mobile payments acquirer in the country."
GCash also formally launched its own scan-to-pay feature in an event held last October 25. This follows Globe's partnership with Ant Financial, the fintech arm of Chinese e-commerce giant Alibaba, which runs its own QR code-powered payments system with Alipay. GCash's scan can already be used in over 300 merchants, and it plans to leverage the extensive network of its sister company, Ayala Malls, to expand its number of partner stores.
"The convenient daily life 520 million Alipay users are enjoying will soon be realized in the Philippines," said Eric Jing, CEO of Ant Financial, in a statement. "Technology is helping more people to enjoy the benefits of digital financial services in a cost-effective, efficient and safe way."
ADVERTISEMENT - CONTINUE READING BELOW
"The partnership [with Ant Financial] is now bearing fruit and we are happy to share the initial successes that will disrupt payment methods in the Philippines," said Ernest Cu, president and CEO of Globe, in a statement. "We found the right partner and the right time to really scale up the business and change the way we use financial services."
But beyond the technological innovations, both PayMaya and GCash see their scan-to-pay features as another way to reach the 86 percent of the population that are "unbanked" or lack access to basic financial services. By using the wider smartphone penetration and internet adoption of the country, the two mobile wallets aim to bridge the gap by making financial services more accessible and easy-to-use.
"We are seeing digital financial inclusion in action," said Manuel V. Pangilinan, chairman of PLDT, in a statement. "For any kind of digital payments technology to be widely adopted, it is important to foster the right conditions and build the ecosystem."
*****
Lorenzo Kyle Subido is a staff writer of Entrepreneur PH