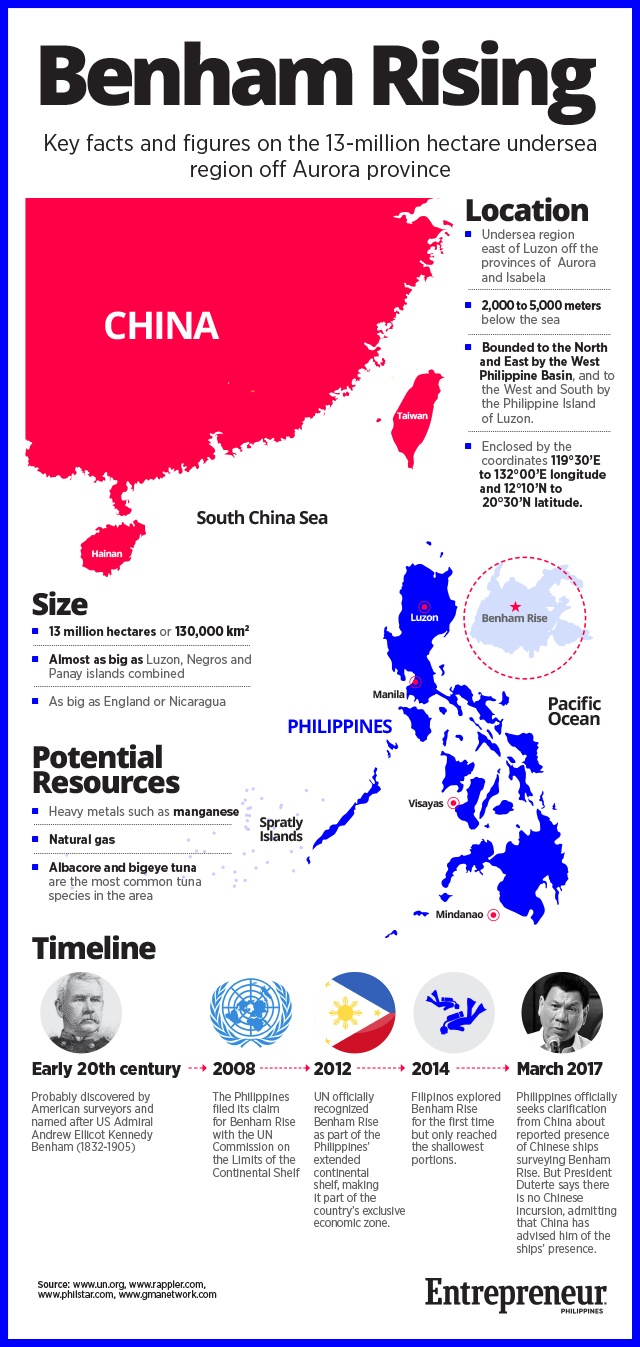 Benham Rise has been grabbing news headlines of late after Philippine defense officials reported sightings of Chinese vessels surveying the area, which forms part of the country's exclusive economic zone. It is considered part of the extended continental shelf of the main Philippine island of Luzon.
On March 9, Defense Secretary Delfin Lorenzana reported the sightings of Chinese ships in the area, prompting the Department of Foreign Affairs the following day to send a note to Beijing expressing concern and seeking a clarification.
ADVERTISEMENT - CONTINUE READING BELOW
China admitted to sending ships for marine research in 2016, but said it was only "exercising navigation freedoms and the right to innocent passage."
The reports of Chinese sightings in Benham Rise have stoked fears of Chinese incursions into an area that the United Nations has declared part of Philippine waters. It brought to the fore the Philippines' ongoing diplomatic dispute with China over some parts of the West Philippine Sea.
However, President Rodrigo Duterte seems to be downplaying the issue. On March 13, he revealed that China had advised him of the research ships' presence. "There's no incursion because may agreement kami (we have an agreement). I even invited them to the shores of the Philippines for a visit. Napalaki lang iyan (The issue just got blown out of proportion)," ABS-CBN quoted the president saying.
But Lorenzana said he didn't know about such an agreement between Duterte and China.
In 2012, the United Nations Commission on the Limits of the Continental Shelf recognized that Benham Rise is part of Philippine waters in response to a Philippine claim filed with the international body in 2008. Manila argued that a large part of the region can be considered an extension of Luzon, since it is within the 200-nautical-mile exclusive economic zone and is part of the extended continental shelf of the Philippines.
ADVERTISEMENT - CONTINUE READING BELOW
Named after a US admiral and discovered by American surveyors in the early 20th century, Benham Rise is a 13-million hectare undersea region off the coast of Aurora province.
Although it's still a largely unexplored area, Benham Rise is believed to be abundant with natural resources such as natural gas and heavy metals, which can be used to produce export products. The Bureau of Fisheries and Aquatic Resources also said there's a high catch rate for opahs, longfin and bigeye tuna species in the area. Experts say Pacific bluefin tuna and other aquatic species such as barracuda and billfish also call it home, according to a report from GMA News Online.
Filipinos explored the area for the first time in May 2014 under the Department of Science and Technology's Benham Rise Program, although they only reached the shallowest parts.
*****
Pauline Macaraeg is Entrepreneur PH's data journalist. Follow her on Twitter @paulinemacaraeg
ADVERTISEMENT - CONTINUE READING BELOW