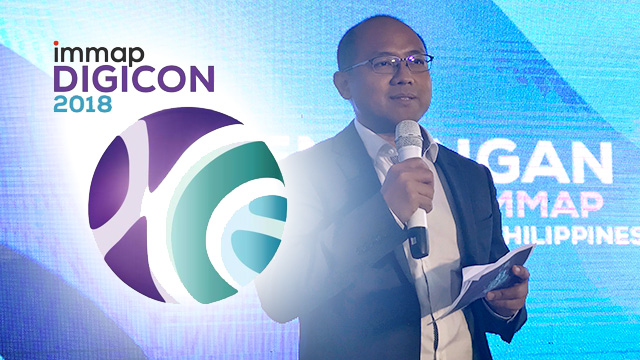 Expect to see some of the biggest names in the world of digital marketing from the former marketing chief of Uber to the current head of Facebook's Messenger at DigiCon 2018, the annual summit of the Internet and Mobile Marketing Association of the Philippines (IMMAP).
Set to be held at the Philippine International Convention Center (PICC) from October 3 to 5, the third edition of DigiCon will focus on how brands nurture relationships with customers online.
ADVERTISEMENT - CONTINUE READING BELOW
"We talked about 'Why digital?', we talked about 'How digital?', but now we have to talk about the 'Who' in digital," IMMAP Vice President Dennis Perez said in a press briefing on August 22.
"Everything we do in digital is about the consumer, the customer, the people that we serve. Digital is about delivering a certain experience for them," he added.
Citing the data provided by market research company eMarketer, IMMAP President Ken Lingan said at least 18 percent of the total advertising budget of companies in the country is now allocated for digital platforms. That is a huge improvement from the sector's percentage in the advertising pie in the early 2000s at 0.2 percent. "And it's now a Php60-billion industry," Lingan added.
While it's the multinational companies spending the most in digital advertising, Lingan said small and medium enterprises are the ones most active in online marketing.
As more firms funnel their cash into online advertising, the next step for the industry is to figure out how their efforts can effectively create tangible impact in companies' bottom line. "We want to be at the forefront of driving digital marketing excellence in the industry, and we want to help every single business to fully leverage what digital marketing can really offer and, in turn, scale their business," Lingan said.
ADVERTISEMENT - CONTINUE READING BELOW
With this goal in mind, this year's DigiCon will have three main topic tracks: user experience (UX) for software and app developers, customer experience (CX) to tackle e-commerce and brand experience (BX) for marketing specialists. The three-day event will feature 65 speakers, a roster that Perez describes as the conference's "most kick-ass yet."
Leading the list of speakers is Bozoma Saint John, the chief marketing officer of entertainment conglomerate Endeavor, which runs and owns the rights to global events such as the UFC and The Miss Universe Organization. Saint John first made a name as CMO of Pepsi, where she led the brand's sponsorship of the SuperBowl half-time show that was headlined by Beyoncé, according to Fast Company. After which, she became CMO of Apple Music and Uber.
Other notable speakers include Facebook's Head of Business Marketing, Messaging and Emerging Platforms Asher Rapkin, who spearheads the team overseeing Messenger, WhatsApp and Oculus, and Shaifali Nathan, Google Asia-Pacific's head of large consumer business.
ADVERTISEMENT - CONTINUE READING BELOW
Aside from talks, the three-day affair will also feature workshops that will be led by Instagram and LEGO as well as debates and discussions on some of the industry's most widely discussed topics such as the effectiveness of influencer marketing and long-form videos.
*****
Elyssa Christine Lopez is a staff writer of Entrepreneur PH. Follow her on Twitter @elyssalopz