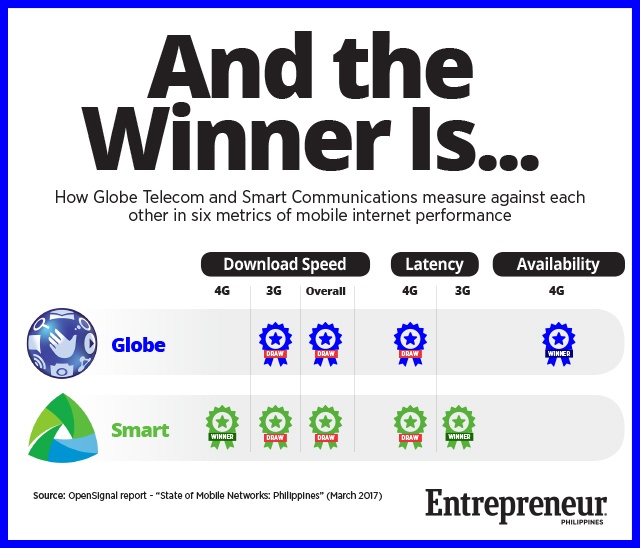 In the battle to offer better mobile internet service in the Philippines, the duopoly of Globe Telecom and Smart Communications seem to be just even. While Smart has faster LTE (4G) speed, Globe's LTE connections are more readily available, according to tests done by a third party.
OpenSignal, a global vendor of mobile monitoring apps and equipment, released its first "State of Mobile Networks" report for the Philippines last March 13, analyzing the speed and availability of mobile internet in the country. "The Philippines is definitely one of the most intriguing markets we've covered as it is one of the few countries in the world with only two major mobile providers," it wrote.
ADVERTISEMENT - CONTINUE READING BELOW
The report found that Smart offers faster LTE, averaging 9.9 Mbps. That beat Globe's average of 7.4 Mbps. However, the report also pointed out that both are significantly lower than the global average of 17.4 Mbps.
Related story: PH Internet Speed Improves 44% But is Still Asia's Slowest
On the other hand, OpenSignal said that Globe beat Smart in terms of LTE availability. "Our testers were able to find a Globe LTE signal 55.3 percent of the time, while they latched onto Smart's LTE network only 40 percent of the time," said the report.
OpenSignal also compared the two mobile operators in three other metrics which all resulted in a tie. Both Smart and Globe averaged at over 2.1 Mbps in terms of 3G download speed and at 3.3 Mbps in terms of overall mobile connection speed. Both telcos also clocked in at under 56 milliseconds when measuring 4G latency, or the time it takes for data to travel between two points
ADVERTISEMENT - CONTINUE READING BELOW
Meanwhile, Smart bested Globe in 3G latency, with the former averaging at 157.2 milliseconds compared to the latter's 190.4 milliseconds.
While the report makes it clear that the Philippines is still lagging behind its Asian neighbors in terms of mobile connectivity, OpenSignal does end on a hopeful note. "There's good news on the horizon for local LTE users," it wrote. "Both Smart and Globe have announced aggressive plans to expand their LTE footprints and capacity, building thousands of new cell sites and tapping new frequency bands."
OpenSignal collected data from over 512 million measurements using its mobile app, which were sourced from almost 29,000 smartphone users in the country. The data was gathered from November 2016 to January 2017.
*****
Lorenzo Kyle Subido is a staff writer of Entrepreneur PH