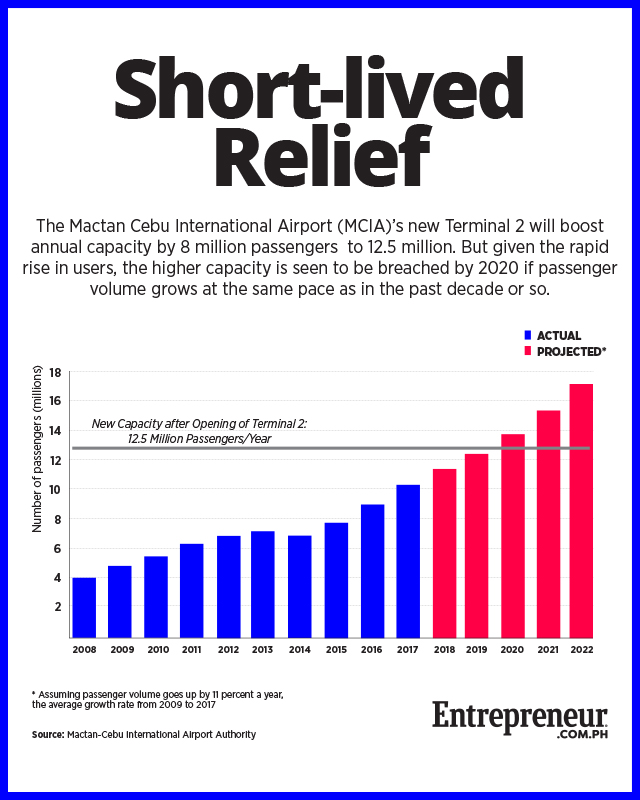 At the inauguration of the Mactan-Cebu International Airport (MCIA)'s second passenger terminal on June 7, the builder, GMR-Megawide Cebu Airport Corp. (GMCAC), didn't just unveil the breathtaking features of facility. More importantly, the joint venture also revealed the true scale of its ambitions for the country's second largest airport.
ADVERTISEMENT - CONTINUE READING BELOW
According to Louie Ferrer, president of GMCAC, the group isn't just envisioning Cebu as an alternative Philippine gateway to Manila but as a potential airline hub in Southeast Asia, competing with some of the largest airports in the region. Airlines use aviation hubs as transit or stopover points to gather passengers from various airports and load them on flights to their final destinations.
Related story: President Duterte Inaugurates Aquino Admin's Biggest Airport PPP Project 
"As Filipinos, wouldn't you want to travel to any major city in the world without making a stop-over in other Asian or Middle Eastern airports?" said Ferrer in his remarks at the inauguration ceremony. "So, this is a call not just for the aviation stakeholders but to all of us: help us in marketing our Cebu as a potential hub in Southeast Asia."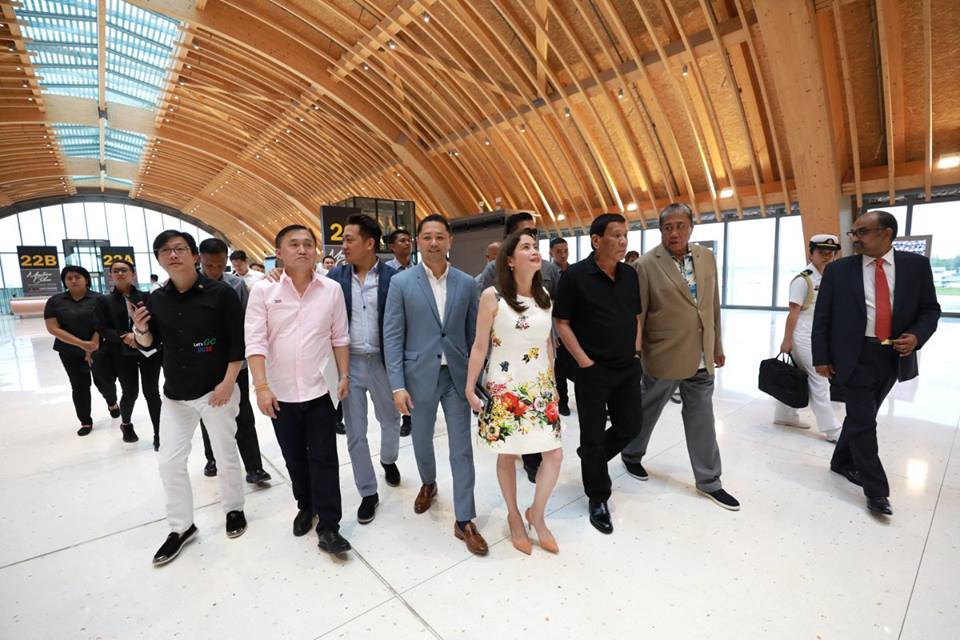 ADVERTISEMENT - CONTINUE READING BELOW
President Rodrigo Duterte joins members of his Cabinet and officials behind the design and construction of Terminal 2 of Mactan-Cebu International Airport on a tour of the new terminal
With this grand vision in mind, GMCAC, the joint venture of Philippines' Megawide Construction Corp. and India's GMR, submitted in June 2017 an unsolicited proposal to the Mactan-Cebu International Airport Authority (MCIAA) to take over the airport's operation. Currently, the MCIAA, a government entity, controls the runway and other airside activities while GMCAC only handles the operation of the passenger terminals.
Apart from taking over airside operations, GMCAC also proposed to upgrade the existing runway and taxiways, build a second, independent and parallel runway, and construct a third passenger terminal. Costing about Php208 billion ($4 billion), the long-term plan aims to expand the airport's annual capacity from 12.5 million passengers to 50 million passengers.

"To help us handle millions of visitors, we submitted a proposal for the rehabilitation of the Mactan airport existing airside and the construction of a second independent, parallel runway. This is a solid step towards our future," said Ferrer.
ADVERTISEMENT - CONTINUE READING BELOW
Related story: How the New MCIA Terminal Will Help Decongest PH's 2nd Biggest Airport
Many of the existing aviation hubs in Asia such as Singapore's Changi Airport, South Korea's Incheon Airport, Japan's Haneda Airport, Hong Kong International Airport and Doha Hamad serve more than 60 million passengers yearly.
It'll take some time for MCIA to get that level from the 10 million passengers that it served last year. Assuming it grows at the same pace as in the last the decade or so, it will reach the 50 million-passenger mark only in 2033.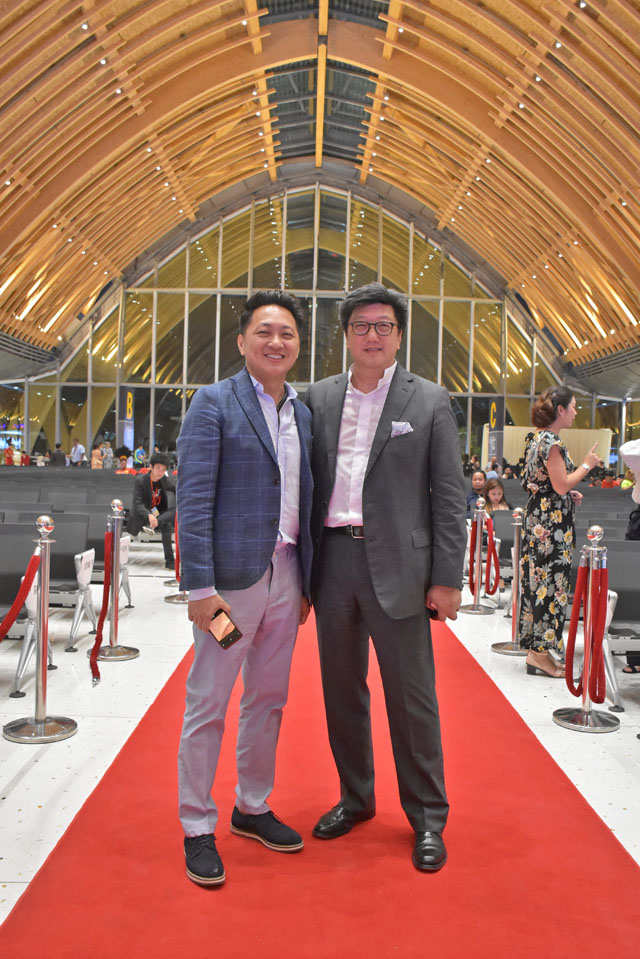 ADVERTISEMENT - CONTINUE READING BELOW
Megawide Chairman and CEO Edgar Saavedra with Winston Shu, arhcitect of IDA, the firm that designed Terminal 2 of MCIA
However, the GMR-Megawide consortium is moving quickly to grow its passenger base at a much faster pace than before.
"In three and a half years, we have grown our airline partners from 11 to 26. We now have 25 international and 30 domestic destinations, which is three times when we started in November 2014," said Ferrer. "Last year, we had 10 million passengers, and that's a huge leap from 6.5 million when we started."
Passenger volume rose at an average rate of 13.7 percent a year in the three-year period from 2015 to 2017, after GMCAC took over the operation of the airport. That compares with only 9.9 percent average growth in the previous six years, or from 2009 to 2014. More impressively, the number of international passengers using MCIA almost doubled from only 1.7 million in 2014 to 3.1 million by 2017. Foreign passengers accounted for almost 31.3 percent of total passenger volume compared to only 25 percent four years before.
ADVERTISEMENT - CONTINUE READING BELOW
Apart from Cebu's attractions, the surge in MCIA's passenger numbers is also being boosted by capacity constraints at the Ninoy Aquino International Airport (NAIA) in Manila. The Philippines' biggest airport and the fifth largest in Southeast Asia, NAIA served 42 million passengers last year, well beyond its annual capacity of 30.5 million passengers. In response, airlines operating in the Philippines are basing additional planes in Cebu and other secondary airports.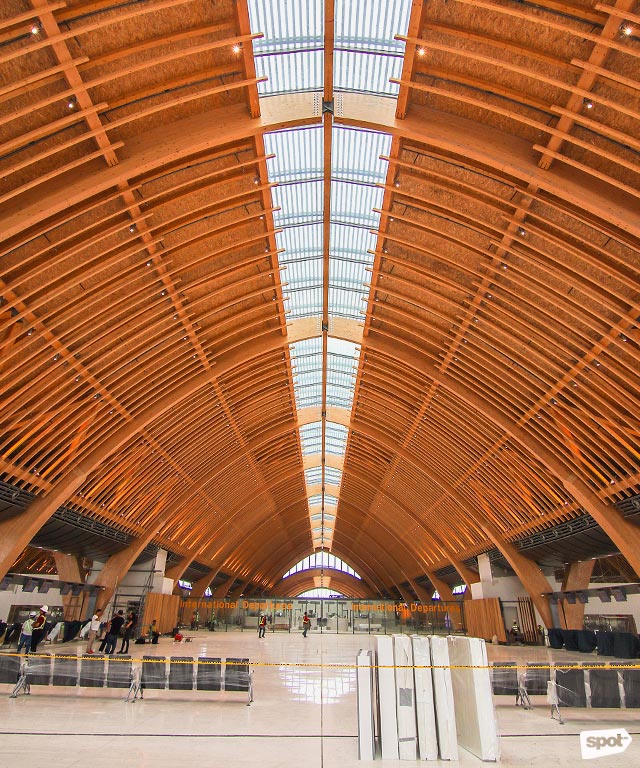 ADVERTISEMENT - CONTINUE READING BELOW
Cebu isn't just envisioned as an alternative Philippine gateway to Manila but as a potential airline hub in Southeast Asia, competing with some of the largest airports in the region
But MCIA is not exempt from future capacity constraints of its own, mainly because of rapid passenger growth in recent years. Though Terminal 2 tripled the airport's passenger capacity from 4.5 million to 12.5 million, it came after a long delay such that it will only be able to offer temporary relief for a few years.
Related story: "One-Of-A-Kind Airport Experience" Promised in New Cebu Airport Terminal
Nigel Paul Calo Villarete, the former MCIAA executive officer who took part in talks with GMCAC in 2013, recounted that Terminal 2 was supposed have been built before 2010, when the airport's capacity of 4.5 million passengers was breached. With passenger volume hitting 10 million last year, it may take only a few years before the higher capacity of 12.5 million passenger capacity will be exceeded again.
ADVERTISEMENT - CONTINUE READING BELOW
"Terminal 2 is a breather but passenger movements are growing so fast that we have to talk about capacity augmentation already," he told Entrepreneur Philippines via Facebook Messenger.
Amid the faster passenger growth seen in the next few years, Villarete, who is now Cebu City's administrator, said the GMR-Megawide joint venture should start discussions with the MCIAA on ways to add more terminal capacity.
"We crafted the concession agreement to allow for capacity augmentation," he said. "By 2019-2020, or five years after the CA was signed, the concessionaire should already submit to (MCIAA) their planned capacity augmentation if they deem it necessary. By the looks of it, it is necessary."
*****
Roel Landingin is the editor-in-chief of Entrepreneur PH