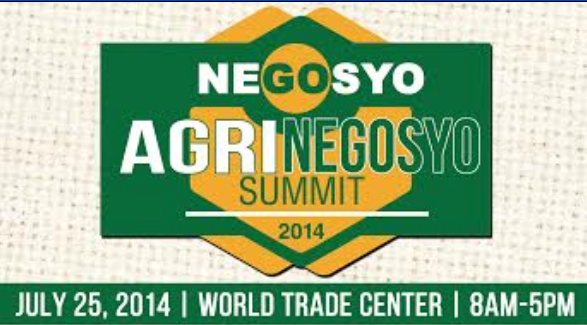 Inspired by its commitment to building the Philippines as an entrepreneurial nation, the Philippine Center for Entrepreneurship, Inc. (Go Negosyo) is launching its very first Agri-Negosyo Summit (GNAS) on July 25, Friday at the World Trade Center in Pasay City.

GNAS is a one-day event that will feature different topics in 'agripreneurship' in the forms of keynote addresses, plenary discussions and plenary lectures.  It shall enjoin the participants to develop a positive change in their mindset, and empower them with relevant entrepreneurship tools and concepts as their key to success specifically in pursuing an agribusiness venture.

Designed to complement the existing sectoral summits of Go Negosyo targeting the youth, the women, the OFWs and the technopreneurs, this Summit is centered on reinforcing the entrepreneurial spirit of the Filipino people by educating them about different opportunities in the vast sector of agriculture.
 
Objectives
 
Specifically, the summit aims to be able to:

•    Inspire students and aspiring entrepreneurs to look at agriculture in a different way and possibly encourage them to start their own agribusiness ventures by featuring young successful and inspiring agripreneurs;

•    Present various business models in agriculture in the crops, seeds and grains, vegetables and fruits, agri-processing, fishing and animal raising and industry subcategories and teach practical know-how on starting up an agri venture;

•    Recognize role models in the field of agripreneurship through the GoNegosyo Inspiring Agripreneurs for 2014 Award;

•    Invite relevant government agencies and leaders in the agriculture sector to communicate their general roadmap and vision for the Philippine Agriculture;

•    Get together a network of enablers in the agribusiness industry to share and discuss services being extended to potential and practicing entrepreneurs.
 
 
The forums
 
There will be four plenary forums on the following topics:

Keynote Forum           
ADVERTISEMENT - CONTINUE READING BELOW
The Making of a Successful Agribusiness Ventures

Panel Discussion 1:            
Business Opportunities and Business Models in the Sector: Business Models Trends, Treats and Threats

Panel Discussion 2:            
Going into the Agri-Business Venture and the 3Ms: Making It Happen Making It Happen! (Mentors and Machines)

Panel Discussion 3:            
Getting Funding: Going into the Agri-Business Venture Making It Happen and the 3Ms: Making it Happen! (Money)
        
Panel Discussion 4:            
Cultivating the Youth to be Agripreneurs Young Agripreneurs
 
Aside from the plenary forums, other program elements include:
 
Welcome Message
To be delivered by Go Negosyo's Founding Trustee, Mr. Joey Concepcion

Keynote Addresses    
To be delivered by top government officials whose primary and special duties revolve around agriculture – Sen. Cynthia Villar, Senate Committee Chair on Agriculture and Food, and newly appointed Presidential Assistant on Food Security and Agriculture Modernization, former senator Francis 'Kiko' Pangilinan.

Go Negosyo Agri Expo Inspiring Agripreneurs Award 2014         
Aim of which is to recognize role models who will continually inspire our fellow Filipinos to also venture into agripreneurship.

As a hands on experience, there will be select agricompanies who will do product/service exhibit. This is to provide the attendees a visual or even tactile or hands on experience.

Registration details

A. Students & Teachers
Registration is free for students and teachers (Graduate School not included).
 
B. Non-Academe Participants/ General Audience
For Non-Academe Participants (Non-Student/Non-teacher/ Non-School Personnel), registration fee is Five Hundred Pesos Only (P500.00).

Inclusion:
The fee covers the door ticket, seat allotment (in the blocked area of the hall), and Certificate of Attendance.

Where to Register:
Registration for non-student/non-teacher is via online: www.tinyurl.com/gonegagri.
 
Since slots are limited (World Trade Center Hall D can only accommodate over a thousand participants), we encourage you to confirm immediately or reserve your slots by calling 637.9229 or 6318101 loc. 7106.
 
Who to contact:
 
For interested participants (general audience, aspiring and practicing entrepreneurs and high school and college students and teachers), you may get in touch with our Programs Development Assistant Braddy Reyes at gonegosyo.agribusiness@gmail.com.
 
For interested institutional partners, you may get in touch with our Programs Development Manager Jap Uminga at jap.pce@gmail.com.
 
For interested sponsors and exhibitors, you may get in touch with our Marketing Officer Mia Concepcion at mia.concepcion@gmail.com.
 
For interested media partners, you may get in touch with our Media and Communications Officer Marga Manuel at marga.pce@gmail.com.
 
ADVERTISEMENT - CONTINUE READING BELOW